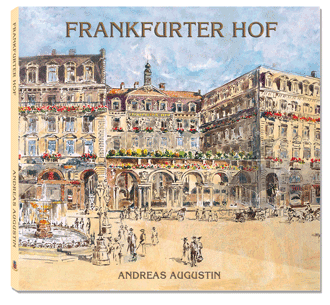 Cover of our book FRANKFURTER HOF by Manfred Markowski
Frankfurter Hof
Whenever I am in Frankfurt, I have always been seeking a chat with head concierge and legend-of-the-house Juergen CARL, who is one of the most interesting personalities of the trade. Later I find myself sitting on the terrace in the charming courtyard, browsing thourgh Thomas Mann's Buddenbrocks while pondering about the whereabouts of this first city hotel of Frankfurt. All this under the impression of the historic facade of the hotel.
During the days of an international fair – and there are plenty in Frankfurt – the hotel buzzes. But the most exciting period is the yearly Book Fair, when hundreds of people roam the hotel and make it the inofficial centre des affairs of the Frankfurter Buchmesse.
Talking about books: we have now published our book FRANKFURTER HOF (in Deutsch and in English). The blurb on the cover reads:
Since 1876 the Frankfurter Hof is among the most famous hotels in the world. Its façade is a reminiscence of glorious days, of splendid festivities and heydays of an empire. But it is also a symbol of downfall and resurrection – an allegory of modern Germany.
Since the days of César Ritz the most experienced hoteliers managed this hotel. This book offers an intimate view into the life of the past and present days of the Frankfurter Hof, presenting images and sources never published before.
The guests of the Frankfurter Hof come from all over the world and from all different backgrounds. This book introduces over 900 names from the hotel's guest book, a fine selection of illustrious personalities.
Andreas Augustin
Google Map