Imperial – Wien, Österreich (Deutsch)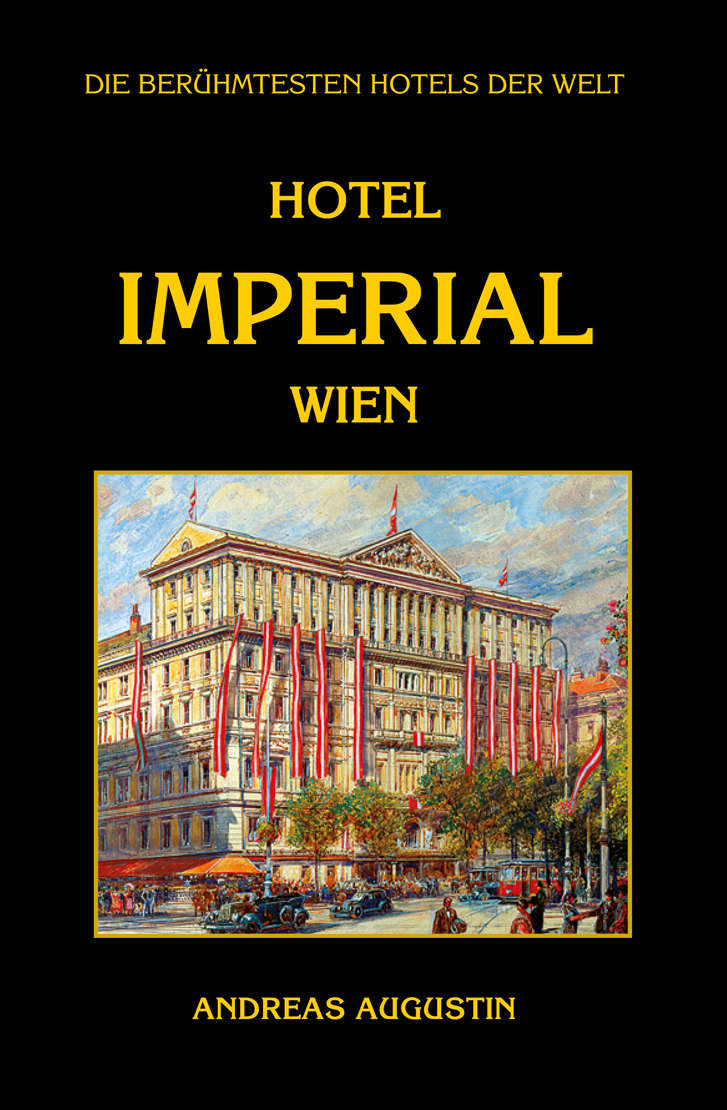 Photographs
Illustrations
Über 220 historische Aufnahmen und Fotografien, von - unter anderem - Bill Lorenz und Jaime Ardiles-Arce
Binding
Hardcover (real cloth bound / gold stamping / dust jacket)
Includes
2 Lesezeichen ("SIE" und "ER"), 2 Postkarten
Wien um 1860. Eine Stadt im Aufbruch. Franz Joseph, ein junger, dynamischer Kaiser, lässt die Ringstraße bauen. Das Stein gewordene Kollier reiht eine architektonische Perle nach der anderen auf. Rathaus, Burgtheater, Parlament, Staatsoper. Hier steht auch das private, luxuriös ausgestattete Palais des Prinzen von Württemberg. Der Prinz verkauft es und 1873, rechtzeitig zur Eröffnung der Weltausstellung in Wien, wird es ein Hotel.
Das Imperial. Seine Lage, seine exklusive Ausstattung und seine erstklassige Führung machen es sofort zum ersten Haus am Platz, zum Hotel der Staats­besuche, der großen Künstler und der inter­nationalen Reisenden. Seine erstklassige Küche reiht es in die Gruppe der feinsten Restaurants des ­Kontinents.
Richard Wagner wohnte wochenlang hier, für Bismarck war es ein zweites Zuhause, Charlie Chaplin hielt es für das schönste Hotel, in dem er jemals wohnte, die Königin von England empfand das ebenso. Alle berühmten Besucher Wiens waren einmal im Imperial, vom Staatsbesuch bis zum Heldentenor bettet man in diesem Land gerne seine Gäste in der ­Fürstensuite, einer der schönsten und größten Hotelsuiten der Welt.
Dies ist die Geschichte dieser einmaligen Wiener Institution, den Tagen der Gründerzeit bis in die Gegenwart, ein Blick hinter die Kulissen dieses Hotels, das seit Jahrzehnten stets unter den Besten der Welt zu finden ist.
Kleine Reisenotizen
Die Fahne weht majestätisch über der Ringstraße. Staatsbesuch ist angesagt. Der rote Teppich wird ausgerollt. Zwei hölzerne Schildwachehäuschen flankieren die moderne Drehtüre. Zwei Gardesoldaten adjustieren noch ihre Uniform. Der Knopf ist offen! Danke! Dein Schuhband, schau! Jetzt passt alles. Präsentiert das Gewehr. Da ertönen in der Ferne schon die Sirenen. Die Weißen Mäuse, die Motorradpolizisten, flankieren einen Konvoi schwarzer Limousinen. Vom Schwarzenbergplatz her rollen sie über den Ring und biegen in die Seitenfahrbahn ein. Vor dem Imperial hält eine nach der anderen. Türen werden aufgerissen, Sicherheitsbeamte springen heraus, sichern, wo für den ungeübten Beobachter nichts zu sichern ist, kommunizieren über fast unsichtbare Kopfhörer und Mikrofone und sehen dabei sehr, sehr ernst aus.
Wo Staatsbesuche logieren, regiert gewöhnlich die formale Etikette der Weltpolitik. Doch das Imperial in Wien ist da anders. Denn hier ist nicht nur der staatstragende Gast daheim. Zählt man nämlich die großen Namen der feinen Künste dazu, wird das Bild zusehends runder. Und würzt man das Ganze noch mit der Süße des Wiener Charmes, so nimmt man dem ersten Eindruck endgültig die Schärfe.
Der Herr Direktor macht einen Diener, wie die Wiener zur Verbeugung sagen. Er begrüßt seinen hohen Gast und geleitet ihn in die Fürstensuite im ersten Stock. Auf der Treppe macht der Gast kurz halt. So viel Prunk ist nicht alltäglich. Hier erwartet ihn ein großer Mann. Seine Majestät, Kaiser Franz Joseph, mit Degen, Handschuhen und Hut, blickt neugierig aus seinem goldenen Rahmen auf den Ankömmling. Eine stattliche Erscheinung. Man traut ihm die Kraft zu, ein 52 Millionen Menschen Reich zu regieren. Unter ihm flankieren zwei Grazien die Statue des Donauweibchens, all diese Pracht ist eingerahmt von kunstvollem Stuccolustro.
"So königlich", das haben schon Könige gesagt, haben sie noch nie in einem Hotel gewohnt.
Draußen am Ring ist der Spuk wieder vorbei. Die schwarzen Limousinen rollen wieder weiter. Auf dem Dach grüßt nun auch die Fahne des Landes des hohen Gastes – ein eleganter Willkommensgruß. Ringsum thronen die Prachtbauten der alten Monarchie und jene der neuen Republik in harmonischem Einklang.
Den Chronisten zieht es ins Kaffeehaus des Imperial. Diese urwienerische Institution macht das Haus auch zum "Stammlokal" der Wiener. Ein Kaffee am Nachmittag, ein "Stückerl Kuchen" dazu, oder das kleine Abendessen nach einem Konzert. Hier trifft man sich, hier liest man "die" Zeitung – oder man komponiert ein Ballet – so, wie Benatzky.
Die Gedanken gleiten in eine Zeit, als es in dieser Stadt noch einen Kaiser gegeben hat als Herrscher einer der einflußreichsten Monarchien der Welt. Ein Reich, das wohl das europäischste aller europäischen Reiche war. Mit Wurzeln auf dem ganzen Kontinent. Alle Staaten Europas vereint! – diese Idee hat man hier in Wien schon immer geschätzt.
­­Andreas Augustin
präsentiert
Hotel Imperial Wien
in der Serie Die Berühmtesten Hotels der Welt
Der Autor und THE MOST FAMOUS HOTELS IN THE WORLD™ danken Erhard Noreisch, dem Generaldirektor der Imperial Hotels Austria AG und Senior Vice President von Starwood Hotels and Resorts für Zentral- und Osteuropa. Er hat dieses Geschichtsprojekt für das Hotel Imperial und alle anderen Häuser der Imperial Hotel AG ermöglicht.
Wir danken Dr. Petra Engl-Wurzer – zuständig für die Öffentlichkeitsarbeit der Gruppe – die dieses lebendige Geschichtsprojekt mit seinen Neuauflagen seit Jahren liebevoll betreut.
Weiters danken wir Thomas Schön, dem früheren Generaldirektor, für seine wichtige Unterstützung unserer Arbeit. Riccardo Giacometti und Evert Schuele haben uns sehr geholfen, weiters Michael Hatzfeld, Josef Prosek, Caroline Müller, Andreas Bienenstein, Heidar Fityani, Stefan Hierzer, Harald Hitner, Sylvester Huber, Andrea Konert und Philip S. Rosenstingl. Franz-Josef Macho gilt unser Andenken.
Dem Chefconcierge Michael Moser, einem fleißigen Sammler historischer Andenken, unser aufrichtiger Dank für tatkräftige Unterstützung. Dank an Marielle Millowitsch für neue Einblicke.
Assistent in der Geschichtsforschung: Dr. Andrew Williamson, Dr. Marcello de la Speranza.
Fotos: Bill Lorenz, Archiv des Hotel Imperial (Jaime Ardiles-Arce, David Peters, ­Fotozentrum K. Reiberger, Atelier Doris Kucera, pictures born - H. Nessler, Thomas Vockenhuber Photography Vienna, Matthias Hamel u.a.) Archiv der Österreichischen Nationalbibliothek, Archiv Dr. M. La Speranza, Wien, Famous Hotels Main Archives, Vienna, Musikverein - Peter Schramek und die Privatsammlung von Hedi Graf. Das Foto von Herbert von Karajan stammt von Siegfried Lauterwasser, zur Verfügung gestellt vom Karajan Zentrum Wien. Herzlichen Dank an die Mitglieder der Familie Frohner, allen voran Professor Adolf Frohner, einem Nachfahren des großen Imperial Hoteliers Johann Frohner.
Produktion: Carola E. Augustin
Alle historischen Daten wurden im Zuge der Recherchen nach allgemein gültigen ­Kriterien ausgewählt und zusammengestellt. Das erklärte Ziel war es, einen allgemeinen geschichtlichen und möglichst unterhaltsamen Überblick zu vermitteln. Dieses Werk erhebt also keinerlei Anspruch auf Vollständigkeit. In diesem Zusammenhang gebührt der gesamten Leitung des Hauses Dank, und zwar für ihre konsequente Haltung, mit der sie der Realität der Zeitgeschichte den werbewirksamen Verlockungen der Legende Vorzug gewährte.
Historische Fotografien wurden entsprechend restauriert und gelegentlich koloriert und sind daher Gegenstand des Urheberrechtsgesetzes. Das gesamte Werk einschließlich aller Teile wie der Banderole, dem Umschlag, den beigelegten Postkarten und Lesezeichen unterliegt dem Urheberrechtsgesetz. Insbesondere ist die Speicherung in elektronischen Medien und die Distribution in Netzwerken jeder Form untersagt. Jede Verwertung von Teilen dieses Werkes unterliegt der ausdrücklichen schriftlichen Zustimmung von The Most Famous Hotels in the World.
Achtung - Verlage und Autoren
Parallel zu diesem Buch wurde die digitale Pressemappe TRAVELLER'S NOTEPAD entwickelt. Darauf sind über 100 in diesem Buch verwendeten Aufnahmen als digitale Dateien in bester Qualität erhältlich.
ISBN: 978-3-900692-02-5
© 2007 Andreas Augustin
Design: Ramazotti Michelangelo