Meet You At The Cala di Volpe – Costa Smeralda, Italy (English)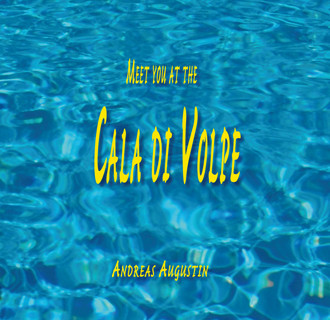 Binding
Hardcover with dust jacket
Includes
2 postcards, 2 reading marks (HIS and HERS)
Once upon a time a prince came to the island of Sardinia in Italy and built the Cala di Volpe. This is the fairy tale about one of the most famous hotels in the world, from its beginning to the present, from dusk to dawn. Its stars, its stories, the architecture and its interior, about paparazzi and gala nights, film crews and photographers, busy restaurants, splendid yachts and peaceful moments
---
Welcome back. The Cala di Volpe takes you in her arms like an old friend. Even if you have never been here before you'll realise that the Cala di Volpe lends the proverbial 'in an ideal world' a body on earth.
Your room door opens into a tiny wonder-world. It could be a small stone staircase leading upstairs into an Aladdin-like cave of a room, opening onto an arched balcony commanding an exquisite view over the bay.
Some rooms are small by international standards, other rooms are large; not one room is alike. The suites are a fantastic collection of rooms and surprises, the guests of the rooftop suite have their own pool on the sun deck.
All the others have to consort with a saltwater pool so large that, once you arrive on the other side, you actually note that it took you some time to cross it. There is the beach, a fine 20 minutes morning walk away (or let the shuttle boat take you in 5 minutes). There is the sea, unlimited. And before you read any further, don't bother. The secret of the Cala di Volpe is that there is none. Here you find no limits, no forbidden trespassing, no borders. If you want to do something, you do it. No STOP signs in your face.
You are surrounded by an international elite-team of waiters, chefs, receptionists, concierges, maids, back and front of the house staff. The best of the best. But haven't we all heard enough of this hotel-catalogue praise? At the end it comes down to very professional and meticulous preparation, attention to the smallest details. Or to sum it up in one simple word most of us still understand: work.
The difference of the Cala di Volpe seems to be that everybody involved appears to have understood that.
There are, of course, grave matters that can change my attitude towards a hotel. The most important I have to list was found in my bathroom here at the Cala: the belts of the bathrobes are already in their loopholes.
That sums it up.
It's so easy.
Thank you
We thank
Marco Milocco and Bart Spoorenberg for their initiative.
Luciana Gullino for being there.
Robert Koren for his blessing.
Andrea Nissardi for his photographs and stories, Paolo Constanzi for keeping the archives of Nello di Salvo alive.
And now the small print: All historical data used in our research was selected and collated according to universally applicable principles. Our aim was to provide a general historical overview that should be as entertaining as possible. Therefore, this work does in no way claim to be complete.
The entire work including its cover, attached postcards and bookmarks is subject to copyright laws. No part of this book may be reproduced or transmitted in any form or by any means, electronic or mechanical, or by any information storage and retrieval system. Any reproduction of any part of this book without express written permission from THE MOST FAMOUS HOTELS IN THE WORLD will be prosecuted without exception.
Important Note for Publishers and Authors
All photographic material used in this book can be obtained as digital files of the highest quality. Please contact the archives of THE MOST FAMOUS HOTELS IN THE WORLD and request the best possible photographic material for your own publications. We would be delighted to help.
© 2017 THE MOST FAMOUS HOTELS IN THE WORLD
www.famoushotels.org
Edited by Thomas Cane
Design by Ramazotti Michelangelo