Premier Palace Hotel – Kiev, Ukraine (English)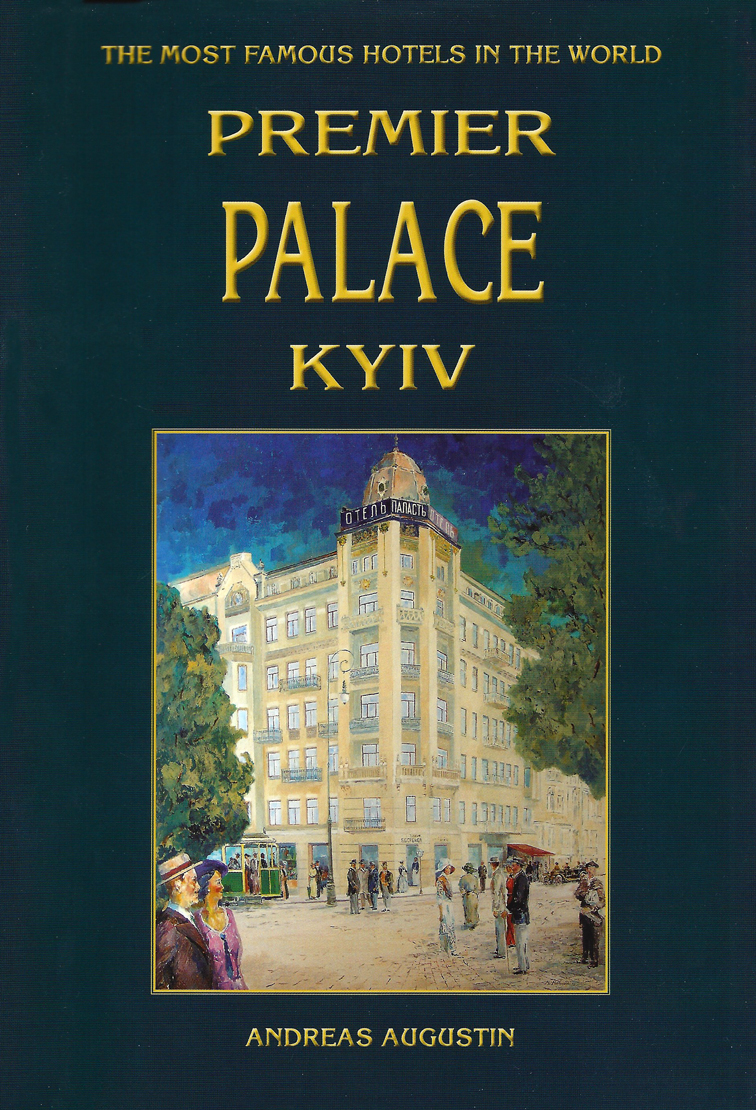 Photographs
Illustrations
161 historic and contemporary photographs; Cover by Manfred Markowski, contemporary photography by Michelle Chaplow
Binding
Hardcover (real cloth bound / gold stamping / dust jacket)
In 1912 Kiev, students of architecture flocked to the new corner building at Pushkinska Street and Bibikov (today Shevchenko) Boulevard. It was a pilgrimage to architectural innovation: the façade of the 'Palast Hôtel' was a smart compromise between Art Nouveau, Art Deco and something new. In 1972, Richard Nixon celebrated his last night of a journey through the former Soviet Union with a dinner in Kyiv. He raised his glass to toast his hosts: 'On this particular evening, which is the last occasion that we will be having dinner on Soviet soil, we think it is very appropriate that it should be here in this mother of all Russian cities, here in Ukraine among a people who are so strong and who represent such a great spirit.' Like no other hotel in this wonderful city the Premier Palace represents the strong spirit of Ukrainian tradition and modern hotel keeping. This is the story of the most famous hotel of Kyiv.
Torn between the holy monastery of Lavra, the opening night of an exhibition at a gallery or a night at the opera, Kyiv is a city of many diversions.
You should stay at the Premier Palace, the flagship of the Premier Hotel Group. It is the place to start the day with at breakfast, and to end it with a sumptuous dinner. Here you find Terracotta, the city's best international restaurant on the rooftop of the house.
Before one goes to bed one doesn't want to miss the buzzing atmosphere at the bar, where barkeeper Victor and his team mixes and serves the classics. In this book we dip into the story of historic and modern Kyiv and the history of its 'premier' hotel.
Andreas Augustin
presents
Premier Palace Kyiv
in the series
The Most Famous Hotels in the World™
We would like to thank Olexandr Lytvyn, the General Director of the Premier Palace Hotel, for making this book possible.
It must be noted with greatest respect that the management of the hotel decided to accept historical facts rather than old legends and traditionally distributed myths. Sometimes swans are born after ugly ducklings went to die. Therefore we have to look at the story of the swan, and of the duck.
We are in particular indebted to all former and current members of the staff, who contributed so generously to this book. Personal thanks go to - in loose order: Oleksandra Plakhota, Alexey Metelskiy, Rodderich Leffler, Natalia Ostapenko, Anna Semenkova, and all the others who have contributed to this book. Thanks for personal assistance at the hotel goes to the team of the concierge desk, in particular to Irina Lonyuk and Sergey Tikhiy and to the butler Yuliya Perfilova.
History research: the author wishes to thank Kyiv historian Mikhail Kalnitsky, Thomas Cane, Carola Augustin, Viktor Kirkevich and Pavlo Dyban for their contributions.
Historical photographs: Famous Hotels Main Archives, Pavlo Dyban (oldkyiv.org.ua),
Viktor Kirkevich, Mikhail Kalnitsky, Kyiv Kinophtophone Archive.
Photographs: Michelle Chaplow, Set-up by Joaquin Alarcón
Translations: Ukrainian: Annya Korbut, Russian: Mikhail Zagot
Editor: Thomas Cane
Cover painting and illustration: Manfred Markowski
All historic data have been carefully selected during research with the objective of providing a general historical overview. This work does not therefore claim to be complete. Historic photographs have been restored as necessary, and are therefore subject to copyright. The entire work, including such parts as the dust jacket, the enclosed postcards and bookmarks, are also subject to copyright.
Any form of storage using electronic media or distribution via a network is prohibited. Any reproduction of excerpts from this work without the explicit written consent of The Most Famous Hotels in the World™ will be prosecuted.
Note for publishers, journalists and authors
All photographs used in this book are available as high-quality digital files. Please contact the archives of The Most Famous Hotels in the World (archives@famoushotels.org) and ask for these illustrations for your own publications. We will be happy to provide them for you.
© Copyright The Most Famous Hotels in the World™
E-mail: books@famoushotels.org
or visit us at:
www.famoushotels.org