Hotel Bristol – Wien, Österreich (Deutsch Leder Edition)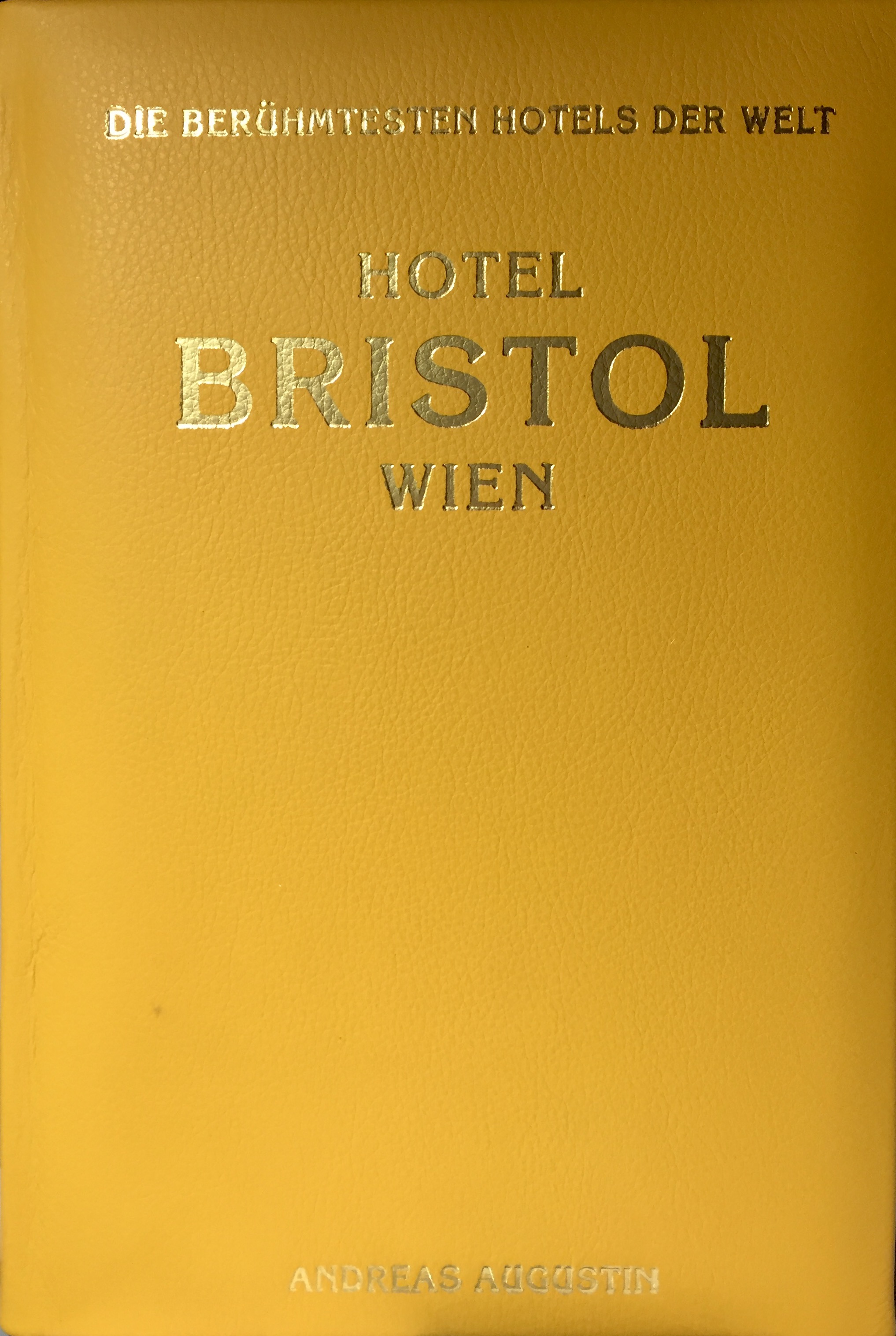 Photographs
Illustrations
220 Bilder, Landkarten, historische und aktuelle Photos (Bill Lorenz and Jaime Ardiles-Arce)
Binding
Leather bound / gold stamping
Includes
2 postcards, 2 reading marks (HIS and HERS)
ISBN
3-902118-03-2, 978-3-900692-10-0
Die Geschichte des 1892 eröffneten Wiener Hotels Bristol ist voller interessanter und liebevoller Details. In episodenhaften Erzählungen wird ein reicher Schatz an historischen Informationen enthüllt.
Glaubten Sie bislange auch an die Geschichte des "Earl of Bristol"?
Treffen Sie Andreas Kührer, der 1892 das Bristol eröffnete und Karl Wolf, der es übernahm und erfolgreich weiterführte.
Begleiten Sie die berühmte Operndiva Nellie Melba 1900 in das modernste Hotel Wiens.
Hier trifft Bertha von Suttner auf einen Rivalen: Theodore Roosevelt.
George Gershwin wird zum Amerikaner in Wien, als er 1928 "An American in Paris" hier weiterkomponierte.
Lesen Sie die mysteriöse Geschichte vom Tod des Fürsten Kinsky und erleben Sie nochmals die Jahre der alliierten Besatzung, als das Bristol zum amerikanischen Hotel wurde und sogar die Botschaft der USA beherbergte.
Lassen Sie sich in die Welt der besten Köche Österreichs enführen.
Berühmte Künstler und gekrönte Häupter säumen den Pfad der Geschichte des Wiener Hotels Bristol.
Hier treffen wir sie alle wieder, von Rubinstein bis Puccini, vom Khediven von Ägypten bis zum Prince of Wales, der mit seiner großen Liebe und späteren Frau Wallis Simpson hier schöne Stunden verbrachte und nach dem die berühmteste Suite des Hotels benannt wurde.
Kleine Reisenotizen
"Willkommen im Hotel Bristol!" Der Wagenmeister öffnet die Türe. Der Verschlag der modernen Droschke ist aus solidem Metall. Satt fällt die Türe zurück ins Schloss. 230 Pferde unter der Motorhaube traben langsam weiter. Vor mir das Bristol. Gegenüber die Oper. Der Wind trägt Bruchstücke von La Boheme von einem offenen Fenster eines Korrepetitorkämmerchens über den Opernring. Wie bitte? Welche Frage: Puccini hat natürlich im Bristol gewohnt.
Reisen Sie mit mir zurück in das Wien der 1890er. Wien ist die Hauptstadt des Österreichisch-Ungarischen Kaiserreiches im Herzen Europas. Im vielsprachigen Völkergemisch sagen die Ungarn Becs und die Tschechen Viden, wenn sie Wien meinen. Trotzdem: die Amtssprache von Bregenz im Westen bis an die russische und rumänische Grenze im Osten, von Prag im Norden bis an die Adria der österreichischen Hafenstädte Triest und Pula ist Deutsch. 1892 leben über 41 Millionen Menschen innerhalb der gemeinsamen Grenzen.

Am 26. Juni 1892 eröffnet der Wiener Restaurantbesitzer Andreas Kührer das "Hôtel Bristol". Das ist in jeder Hinsicht Geschichte. Wir sprechen von einem Hotel, das in seiner einstigen Kleinheit nicht mehr existiert, in seiner späteren Größe zerstört wurde und an seinen heutigen Platz erst im Laufe der Zeit gelangte. Das ist also nicht so einfach wie zum Beispiel ein Haus, von dem ich Ihnen erzählen kann: sehen Sie dort diese Türe? Durch die kam am 12. Jänner 1908 um Punkt fünf Uhr am Nachmittag der Kaiser, um seine Nichte, die Königin von Belgien, zu begrüßen.
Das geht hier nicht, da die Türen dieser Zeit nicht mehr stehen, die Mauern zerstört, zerbombt oder abgerissen wurden. Unser Bristol hat nämlich ungefähr hundert Meter von seinem heutigen Standort entfernt seine Karriere begonnen, wurde im Laufe der Zeit Haus um Haus, Block um Block erweitert und schloss schließlich – nämlich 1916 – auch jenen Teil ein, in dem wir uns heute bfinden. So hat sich das Hotel an die beste Adresse der Stadt vorgearbeitet. Kärntnerring 1, Ecke Kärntnerstraße. Dort war die "Sirkecke", benannt nach einem Kaufmann, der hier sein Geschäft hatte.

Hinein mit uns in die episodenhaft gestaltete Geschichte dieses Wiener Hotels. Ich habe sie über ein Jahrzehnt recherchiert, um sie Ihnen heute so erzählen zu dürfen. Begeben wir uns ins Bristol mit dieser exquisiten Konzentration von feinen Restaurants, seiner diskreten Bar und seinem gemütlichen Ambiente. Darf ich bitten, Gnädige Frau, oder mag der Herr vielleicht vorgehen, auf die nächsten Seiten, hinein ins Jahr 1892.

Andreas Augustin
Andreas Augustin präsentiert in der Serie Die Berühmtesten Hotels der Welt:
Hotel Bristol, Wien
Der Autor und die Organisation THE MOST FAMOUS HOTELS IN THE WORLD danken ganz besonders Erhard Noreisch, der als Generaldirektor der Imperial Hotels Austria AG dieses umfassende Geschichtsprojekt möglich machte.
Thomas Schön, früherer Generaldirektor der Hotels Imperial und Bristol, gebührt ebensolcher Dank.
Dr. Petra Engl-Wurzer, zuständig für die Öffentlichkeitsarbeit der Gruppe, begleitete dieses Projekt der Geschichtsforschung mit Akribie seit Anbeginn.
Herzlicher Dank gebührt auch allen anderen früheren Direktoren des Hauses, die so freundlich mithalfen, dieses Buch zu recherchieren, im Besonderen Raimund Jeschek- Fritsch, Andreas Vögl, Georg W. Engelhardt und Otto Scheiner.
Dank für Unterstützung und Hilfe in loser Reihenfolge an Riccardo Giacometti, Evert Schuele, Andreas Bienenstein, Pamela Engelmann, Evelyne Seyfried, Regina Klaus, Barbara Bischof, Heiko Brunner, Reinhard Gerer, Konrad Gutlederer, Dieter Hölzl, Johann Krätschmer, Dieter Ludewig, Lisa Nassler, Gerhard Palm, Franz Ramusch, Gabriela Reithofer, Rupert Schnait und all die anderen freundlichen Menschen, die wir im Bristol getroffen haben.
Erstellung der historischen Datenbank: Mag. Carola E. Augustin,
Assistent in der Geschichtsforschung: Dr. Marcello de la Speranza.
Besonderen Dank an den George Gershwin Spezialisten Richard Lewis, an Haik Zarian und Dr. Helmut Haderer.
Fotos: Bill Lorenz (Menschen), Jaime Ardiles-Arce (Interieur)
Weiteres Bildmaterial: Archiv des Hotel Bristol, Archiv der Österreichischen Nationalbibliothek (Portraitsammlung, Bildarchiv und Fideikom-mißbibliothek), Archiv M. de la Speranza, Wien, Famous Hotels Main Archives, Wien, Imperial War Museum London, The British Library, Archives d'Outre-mer, Aix-en-Provence.
Editor: Mag. Carola E. Augustin
Alle historischen Daten wurden im Zuge der Recherchen nach gängigen Kriterien ausgewählt und zusammengestellt. Das erklärte Ziel war es, einen allgemeinen geschichtlichen, möglichst unterhaltsamen Überblick zu vermitteln. Dieses Werk erhebt also keinerlei Anspruch auf Vollständigkeit.
Historische Fotogra en wurden entsprechend restauriert und gelegentlich koloriert und sind daher Gegenstand des Urheberrechtsgesetzes. Das gesamte Werk, einschließlich aller Teile wie dem Umschlag, den beigelegten Postkarten und Lesezeichen unterliegt dem Urheberrechtsgesetz. Insbesondere ist die Speicherung in elektronischen Medien und die Distribution in Netzwerken jeder Form untersagt. Jede Verwertung von Teilen dieses Werkes ohne ausdrückliche, schriftliche Zustimmung von The Most Famous Hotels in the World London wird ausnahmslos verfolgt.
Achtung - Verlage und Autoren
Alle in diesem Buch verwendeten Aufnahmen sind als digitale Dateien in bester Qualität erhältlich. Wenden Sie sich an das Archiv von the most FAmous hotels in the World und verlangen Sie das bestmögliche Bildmaterial für Ihre eigenen Publikationen, das wir gerne zur Verfügung stellen.