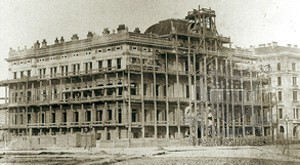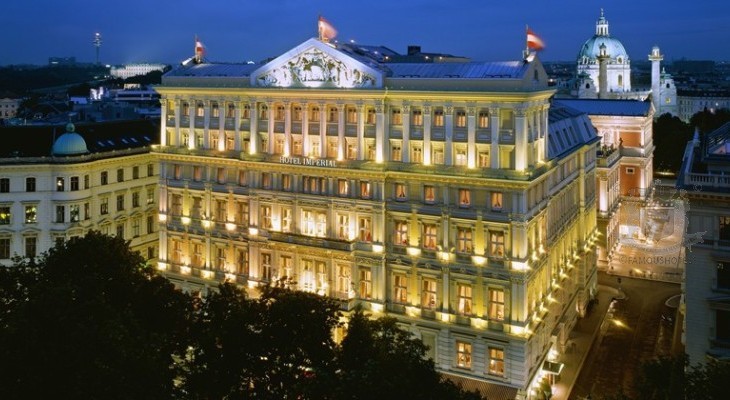 Move the slider (the arrows in the picture) to see:
Building the Palace for the Duke of Württemberg in 1865 as one of the first buildings along the new Ringstrasse. To the right the hotel today. In the background the music hall Musikverein and St. Charles Church.
Imperial Vienna
"Stay at the Imperial and feel like an Emperor," said Charlie Chaplin during his visit. The former private palace of the Duke of Wuerttemberg, completed around 1866 and never inhabited by the duke, was converted into a hotel for the 1873 world exposition, held in the Austrian capital Vienna. It is one of the legendary palaces along the Ringstrasse, the boulevard that circles around the inner city.
Today the Imperial is Austria's most luxurious palatial hotel. It's not only a luxurious hotel for the discerning traveler, but also serves as a 'guest house' of the Republic, accommodating heads of states and royals.
For many Viennese, it is the meeting point before and in particular after concerts in the next door Musikverein. The staff is wonderful, the atmosphere very impressive, yet relaxed and comforting.
Completed in 2014, the ground floor of the hotel underwent a much debated centenial renovation and remodelling process. One of the main axis is the Path of History, (installed by famoushotels) presenting the history exhibition of the hotel (see also pathofhistory.com.) In February 2016, Starwood Hotels sold the property to UAE business group Al-Habtoor.
Google Map