Ritz – Madrid, Spain (Spanish)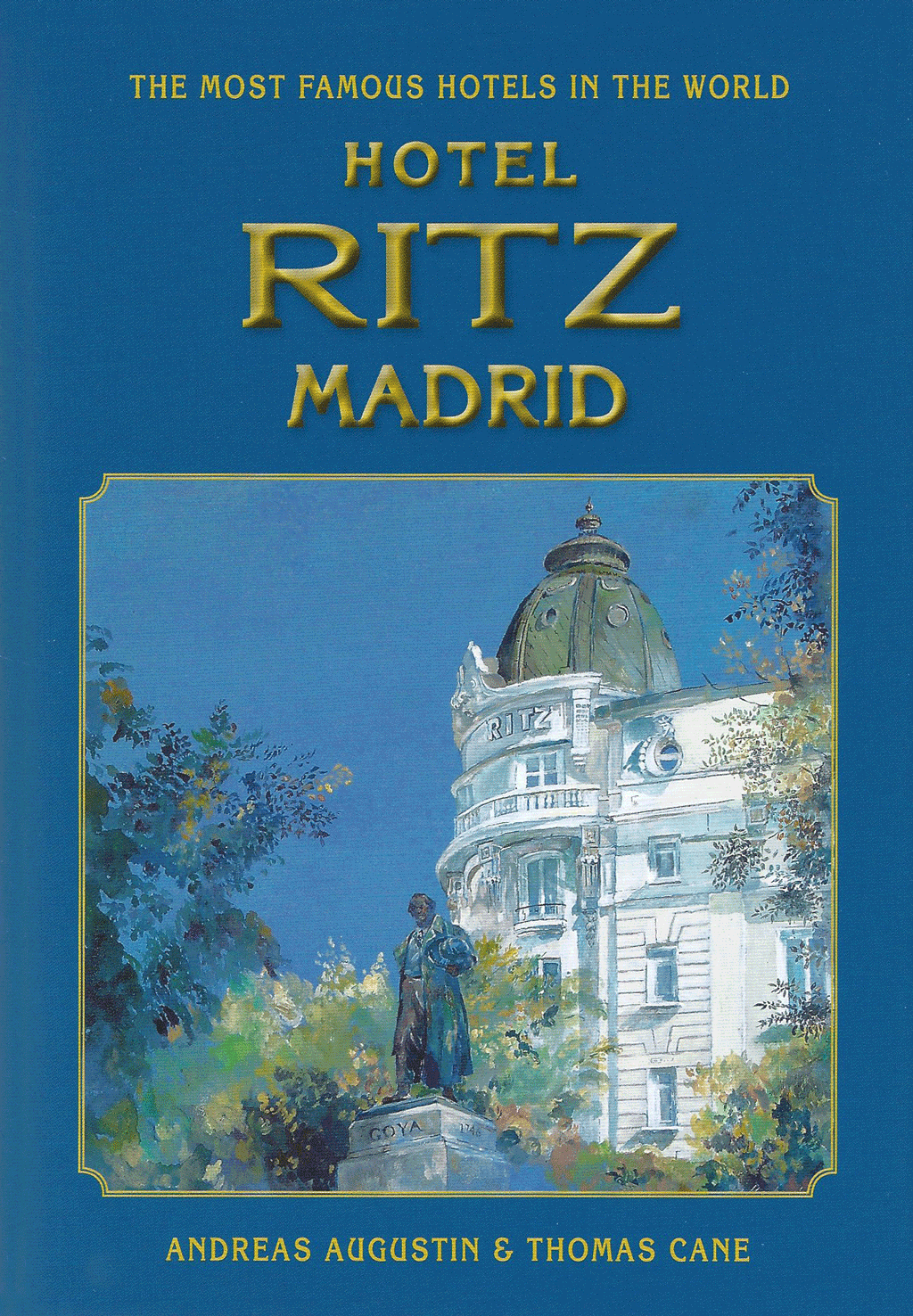 Author
Andreas Augustin & Thomas Cane
Photographs
Illustrations
Over 140 illustrations, contemporary and historical photos; Cover picture by Manfred Markowski
Binding
Hardcover (real cloth bound / gold stamping / dust jacket)
Includes
1 Famous Hotels Traveller's Library brochure
Ritz. — Mucho más que un nombre. Sinónimo de calidad y excelencia y eufemismo que describe un mundo fuera del alcance del común de los mortales. Un término que evoca sueños lejanos de esplendor y glamour, envueltos en sábanas de seda y lino tejido a mano. Significa pasear sobre extensas y gruesas alfombras persas, comer en platos de porcelana fina, escuchar el tintineo del cristal y la plata…
Desde 1910, el Ritz de Madrid representa todo esto. Esta es su historia.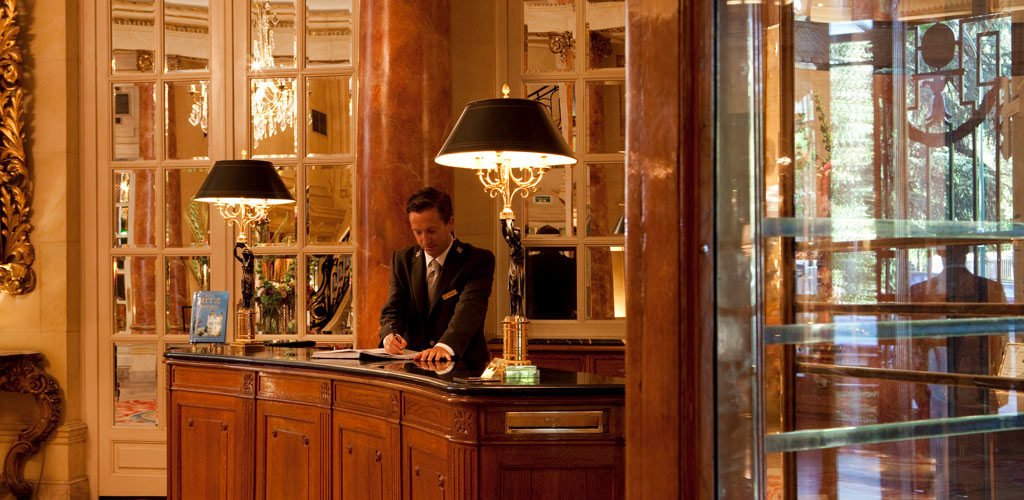 Diario de un viajero;
Ha llegado al Ritz en Madrid y se desliza lentamente sobre las grue- sas alfombras del vestíbulo. Los motores se van apagando... El símil aeronáutico no ha sido escogido al azar: se ha sentido prácticamente propulsado hacia dentro por la botones de sonrisa encantadora que ha sabido empujar la puerta giratoria en el instante preciso y con perfecto impulso. Deja a su derecha la mesa del conserje y se registra en la encantadora recepción a la izquierda. Sus maletas se encuentran en la habitación. Ya ha aterrizado.
Exploremos ahora el vestíbulo, campo de batalla por el que desfilan las tropas de la alta sociedad local e internacional.
Raras veces podremos encontrar estilo más vibrante y cosmopolita en un ambiente tan distendido y seductor. Sentado al piano de cola, Vin- cent la toca otra vez. Los turistas -reunidos alrededor de sus mesitas- despliegan grandes mapas y deciden qué rutas seguirán hoy. Mujeres españolas hunden sus tacones en las mullidas alfombras, alegrándose de alcanzar el otro extremo sin sufrir percance alguno. Sus elegantes trajes hablan de bodas, bautizos... ceremonias a las que asisten en al- guno de los salones del hotel, el Bar o El Restaurante Goya. Y es que el Ritz es el lugar de encuentro predilecto de la alta sociedad madrileña. Pero no sólo eso. El Ritz también ofrece una calurosa bienvenida a los visitantes extranjeros, siempre creando ese ambiente que les hace sen- tirse como en casa. Desde su entrada en el hotel usted se convierte en el centro de atención: el personal se desvive por usted, sigue todos sus movimientos, sus gestos... y aunque parezca que en algún momento no le atienden, es porque saben que así lo desea. El actor de Hollywood Richard Gere se hospedó en el Ritz durante un tiempo, no se sabe exactamente cuánto. El personal del hotel fue tan discreto que ni los paparazzi más persuasivos lograron enterarse. Con ocasión de la boda del Príncipe de Asturias, unas veinte delegaciones - principalmente
El príncipe Alfonso XIII. Él quería "un Ritz".
miembros de las Coronas de todos los países- se hospedaron en el Ritz. Todo un reto para el personal... y un paraíso para los huéspedes. Madrid es una de las ciudades más excitantes de Europa por su arquitectura, un lugar donde lo antiguo y lo nuevo se fusionan con armonía. Hospedarme en el Ritz -me atrevería a decir-
me hace sentir de vuelta en uno de los grandes hoteles clásicos del mundo. Los paneles de madera que recubren las paredes, el impre- sionante reloj de Henry Lepaute tras la mesa del conserje o la puerta giratoria de la entrada, crean esa burbuja de confort en la que uno desea refugiarse...
El Museo del Prado está a sólo un minuto, y puede verse desde las habitaciones del hotel con vistas al sur. Al otro lado de la calle se en- cuentra el Museo Thyssen-Bornemisza, umbral del centro histórico de Madrid, el llamado Madrid de los Austrias. Este nombre data de la época en la que los Habsburgo reinaban en España y el sol nunca se ponía sobre su imperio. El Ritz se inauguró en la época de los Bor- bones. Alfonso XIII -hijo de Alfonso XII y María Cristina de Austria- tuvo la genial idea de animar a las personas adecuadas a que constru- yeran un lujoso hotel en su capital. En 1908 comenzó el proyecto y el hotel abrió sus puertas en 1910.
Ésta, querido lector, es su historia. Acompáñeme si lo desea a través de estas páginas, que yo, con su permiso, proseguiré.
Nuestro más sincero agradecimiento al director general del hotel, Christian Tavelli, por su apoyo para la nueva edición de este libro.
Muchas gracias también a Inma Casado de Amezúa Fernández-Amigo, relaciones públicas del hotel por preservar los archivos y seleccionar las actualizaciones de esta segunda edición. Las ediciones anteriores contaron con el apoyo del entonces director general Anton Küng, que amablemente nos invitó a realizar nuestra investigación para realizar este libro, y de James B. Sherwood, fundador de Orient Express Hotels.
Queremos también agradecer por su ayuda a José María Bermejo, Marc Rodríguez, Marcelo R. Moscheni, Amelia Santos, María José Villa, el equipo de Marisa de Navascués, en particular a sus asistentes Inma Casado y Luis Llagostera, a Vincent Padiolea, Jorge Casas, Jorge González Benjamin Viruel Ramirez y Raúl Villabrille Velasco.
El autor desea dar las gracias a María Dolores Danzberger de Bernad por su colección de fotografías y su valiosa aportación.
La investigación tuvo lugar en los archivos de El Arenal, El Prado, la Biblioteca Nacional de España, los archivos del Hotel Ritz, del hotel Savoy de Londres y los archivos principales de The Most Famous Hotels in the World, Biblioteca Nacional de Viena.
Texto de la edición española supervisado por Guillermo Reparaz.
Portada: Manfred Markowski
Fotografías: Jacob Termansen, Alessandro Battistessa—studio Genious Loci (Milan); Andreas Augustin, sitiosespana.com; Salzburg Museum; Danzberger de Bernad Collection