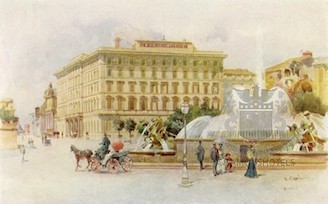 St Regis Grand Hotel, Rome
"A new Rome is being added to the Rome of the Ceasars, the Rome of the Popes and the Rome of the Kings. This new Rome belongs to the golden colony of travellers and cosmopolitans. Its palace lies at the Grand Hotel, just as those of the old Romes lie at the Forum at the Vatican and at the Quirinale." Viscount d'Avenal, 1890s.
Google Map
Note from the Host
General Manager
Vincenzo Falcone welcomes the guests of the only Grand Roman Hotel.
Coordinates
Via Vittorio Emanuele Orlando 3
00185 Italy, Rome
Tel: +39 06 47091
Fax: +39 06 4747307