The Imperial – New Delhi, India (French)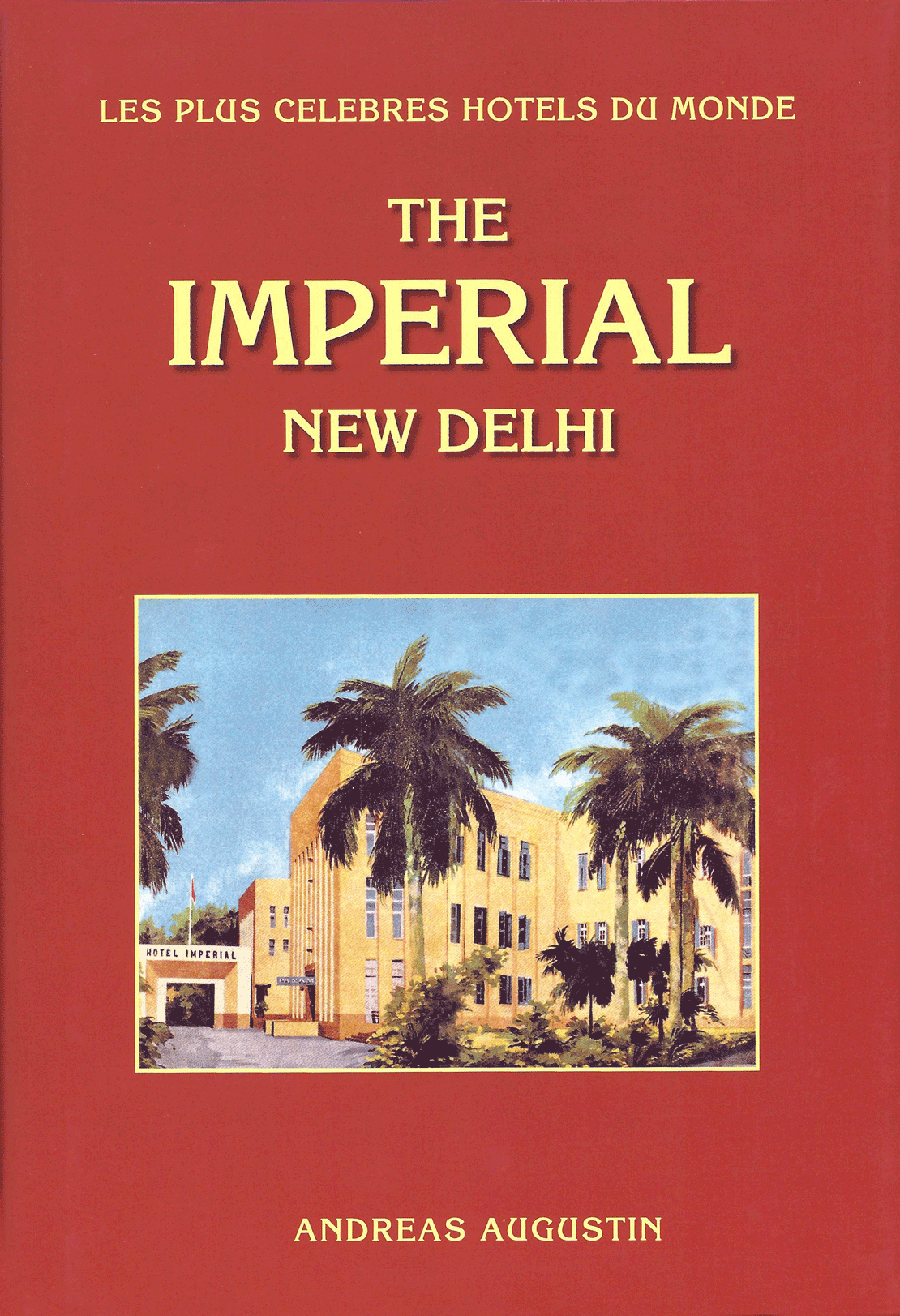 Photographs
Illustrations
180 historic and contemporary photographs, maps and illustrations
Binding
Hardcover (real cloth bound / gold stamping / dust jacket)
Includes
2 postcards, 2 reading marks (HIS and HERS)
Quel est le fruit de la rencontre entre l'un des plus importants constructeurs de la nouvelle ville de Delhi et l'une des plus ambitieuses dames de la haute société de l'Empire Britannique? La réponse est simple: l'Hôtel Imperial. Ce livre vous emmènera de la déclaration surprise de George V en 1911, faisant de Delhi la nouvelle capitale de l'Inde, jusqu'aux derniers jours du Raj Britannique, quand l'épouse du vice-roi, Lady Willingdon, réussit à convaincre le plus dynamique constructeur de New Delhi, Narain Singh, à construire cet hôtel prestigieux. Nous assisterons au développement de l'hôtel pendant les décennies suivantes : des opulentes fêtes coloniales jusqu'aux actions des indiens « subversifs » qui ont fait de l'hôtel leurs quartiers généraux pendant la lutte contre les autorités britanniques. L'hôtel est la base personnelle de Pandit Nehru. Muhammad Jinnah lui, y élabore les plans pour un Pakistan indépendant. L'Imperial devient également le lieu de prédilection de la société indienne: riches hommes d'affaires de New Delhi, célèbres stars de Bollywood parmi beaucoup d'autres personnalités. Son concept unique de « musée-hôtel » fait de l'Imperial le plus distingué de tous les établissements indiens. Venez à la rencontre de sa célèbre clientèle. Vivez le suspense précédant la création du Pakistan dans la salle de bal de l'Imperial et divertissez-vous des histoires du bon vieux Tavern. Ce livre est un voyage à travers le passé de cet hôtel si particulier tout en nous ouvrant un chemin vers le futur: « l'expérience Imperial » .
---
1.
A chaque fois que nous pénétrons dans un grand hôtel, nous, les privilégiés, connaissons ce sentiment spécial et unique : cette sensation de « rentrer chez soi» . Ce sentiment peut être comparé à celui d'un amateur d'art à l'encontre d'un tableau extraordinaire dans un musée. Ces deux émotions intenses procurent un pareil plaisir. Mais avez-vous seulement songé à loger dans un musée? Suivez-moi donc jusqu'à l'Imperial, dans le cœur de New Delhi… C'est ici, dans la capitale de l'Inde, que germe dans l'esprit de Jasdey Singh Akoi, un ancien camarade de l'Ecole Hôtelière de Klessheim, une idée de génie, singulièrement novatrice : il décide de fusionner son hôtel avec un véritable musée sur l'Histoire de l'Inde. Son projet est particulièrement ambitieux. Dans un premier temps, il lui faut sortir l'Imperial du marasme dans lequel il sombre. Il lui faudra ensuite rajeunir l'image de l'hôtel afin d'en faire une icône de l'hospitalité orientale. C'est une entreprise gigantesque où il met la main à l'ouvrage sept jours sur sept, dix-huit heures par jour. Jasdev Singh trouve de fidèles et infatigables alliés dans les personnes suivantes : sa femme Mira, qui devient sa créatrice impériale, la gouvernante Madame Sandhu et le charpentier local, Ratti Ram. C'est ainsi, contre toute attente, que Jasdev Singh remporte son pari. En réduisant de moitié la main d'œuvre de 1 200 employés, il provoque la colère des syndicats, très vindicatifs à l'époque, qu'il réussira à apaiser en usant de tous ses talents de diplomate. Un autre type de combat, cette fois d'ordre financier, est livré face à une pénurie de moyens. Un projet d'envergure sans budget ou presque. Jasdev Singh arpente les collines aux alentours de Delhi, dénichant d'anciens meubles coloniaux pour décorer le café de l'hôtel, Garden Party. Une augmentation des tarifs des chambres permet ensuite une rénovation complète de l'Hôtel Imperial. Parmi les moments forts figurent l'inauguration du Spice Route, le plus somptueux restaurant de tout le continent asiatique, l'ouverture d'un bar, le Patiala Peg, ainsi que le renouveau du Tavern suite à la création du Daniell's. Et pour couronner l'ensemble, l'exposition de plus de quatre mille œuvres d'art de la collection familiale sert à la décoration du nouvel hôtel. Grâce aux efforts de Jasdev Singh et de son équipe, l'Hôtel Imperial devient un splendide navire flottant sur le lac de l'hospitalité indienne.
2.
Dimanche matin à l'Hôtel Imperial. Thé vers sept heures puis visite guidée des lieux. Féerie d'antiquités, tableaux, gravures et dessins. Trois heures passent sans que je m'en aperçoive. A peine le temps d'achever un tiers de la visite, dirigée avec compétence par le directeur des arts de l'hôtel, Mr O.S. Chowdhary. Je m'échappe pour me régaler d'un brunch. Tout doucement, mes pensées s'orientent vers un autre temps, un temps où ce site n'était qu'une terre aride, isolée à l'extérieur des anciens murs de la ville de Delhi. C'était l'époque de l'Empire Britannique; la capitale de l'Inde s'appelait Calcutta et Delhi n'était autre qu'une petite ville de province. Embarquez-vous avec moi. Retournons jusqu'à l'arrivée d'une certaine Lady Willingdon, qui réussira à transformer le paysage social de Delhi et à convaincre un célèbre constructeur, Narain Singh, à bâtir cet hôtel. Voyageons du temps de l'indépendance indienne jusqu'aux temps modernes. Delhi est aujourd'hui la capitale passionnante et passionnée d'une grande puissance mondiale. En plein cœur de cette ville moderne se trouve un lieu romantique et cosmopolite: l'Imperial. En route pour l'Imperial!
Andreas Augustin
The history of the Hotel Imperial brought Andreas Augustin back to this hotel which he had been visiting for almost 20 years. Happy personal memories were merged with professional research, carried out in INdia and internationally with devotion and attention to detail. Archives around the world became valuable sources, interviews with active and ­retired members of staff added stories and anecdotes to the growing collection of facts. With the help of the owning family and the management of the hotel finally the detailed puzzle of the history of New Delhi's premiere hotel was completed.
ANDREAS AUGUSTIN
présente
Hôtel Imperial New Delhi
LES PLUS CELEBRES HOTELS DU MONDE
L'organisation THE MOST FAMOUS HOTELS IN THE WORLD remercie tout particulièrement Jasdev Singh Akoi qui a maintenu en vie le mythe de l'Imperial et a inventé le concept hôtel-musée, ainsi que son fils Gobind Akoi qui a su le préparer pour le 21ème siècle.
Nous aimerions aussi remercier Pierre Jochem, vice-président et directeur général. Notre reconnaissance s'étend à L. Aruna Dhir, directeur des relations publiques pour son assistance et Rishi Kapoor pour sa planification stratégique.
Merci à (dans aucun ordre): B.K. Joshi, Martin Kleinmann, Prashant Yadav, Ravinder Singh, Bruno Cerdan, Veena Arora, Munish Kumar, Subash Goyal, Dorene Liedel, Birgit Løitegaard, Inder Sharma, Jill Gocher, Rosemary Hedges, Peter Gautschi et Stephen Vincent Fernandez.
Nous remercions de tout cœur O.S. Chowdhary, directeur des arts et antiquités de l'hôtel, qui s'est dévoué à ce projet avec passion et compétence. Il faut également mentionner Radhika Singh pour avoir donné vie aux photos de l'hôtel des années soixante, ainsi que Vikram Madhok et Reshmi R. Dasgupta pour leurs précieuses mémoires.
Assistant de recherche historique: Thomas Cane
Photographie: Deepak Budhiraja, Frank Meltzer, Jacob Termansen, Titouan Lamazou, Joplin Sinclair.
Traduction : Thomas Cane et Emmanuelle Sacchet
Matériel photographique additionnel: Rajat Dilwali / Frères Kinsey, New Delhi, O.S. Chowdhary / The Imperial Art Collection, Archives Famous Hotels, Vienne; Imperial War Museum, Londres; British Library, Londres; Archives d'Outre-mer, Aix-en-Provence; Archives Diplomatiques du Quai d'Orsay, Paris.
Le livre entier (incluant couverture, cartes postales et marque-pages) est assujetti aux lois sur les droits d'auteur. Aucune partie ne peut être reproduite sous aucune forme possible, soit électronique ou mécanique, soit par des systèmes de stockage et de récupération d'informations. Toute reproduction de ce livre sans la permission écrite de THE MOST FAMOUS HOTELS IN THE WORLD sera, sans exception, poursuivie en justice.
Notice importante pour éditeurs et auteurs.
Tout matériel photographique utilisé dans ce livre peut être obtenu pour votre propre usage en forme digitale de la meilleure qualité. Veuillez contacter les Archives de famoushotels.org qui vous assistera avec grand plaisir.
ISBN 3-900692-18-1
© Andreas Augustin
THE MOST FAMOUS HOTELS IN THE WORLD