I had Tea at Reid's – Madeira (English)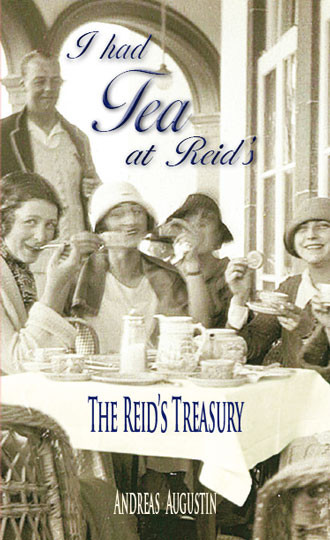 ISBN
978-3-900692-27-8, 978-3-900692-27-8
Never has there been a better time than now to think and read about the art of making and enjoying tea.
'I had tea at Reid's' is your companion to Tea at Reid's and to tea in general. Andreas Augustin successfully dilutes any legitimate concerns about an institution that raises questions like if tea or milk comes first, scones with cream under or on top of jam, little finger up, down or away? In view of these pressing issues he presents an enlightening book on a subject so important that it became an affair of state to more than one of the Queens of England. Find the answers to how to make and how to take tea, a brief history of the island of Madeira and of Reid's Hotel, its best kept secrets such as the visit of Empress 'Sisi', Elisabeth of Austria, Winston Churchill, Chamberlain, Captain Scott, HRH Edward VIII, King Umberto of Italy, the King and Queen of Sweden, etc. Writers like George Bernard Shaw arrived to 'master the tango.' Read about Madeira wine and find Reid's special recipes for scones and cakes. A comprehensive companion to afternoon tea, part serious, as the matter can be, part hilarious, as the author can be.
Seagulls floating on Champagne Bubbles
The travelling connoisseur's world is full of places synonymous with certain rituals. You have Sacher Torte in Vienna, you have a Singapore Sling at Raffles, you must have been to the lobby of The Peninsula (Green Mango Juice), the Oak Room at The Plaza (well, that's a bit of the past), and a visit to the Great Pyramid is basically meaningless if you haven't stayed at the Mena House.
And, of course, there's Tea at Reid's. This legendary hotel on the island of Madeira, in the Atlantic Ocean, on the edge of Europe, has its name engraved on the holy tableau of The Most Famous Hotels in the World. 'I had Tea at Reid's' is written on almost every postcard sent from Madeira by distinguished globetrotters. For many it is the fulfillment of a long-nurtured wish, for some it is linked to personal memories of all sorts and natures.
This little book is much more than your companion to Tea at Reid's. I have researched the history of tea, the making of it, the many little amazing and amusing stories around this fabled brew.
By the way; I trust you just had Afternoon Tea. I know how you feel. You had a lot to eat. Now you can lean back in your comfortable chair on the verandah. Enjoy the mild breeze of the early evening. There is nothing else to do but observe the busy waiters removing your trays, which you've emptied bit by bit – or should we say bite by bite? Have you ordered the queen of all wines, a glass of champagne, to celebrate the occasion? The waiters serve it in elegant flutes. The sparkling wine sends its little bubbles up towards heaven. Above you, the seagulls circle majestically. Don't they lead a wonderful existence? Carefree, floating, seemingly weightless in the evening sky. At Reid's they say that the seagulls float on the champagne bubbles. Such are our thoughts. Cheers! As you enjoy your champagne, the sun sends its last fire-red rays over the roof into the Bay of Funchal. What a day – you had Tea at Reid's. Enjoy my little book on its history, its legendary tales and the secrets of Madeira.
Andreas Augustin