Grand Hotel – Vienna, Austria (English)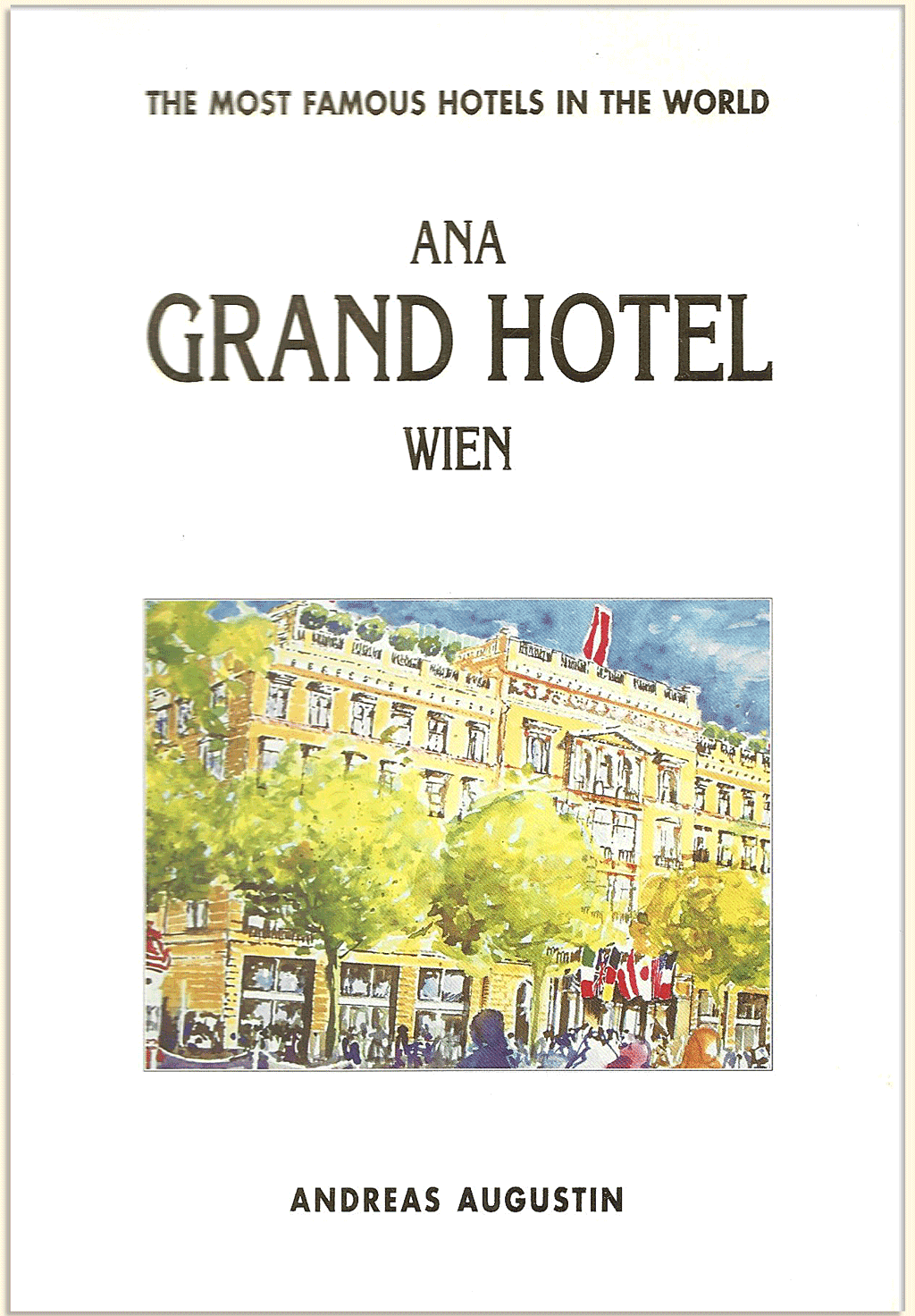 Photographs
Illustrations
over 120 historic and contemporary photographd, Cover painting by Peter Baldinger
Binding
Hardcover with dust jacket
The Grand Hotel Vienna is of greatest historic importance, as it is historically seen the oldest of all remaining 5***** hotels in Vienna. However, be aware that this is only theoretically true — it wasn't a hotel bewteen 1958 and 1994, when it reopend, totally rebuilt. Its historic facade was the only part of the old building that remained intact. But what a story it can tell about all these years between its official opening in 1870 and 1958, and from 1994 to date! It was to our knowledge the first purpose built building, designed as a hotel, and the first to be called "Grand Hotel" on the European continent, most other hotels adopted this name only later. The first one stood in London, wasn't grand by today's standards, but that's another story (and yes, we have told it!).
In 1870, the Grand Hotel in Vienna was the first hotel on the Ringstrasse. It set modern standards, comprising all the elements of a hotel as we would know it today: restaurants, bars, a wide variety of salons, an in-house laundry and some we wouldn't consider standard - a carpenter's workshop and its own stables! Until late into the 19th century, a hotel of international standards was often not more than a "maison meublée", a house that rented out furnished rooms. Any extra services such as lighting (candles), delivery of the luggage to the room (bell boy services) or even heating (logs for the fireplace, as central heating was unknown at the time) - all standard today – were separate services the hotel charged extra for.
Offten restaurants were not part of the hotel but leased to somebody from outside. When the tradition of the table d'hôte came into fashion, the money-losing restaurants finally started to show a profit (everybody ate at the same time in one dining room, served from large trays). Taking at least one meal a day at the hotel was part of the hotel's terms.
The Grand Hotel deserved its name. It soon had over 300 rooms and was, by the way, the first hotel to be called 'Grand' in the entire Austro-Hungarian Empire and one of the first in Europe. Others, such as the fabled Grand in Oslo and Stockholm were opened many years later. Accompany us on a stroll through the history of Vienna and its first and only Grand Hotel. Join us on a walk down memory lane, where more than 150 years of an exciting past pave the way of this unique hotel, which has survived two world wars. When the hotel reopened its doors in 1994, after a major face-lift within its original historc façade, it had a long story to tell. Here it is:...
One of the exciting things in publishing is the production of a good and attractive table of contents. At the Grand Hotel we did this one:
May we give you an idea about this book by simply presenting you the Table of Content:
Prologue "Tasty? Quelle Malheur!" Historical Footnotes 12 Welcome to Vienna - King Richard the Lionheart of England - Hostage in Austria - Viennese Coffee for Beginners - Empress Maria Theresia - Beethoven, Haydn, Schubert, Strauss - Napoleon - The Waltz - Artistocracy - Viennese Cuisinne - Setting The Stage 32 Modern Vienna - Emperor Franz Joseph - 'Ringstrasse' - Kippling, Wagner, Verdi, Bizet, Bruckner, Dickens and Queen Victoria - Königgraetz & Lissa - Johann Strauss - Baedecker - Sacher, Schneider, Tietz - Money To Invest 42 I build you the largest Hotel in Vienna - The Private Mansion of Anton Schneider - First Viennese Hotel Joint-Stock Company - The new Opera House - The Suez Canal Myth - Cornerstone to the Grandest Hotel in Vienna - Wagon Lits - Grand Hotel on Wheels How Will You Call Your Hotel? 52 Adler, Lehar, Schliemann, Rockefeller - Splendid, Luxurious and First-Class - The Grand Hotel 58 The First Grand Hotel in the World - American Steam Elevators - 200 Private Bathrooms - Executive Chef LouisTremmel - Modern Times 66 The World Exhibition - Grand Hotel: Magnificent Dining Rooms and an Outstanding Porter ... - The Invention of the Telephone - Installed in Every Room - Eduard Strauss Conducts - Which Prince? - The Haunt of Aristocrates - The Imperial Opens - 78 Pulp Fiction at the Grand Hotel Countess Maria Larisch at the Grand Hotel - Franz Joseph Versus Rudolf - Cupid pierced the heart of Rudolf - Baroness Mary Vetsera - The Grand Hotel - Epicentre of the Happenings - A Last Will - 90 The Grand Journey The Orient Express Stops in Vienna - Grand Hotels in Europe - The Last Civilised Culinary Stop - Yvette Guilbert - Crocodiles Not Allowed - 98 A Great Jubilee 1894, Johann Strauss, Fifty Years Jubilee - Brahms and Prince Konstantin of Russia - The Bangquette's Menue - 104 The Turn of Times One of the Most Popular Politicians - The Glamorous Centre of the Empire - House-Fiaker Payerhuber - - Strategical Teatime - The Great War - 116 A New Beginning Charleston took over from Waltz - Vienna recovers - Peculiar Guests - A New Regime - Major Facelift - The Future -
---
Andreas Augustin
presents
The Most Famous Hotels In The World
ANA GRAND HOTEL WIEN
First edition: 1994

Special thanks to:
José de Gross and Michael Andreewitch
Also to:
Silvia Kahler, Walter Scheel, Otto Scheiner, Richard Thonet, Gerhard Eberstaller and Carola E Augustin
Historical Research:
Vienna: Susanne Hauser, Erich Korger
London: Andrew Williamson
Washington: Sam Mandelbaum
Cover painting and ink drawing:
Peter Baldinger
Pictures and illustrations:
Famous Hotels Main Archives, Vienna
Austrian National Archives, Vienna
Wiener Stadtarchiv, Vienna
Library of Congress, Washington
Collection Otto Scheiner
Kurt Essmann Postcard Collection, Vienna
IRDIT Institute for Research of International Tourism
Archivio privato dell´opera di Thomas Augustin, San Firmiano
Map of Europe: S.I.G.H. Washington
Music by Waldteufel, Ketelbey, Saint-Saëns, Rimsky-Korsakow (performed by Junge Philharmonie Köln, Volker Hartung), Glass, Reich, Strauß, Brahms, Schubert, Schuhmann, Mascagni and Mendelssohn -Bartholdy (Berliner Philharmoniker, Herbert von Karajan)
Editor: Brian Shields
Design: Ramazotti Michelangelo
Photoshop: Clemens Malek
DTP coordination: Helmut Pils
Producers: Harrison Dolittle / Ernst Gugler
Typesetting: S.I.G.H., Washington
Production: TREASURY PUBLISHING
All rights in this publication are reserved. This book and no part of it may be reproduced, stored in a retrieval system or transmitted in any form or by any means, electronical, mechanical, photocopying, recording, or otherwise without the prior permission in writing of the copyright owner. It may be read.
© The Most Famous Hotels in the World