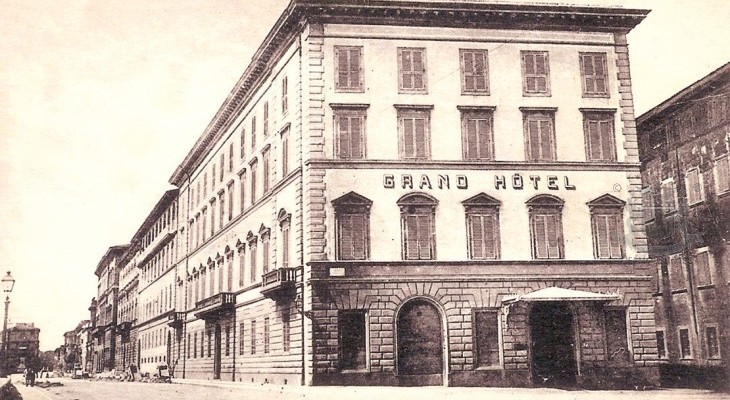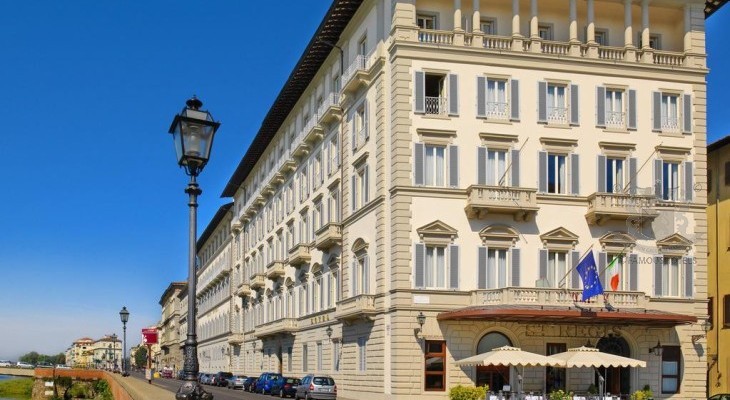 Grand Hotel (Florence)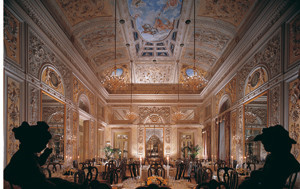 The magnificent Ball Room
A perfect network of overnight sleeper trains connects major Central European cities with Florence. When my train pulled into Florence station, the first rays of the sun created this stunning silhouette of towers, domes and Tuscan hills. It was early morning, the streets still empty, the city sleepy; I walked to the Grand Hotel on the river Arno.
There is a collection of respectable coffee table books, among them the unrivalled classic The History of Italian Renaissance Art by the eminent Professor Frederich Hartt, next to an exquisite Leonardo volume, an exuberant Palazzi of Tuscany and the standard Firenze. No, I am not in the first and still the only English bookshop a few metres from the Grand Hotel in Borgo Ognissanti. These books are all prominently resting on a large square table in the lobby of the Grand Hotel. This is a hotel I trust.
It's 13/7/13. That's the next, however common, difference between a Grand Hotel and the rest of them. The staircases often gap more than five metres between the floors. With dozens of steps in between. At the Grand in Florence it is 13/7/13. 33 steps from one floor to the next. I walk them. For some time now, I have imagined an invisible signboard in front of every elevator saying: 'This lift is provided free of charge for your convenience. The stairs are provided free of charge, too, for your health.' And so I walk.
The butler service at the Grand Hotel elevates the hotel into the league of a select few around this globe. A bottle is elegantly opened on the balcony, laundry discreetly taken, trousers returned ironed. Right on time, while the bubbles of the champagne still ripple, the restaurant manager calls in to say that they have a new menu. 'Why don't you have dinner with us?'
Not long afterwards, I am sitting at my table under an umbrella in front of the Grand on the Piazza Ognissanti. The noise of the street has been reduced to the occasional car. Here stands a seemingly modest church. It is only once you enter that you discover its splendour, its unexpected depth and a charming courtyard, with walls paved with frescoes. In the church lies the family tombstone of Amerigo Vespucci, the Florentine after whom America is named. Like the Grand Hotel, its exterior does not give away the grandeur that awaits you inside. It needs discovering. Once you pass through the revolving door of the hotel, the hall leads you to its staircase. The next room opens to a splendid Winter Garden. Further stairs take you to one of the most beautiful ballrooms in Italy. This modesty is a typcial attitude of the Florentines.
It makes exploring this city so interesting.
Andreas Augustin
Google Map