Hotel Kämp – Helsinki, Finland (Finish)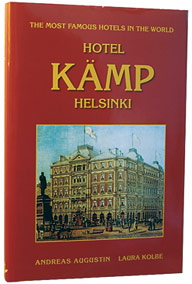 Author
Andreas Augustin & Laura Kolbe
Photographs
Illustrations
180 historic and contemporary photographs and illustrations
Binding
Hardcover (real cloth bound / gold stamping / dust jacket)
Includes
one postcard, reading marks
Tervetuloa Helsinkiin, Itämeren tyttären syliin. Tervetuloa Hotel Kämpiin nauttimaan Suomen ylellisen vieraanvaraisuuden perinnöstä. Jo yli sata vuotta Kämpin julkisivu on hallinnut ihanaa Esplanadin puistoa, joka jakoi ennen kaupungin eteläiseen ja pohjoiseen puoliskoon. Se oli jokaisen Suomeen tulleen, elämyksiä janoavan matkailijan lempi-ajanviettopaikka. Sen historia juontaa juurensa päiviin, jolloin Venäjän Tsaari hallitsi Suomen Suuriruhtinaskuntaa. Kämp oli keskeinen tapaamispaikka ryhmälle, jota kutsuttiin Nuorsuomalaisiksi. Kyseessä oli vallankumouksellinen piiri, joka muutti maan yhteiskunta- rakenteen. Hotel Kämpissä pidettiin salaliittoa punovia kokouksia, ja täällä laskettiin kulmakivet nuorelle tasavallalle, Suomelle, joka perustettiin 1917. Teoksessa on mahdollisuus tutustua menneiden aikojen kuuluisuuksiin, kuten säveltäjäneroon, Sibeliukseen tai suureen taidemaalariin, Gallen-Kallelaan. Meidän päivinämme legendaariset taiteilijat ja kansainväliset valtiomiehet tulevat Hotel Kämpiin nauttiakseen. Bruce Springsteen, The Rolling Stones, Tom Jones ja Elton John ovat meidän aikamme supertähtiä, jotka ovat olleet hotellin vieraina. Monille menneisyyden ja oman aikamme suurhenkilöille Hotel Kämp on kiinnekohta Suomessa, ja tämä teos kertoo heidän kokemuksistaan. Ylhäällä vasemmalla: ensimmäinen piirustus hotellista, Jean Sibelius, Saksalaisia vartijoita univormuissa, hauskat juhlat, Kämpin legendaariset ankat, Elton John, höyrylaiva lahdessa; Ylhäällä oikealla: Marsalkka Mannerheim, Tina Turner, Björnstjerne Björnson, Eino Leino, yksityiskohta Favénin kuuluisasta maalauksesta ja popyhtye Bon Jovi.
Tanakan näköinen mies, jolla on valtava, valkoinen parta, kääntyy ympäri ja kumartaa yleisölleen. Yleisö tuntee hänet hyvin ja tervehtii häntä lämpimin suosionosoituksin. Tämän jälkeen hän kääntyy jälleen näyttämöön päin. Helsingin kaupunginorkesterin 69 jäsentä näkee katsomon, jossa on noin 1600 henkeä. Orkesterin yhdestoista pääkapellimestari Leif Segerstam kohottaa kätensä, ja aika pysähtyy. Hänen kämmenensä muodostavat näkymättömän kolmion, ja hän nyökäyttää päällään aloitusmerkin. Samassa Sibeliuksen sävelet lähtevät viriämään soittimista ja kiirimään läpi Finlandia-talon, Helsingin kuuluisan konserttitalon, jonka on suunnitellut Alvar Aalto. Hänen musiikkinsa vie ajatukseni takaisin Hotelli Kämpiin, josta olin lähtenyt tuntia aikaisemmin. Sieltä Sibelius oli löytänyt ystävänsä, hengenheimolaisensa, toisen kotinsa. Päiviä, öitä oli kulunut keskustellen, inspiraatiota, valaistusta etsien. Sibeliuksen toisen sinfonian siivin keksin tämän pienen keskustelun, joka käydään Helsingissä vuonna 1887. Kuvitelkaa mielessänne: Jo vuosia Oopperakellari oli ollut opiskelijoiden kohtaamispaikka, myös nuorten muusikkojen. Eräänä päivänä Carl Kämp, ravintolan omistaja, ilmoitti suunnitelmistaan siirtää ravintolansa suositusta kellarista uuteen hotelliin, jonka hän oli ostanut. Eräs nuori ravintolavieras nousi silloin seisomaan ja sanoi: "Tuosta hienosta, uudesta hotellista tulee aivan liian kallis paikka meille opiskelijoille. Surullista, parahin herra Kämp, ettemme enää tapaa." Kämp katsoi heitä hämmästyneenä ja sanoi lempeästi: "Teille, rakkaat ystävät, tulee aina olemaan paikka minun kattoni alla." "Ja kun minusta tulee kuuluisa säveltäjä, juhlin jokaista ensi-iltaani uudessa ravintolassanne!" huudahti toinen nuorimies. "Haluatteko siis tehdä pöytävarauksen, hyvä herra?" Kämp vastasi nauraen. "Nimellä Sibelius. Janne Sibelius, parahin Kämp." Vei vuosia, ennenkuin Sibelius, Suomen kaikkien aikojen suurin säveltäjä, palasi kotimaahansa opiskeltuaan Berliinissä ja Wienissä. Kun hänen jalkansa koskettivat jälleen Suomen maaperää, ei hän ollut unohtanut kuuluisaa ravintoloitsijaa, vaan suuntasi kulkunsa kohti Hotelli Kämpin ravintolaa, josta tulikin hänen lempi- ajanviettopaikkansa vuosiksi eteenpäin. Seuraavana aamuna Helsingin yliopiston historian professori Laura Kolbe vie koiransa ja minut kävelyretkelle. Nousemme ylös Tähtitorninmäelle, josta näkee satamaan. Ruotsin-laivat saapuvat. Professori Kolbe katselee taivaalle, sitten taas alas satamaan ja alkaa selittämään: "Helsingistä puuttuu monien eurooppalaisten pääkaupunkien tapaan keskiaikainen ydin. Helsinki on meren kaupunki. Sininen on sen väri, joka viittaa sekä mereen että taivaaseen. Meri on Helsingin kohtalo, sen turvallinen vaippa. Kaupunki on kasvanut niemelle, merestä ja merelle suuntautuen. Meri on Eurooppaa, yhteyksiä, vapautta, unelmia ja vuorovaikutusta. Meri avautuu etelään ja se merkitsee kauppaa, satamia ja hyvinvointia. Taivas edustaa sisämaata, pysyvyyttä, kotoisuutta. Niiden välissä on helsinkiläinen juurineen. Meri tuo visuaalisia efektejä, tuoksuja ja ääniä - se tuo esiin neljä vuodenaikaa. Avoimelta ulapalta puhaltava kostea ja kylmä tuuli kuuluu Helsingin elämään. Kesällä se tuntuu miellyttävän leutona ja virkistävänä. Kun syyskylmät saapuvat, kesänlämmin meri saattaa nostaa sumun, joka kietoo kaupungin syliinsä. Talvella jäätynyt meri on valkoinen ja kirkas. Se on pilkkijöiden, hiihtäjien ja kävelijöiden suosiossa. Kun jäät lähtevät, Helsinki vapautuu ja virkoaa kohti kesän valoa ja elämää. Meri tuntuu Helsingissä kirkuvien lokkien parvissa ja sorsien lennossa kattojen yllä, sileäksi hioutuneissa peruskallion pinnoissa ja kahisevissa kaisloissa rantakatujen varsilla. Meri tuoksuu kaikkialla." Andreas Augustin
Andreas Augustin
esittelee
Hotel Kämp Helsinki
sarjassa The Most Famous Hotels in the World®
Haluaisimme kiittää Jan K. Nielseniä, Helsingin Hotel Kämpin johtajaa, joka toimi tämän historiallisen hankkeen eteenpäin panevana voimana. Huomautamme suurella kunnioituksella, että hotellin johto päätti hyväksyä teokseen vain historialliset tosiasiat eikä nojata kuulopuhein levinneihin vanhoihin tarinoihin tai myytteihin.
Olemme kiitoksen velkaa kaikille hotellin entisille ja nykyisille työntekijöille, jotka ovat antaneet suuren panoksensa tälle teokselle. Erityisesti kiitämme Gunnar Ormalmia.
Haluamme myös kiittää Sanna Suomalaista, joka koordinoi monia tehtäviä teostamme varten, Päivi Holmbergia, nykyistä hotellitoimenpäällikköä, joka toimi aikaisemmin uuden Kämpin pr-päällikkönä, Jukka Saikkosta, jonka tehtäviin kuuluu hotellin tekninen johto, liinavaatehoitaja Tiina Peltosta, Timo-Pekka Karejärveä Brasseriesta, entistä pääkokki Atte Vannasmaata, koulutusosaston Charlotta Beaulieu'tä, Inka-Kristiina Hanhivaaraa
myyntiosastolta, varauspäällikkö Inka Uusitalo-Raoultia, projektikoordinaattori Jyri Wennerkoskea sekä kaikkia niitä, joiden nimeä ei ole tässä mainittu.
Valokuvat: Hotellin arkistot, Famous Hotels - yhtiön pääarkistot, Helsingin kaupunginmuseo.
Käännös: Piia Matikkala
Toimittajat: Daniel Szelényi, Carola Augustin ja Roddy Martine
Kaikki historialliset tiedot ovat tutkimustyössä tarkoin valittuja, koska tarkoituksemme on tarjota lukijalle yleinen historiallinen katsaus. Tämä teos ei täten pyri olemaan kaiken kattava. Historiallisia valokuvia on entisöity tarpeen mukaan, joten ne on suojattu tekijänoikeuslain nojalla. Koko teos, mukaan lukien sellaiset osat, kuten suojapaperi, mukaan liitetyt postikortit ja kirjanmerkit, on suojattu tekijänoikeuslain nojalla.
Teoksen kaikenlainen säilyttäminen tai jakelu sähköisin viestintävälinein tai verkossa on kielletty.
Tämän teoksen osien kopioiminen ilman The Most Famous Hotels in the World® - yhtiön nimenomaista kirjallista lupaa johtaa oikeudellisiin toimiin.
Huomautus kustantajille ja tekijöille:
Kaikki tässä teoksessa käytetyt valokuvat ovat saatavilla laadukkaiden digitaalitiedostojen muodossa. Voitte ottaa yhteyttä The Most Famous Hotels in the Worldin arkistoihin ja pyytää kuvia omiin julkaisuihinne. Toimitamme kuvia teille mielellämme.
ISBN 3-902118-11-3
© Copyright: Andreas Augustin / The Most Famous Hotels in the World®
[email protected]
www.famoushotels.org

Kansi: Ramazotti Michelangelo