Vier Jahreszeiten – Hamburg, Deutschland (Deutsch)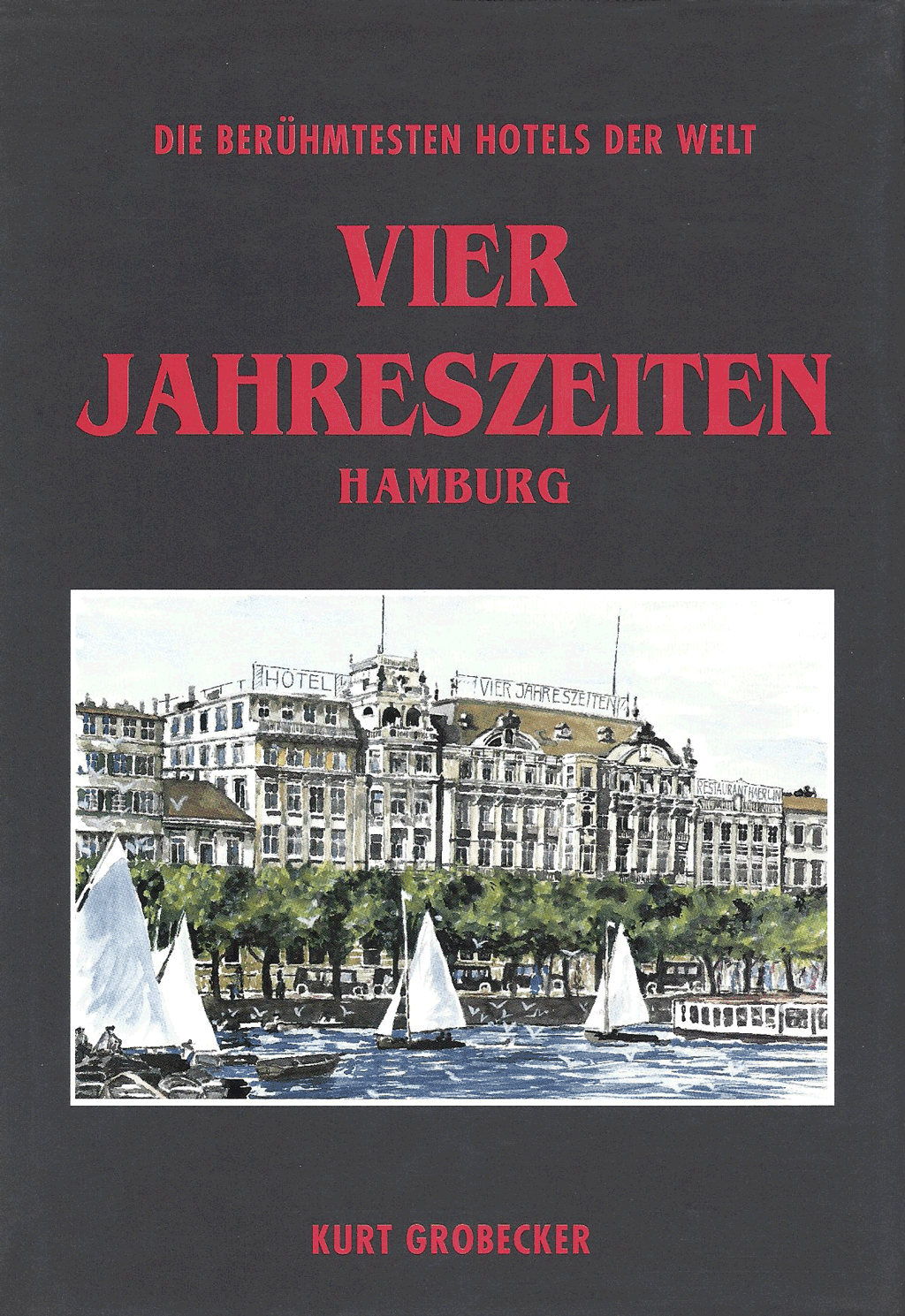 Photographs
Illustrations
über 50 Photos und Illustrationen, Umschlagbild von Peter Baldinger
Binding
Hardcover with dust jacket
"Das Vier Jahreszeiten ist mein Lieblingshotel. Ich würde es gerne mit auf Reisen nehmen". Michaela Freni
Große Namen verbinde sich mit dem Hamburger Hotel "Vier Jahrezseiten", Die Geschichte dieser großen alten Dame der Hansestadt, sufgezeichnet von Kurt Grobecker, führt uns zurück in die Tage des Jahres 1897, in denen Friedrich Haerlin das damals noch kleine Hotel am Jungfernstieg ersteigert hatte.
Grobecker spannt mit erzählerischer Leichtigkeit den Bogen von der Vergangenheit in die Gegenwart. Eine interessante und unterhalsame lektüre für alle Freunde HAmburgs und des "Vier Jahreszeiten".
Autor Kurt Grobecker, bekannter Radio Gastgeber des legendären "Hafenkonzerts", gilt als Kenner Hamburgs und der Hamburger.
Leider ist dieses Buch nur noch antiquarisch zu finden.
This book was the third book in our collection (published in 1989). It was written by the famous Hamburg radio host Kurt Grobecker, who broadcasted his regular program 'Hafenkonzert'. Nobody knew Hamburg and its fine society better then Grobecker, not only Vier Jahreszeiten general manager Gert Prantner was pleased with the choice.
The books is currently not availble.
It was in 1989: Since 1986, our archives have steadily grown. We collected data from all historic hotels of note and filed it carefully in good old fashioned filing cabinets.
In 1989 we established the first comprehensive list of The Most Famous Hotels in the World, which at the time included 280 hotels. It was published in all major travel magazines and newspapers around the world. We sparked a trend. The atmosphere and soul of these historic temples of hospitality easily rivalled the latest state-of-the-art hotels. Meanwhile, our series of books was expanding.
After researching Raffles in Singapore and the Peninsula in Hong Kong, laying a solid foundation for future work in Asia, we were called to Europe. Impressed with our work, Gert Prantner, general manager of the Hotel Vier Jahreszeiten (literally translated: Four Seasons) in Hamburg, commissioned the next book in The Most Famous Hotels in the World series.
There were obvious differences between Asian and European hotel-keeping. In Asia the European way of hospitality management served as a distant example of how to do things. Hotel-keeping had orginated in Europe. In Asia five employees were assigned to fulfil a traditional European task, while in Europe it was sufficient to have one competent person who knew what to do and was even willing to take risks and responsibility.
The Vier Jahreszeiten, founded in 1897, was invariably ranked among the best hotels of Europe. It certainly was one of the most individual lead. There was the Haerlin family who owned it. And there was its GM who oozed the charm and understatement that comes naturally to North Germans. A stickler for thoroughness, Prantner would say: 'In the race for quality, there is no finish line.'
The Vier Jahreszeiten showed us a fine sample of a guest record system, as only truly successful historic grand hotels had. It dated back to the 1920s. 22,000 individual cards were stored in drawers, creating an unrivalled database of personal service.
Data that could be found on these cards contained:
: the detailed name, address, how to address the person (including all academic and aristocratic titles)
: Preferred rooms
: flowers the guest loves / hates
: Oscars and all other awards recently won
: how many pillows
: a Beef Tartar served with Cognac every night at 02:00 am
: a hot water bottle placed under the blanket at the lower end of the bed every evening
: conversation topics the staff should avoid under all circumstances
: favourite song - for piano player in the bar
: preferred welcome gift in room (Champagne, sweets, fruit basket)
: former complaints, remarks and praise
What ever it was - no problem; it had been noted.
It was Fritz Haerlin's philosophy that he wants to know every guest personally who stays longer than one night. This tradition had been continued by his general manager Gert Prantner. And there was no sight of computers."'Of course we have them. But you do not see them. A screen degrades a guest to 'case of lodging'. We want the guest to develop a personal 'experience of residence'."

Prantner was made GM in 1975 by the late Fritz Haerlin (in the picture to the right, with Gert Prantner), who knew that his hotel was in good hands. Haerlin had been at the helm of the hotel since 1936.
It may have been pure coincidence but, soon after the publication of our book, the Vier Jahreszeiten was ranked number one hotel in Europe by Institutional Investor. It was extraordinary. In the global ranking, it lost out only to the Oriental in Bangkok.
In a congratulatory note to The Most Famous Hotels in the World, Prantner recalls today: 'I learnt to treasure the work of The Most Famous Hotels in the World. You have done more for Vier Jahreszeiten than you thought.'
We met Kurt Grobecker, a well known Hamburg writer. He worked with us on this book. The book was also the first time we collaborated with the artist Peter Baldinger, who produced the cover painting. Since then, his energetic brand of art has graced several of our books.
In 1993, after 18 years as general manager, Prantner left the Vier Jahreszeiten. In his time at the hotel, he had tripled turnover, installed modern management systems with budgeting and marketing and taken the hotel to the top of the European hospitality league. Today he is the managing owner of RIMC - International Hotel Resort Management and Consulting GmbH.
______________________
The small Hotel Vier Jahreszeiten was opened in 1897 by Friedrich and Thekla Haerlin. In the beginning it had only 11 rooms, today it has 156 rooms and suites. Haerlin bought one house after the other and finally owned the entire block. In 1913 a conversation salon with view over the Binnenalster (the local river) was presented to the public.
During the 1930s Haerlin replaced the disturbing bell signals on all floors by an optical light system. His first air condition set global standards - it could exchange a room's air within 10 minutes completely.
Among the 22,000 name cards in the guest history system the guest list includes Sophia Loren, Kirk Douglas, Richard Nixon, Aristotle Onassis, ...
The Vier Jahreszeiten became a Raffles Hotel in 1997.
Andreas Augustin
präsentiert
Die Berühmtesten Hotels der welt
Vier Jahreszeiten Hamburg
von Kurt Grobecker
Umschlagbild: Aquarell von Peter Baldinger
Produktion: Harrison Dolittle /Raymond Ma
Satz: Don Sharp
Umbruch und Computerlayout: Eva Rührnößl
Druck: UCI Printing & Packaging Pte Ltd
© Kurt Grobecker
Alle rechte dieser Publikation sind vorbehalten. Dieses Buch oder Teile davon dürfen ohne vorherige Genehmigung des verlags nicht kopiert, gespeichert, aufgenommen oder in irgend einer anderen Form wiedergegeben werden. Als Ausnahme gilt die verwendung für Buchbesprechungen.
Verlag: Treasury Publishing 1989