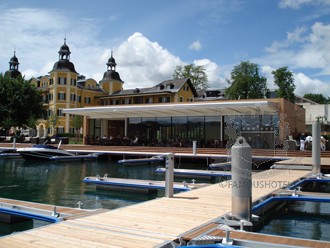 Reopened on 28 May 2007 after a 100m Euro renovation the Schlosshotel looks greater than ever!
Schloss Velden
For over 100 years Hotel Schloss Velden was the meeting point of the international jet set. The King of Thailand enjoyed its hospitality, the Prince of Wales, the Kings of Sweden and Norway, too.
To the left, by the way: Edward, the Duke of Windsor, walking his dogs outside Schloss Velden. In our new book the stars of today and yesterday parade through colourful pages. The sophisticated beach club, the terrace and the park were the playgrounds of the makers and shakers of history. We meet tycoons and politicians, little crooks and great stars, secret spies and outspoken personalities. We relive touching moments when British soldiers, once enemies, later part of the liberating allied forces, became faithful guests after the war. Somerset Maugham and James Bond inventor Ian Fleming as well as Austrian writer Peter Handke were inspired by the unique atmosphere of the hotel. Bing Crosby, Ingrid Bergmann, Omar Sharif found a home away from home in the historic castle. We will witness world politics unfolding when we accompany politicians to secret conferences in the park of the castle. We meet crowned heads and celebrated divas and dwell in memories of guests of the legendary Schlossbar, the epicentre of social life of the lake.
During the 1980s the castle was set for the most popular TV series of the German speaking market, 'Ein Schloss am Woerthersee' (A Castle at Lake Woerther). We meet stars of the series like Roy Black, we talk about the ambitious plans of German industrialist Gunter Sachs and finally we land in the present.
Recently the hotel underwent a total facelift, with spa and beach club added. It has quickly regained its leading position of fab and hip places around the lake. On 12 April 2011 it was puchased by C.T.S. Complesso Turistico Schloss GmbH (main shareholder Ugo Barchiesi, Italy).
Google Map