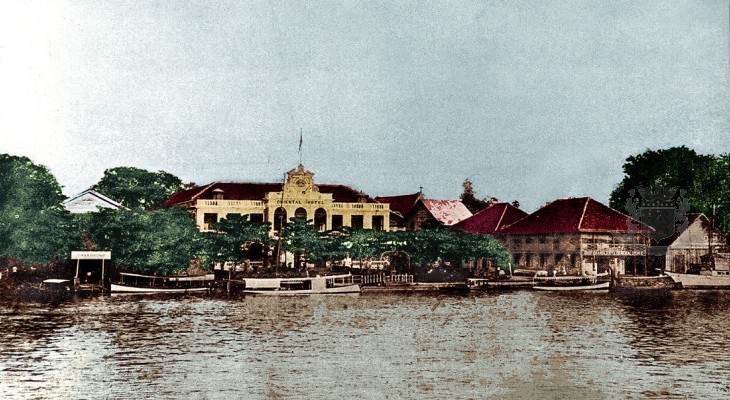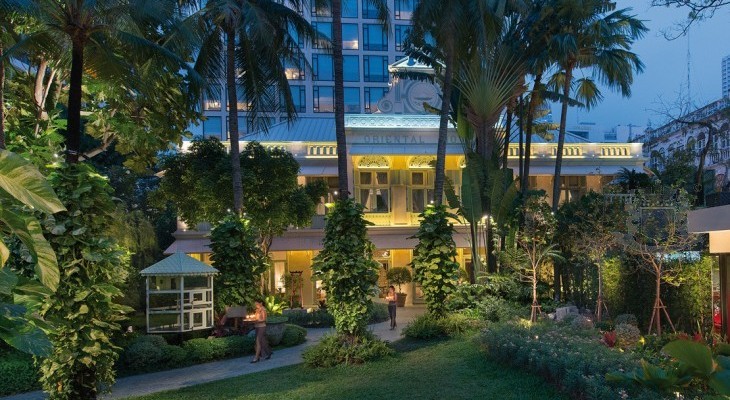 The Oriental Bangkok in 1900 — and today.
The Mandarin Oriental Bangkok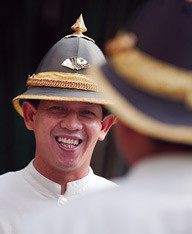 Since decades "The Oriental", as it is affectionately known by travellers from all over the globe, leads the lists of all "best-hotels-in-the-world" publications.
Moreover, it is an institution of hospitality. It offers ± 400 rooms keys, various restaurants – all so different that recently the question popped up "Why actually visit Bangkok while at The Oriental?", recreation facilities setting industry standards, and – what makes it so important to all of us – a wonderful history dating back to the mid of the 19th century (that is the 1860s).
It was the first guesthouse of repute at the River Menam, which grew into a veritable hotel. Thus it became the guesthouse of the Royal Palace. It was here that, around 1900, King Chulalongkorn hosted his Imperial and Royal visitors from all over the world. A tradition continued to this day.
Jim Thompson, the silk king, owned it, the late Peter Ustinov loved it, Graham Greene has a suite named in his honour and Michael Jackson hid from the press there. Hollywood royalty graces the hotel, the Queen of England enjoyed it and Her Majesty, the Queen of Thailand, is a beloved faithful regular visitor.
---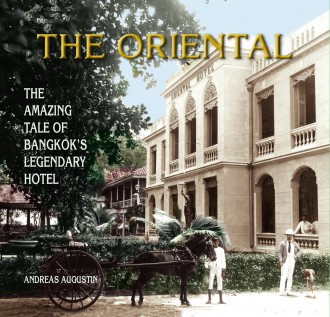 Our book THE ORIENTAL – THE AMAZING TALE OF BANGOK'S LEGENDARY HOTEL is an account of research since 1986. The photograph on its cover is one of our latest fascinating findings.
When Thailand was still Siam – in the mid of the 19th century – a rest house for foreign seafarers was established on the banks of the Menam river. It was to become one of the greatest hotels in the world: The Oriental.
The Oriental — so many stories, so many tales. What's the secret behind this composition? This book tells it all. From famous guests to PR strategies and management tactics.
From Joseph Conrad, the sea captain and writer, who drank in the bar, to the famous Russian dancer Nijinsky, who danced in the ballroom. Somerset Maugham suffered from malaria in his suite, playwright and actor Noël Coward treasured the memories of his favourite cocktail venue, Robert Rauschenberg left a collage in one of the The Oriental guestbooks and Joplin Sinclair was inspired to paint part one of his series "Otello".
Meet over 150 of the most important international writers at the Authors' Lounge and enjoy a glimpse of the fascinating Oriental Royal Collection. Over 500 VIPs listed, over 420 photographs, 160 gripping pages.
Dive into the history of this hotel, enjoy the reading and one day please go there, because:?"At The Oriental you never feel bored: the buzzing river in front of you, the relaxed pool, the choice of the best restaurants. And why not visit Bangkok while at The Oriental?"
Andreas Augustin
'This is a truly gripping, thoroughly researched and well written story of one of the greatest hotels in the world.'
Gavin Young
'Having known the Oriental for 40 years and more, I find here is a writer who has made the history come alive and tells the story as no other author can.'
Harold Stephens
Google Map