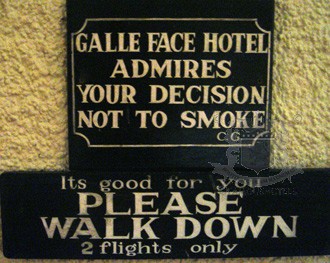 Walk! It is good for your health!
Galle Face
2014 update about renovation below!
Doorman Kuttan is among the longest serving employees in the world (left). Dear Cyril Gardiner; Maybe you have changed my life. After living for years in air-conditioned Singapore, used to enter lift cabins pressing the "shut-the-door"-button before anything else, landing at the Galle Face Hotel was a relief from the hectic day-to-day life of the Lion City. "Why don't you walk up the stairs?" Cyril asked me. "It's good for your health!" You have made this a principle of this hotel, and wooden boards still display your philosophy on each floor of the hotel, cleverly placed next to the lift doors. Now there is this modern wing with great comfort and all modern amenities you can ask for, and the old wing where we all used to stay - and which we all love so much! Devoted to the history of his hotel, your son Sanjeev has established a museum at the hotel, exhibiting hotel's memorabilia including the car of Prince Philip, which he had used upon his visit to the island. Whenever there is a lift in sight, with a staircase not to far away, I still quote you, and take the stairs.
Upon a journey from Singapore to Zurich, at the Galle Face Hotel, I opened my first Windows lap-top computer and learned (but never understood) to operate Disc Drive A; I have long forgotten all the DOS commands, and am a devoted Apple user ever since. I remember the sea front with its undivided Ocean view; the chess board tiled floor on the lawn in the court yard – the preferred venue for cocktails, breakfasts and afternoon teas. Andreas Augustin (Still taking the stairs) P.S.: Cyril Gardiner passed away in 1996, ten years after we had first met. His son Sanjeev is today in charge of the hotel. Under his reign the new Regency Wing took on shape, the contemporary luxurious South wing of the hotel, serving the needs of the discerning business traveller and sophisticated holiday maker. With great care he had preserved the historic air of the Galle Face Hotel, supported by Lalith Rodrigo, who had managed the hotel fordecades. If we can judge leaders by their advisors, the Galle Face hasn't just got a great history, but certainly a splendid future.
In 2014, The iconic Galle Face Hotel has embarked on a restoration project of its Classic Wing, originally built in 1864. The ambitious restoration project is designed to preserve the grandeur and romance of the magnificent property while upgrading and modernising the quality of guest facilities, amenities and services. The Classic Wing is scheduled to reopen to guests in late 2014 while the Regency Wing will continue to operate as usual throughout the restoration.
Google Map