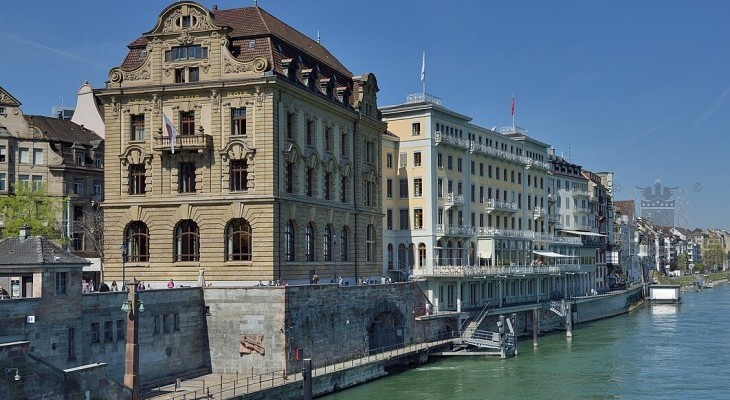 Announcemnt in 1842, explaining that the inn undergoes a renovation.
Les Trois Rois (Drei Koenige am Rhein)
Whlle accepting the official date of birth of this legendary Swiss hotel with its first mentioning in official records, we still treasure the saga that there was an inn of sorts in the medival times of the year 1026, and that within its walls in that year Emperor Conrad II, his son Henry III, and Rodolphe, the last King of Burgundy, held a conference there. So that place subsequently became known as the location where Three Kings had met.
Officially – and as a grand hotel – Les Trois Rois opened on 16 February 1844. (read more under HISTORY). Amadeus Merian was the architect, over 160 years later Christian Lang was in charge of the 2006 renovations.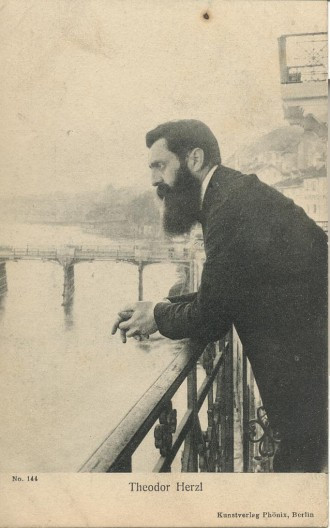 Over the decades the hotel found its place among other continental grand hotels. It witnessed historic moments more than once. In 1797 General Napoleon Bonaparte lodged at the Three Kings. In 1901, the father of modern Israel, Viennese journalist Theodore Herzl (left, on the hotel's balcony), stayed here during a Zionist Congress. Was this the foundation stone of the love of orthodoxe Jews for Switzerland? Today they are flocking to the Swiss mountains and lakes every summer.
The city's society holds it family events at the hotel and the most important state receptions are also held there. We love its location directly at the river Rhine, and that it is today such a splendid up-to-date hotel, a true gem in the crown of famous Swiss hotels.
A little story appeared recently: The distinguished composer and conductor Pierre Boulez was awakened by police at six in the morning in his room at the Hotel Les Trois Rois late in 2001; the officers confiscated his passport and disappeared.
It turned out that, 'some' years earlier, in 1967, Boulez had given an interview to German magazine Der Spiegel in which he stated his opinion about the architecture of the Basel Opera House, saying that "the opera houses should be blown up".
The observation had resurfaced in the media during the 1990s, and the law enforcement officials had apparently picked up on it during a routine check 34 years later of hotel guest registrations (that much about Swiss efficiency).
On this occasion, however, they decided not to pursue that matter and the passport was returned after a few days.
The "Three Kings" is nevertheless one of the leading lights of the global hospitality industry, en par with Swiss legendary establishments such as the Des Bergues in Geneva, the two Baur (Savoy & au Lac) Hotels in Zurich, to mention the most important hotels of the country.
Google Map