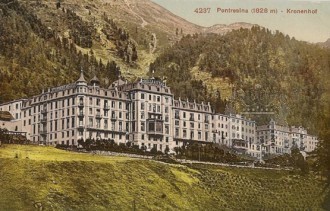 The magnificent complex of the new "Bella Vista" wing (left, opened in 1877) rules the view of the valley.
Grand Hotel Kronenhof
Arriving at the Kronenhof is like coming home to a charming old fashioned Grand Hotel. The oldest part of the house dates from 1849. Along with the Palace and the Kulm (both in St Moritz) the Kronenhof, the grand old lady of Pontresina, developed into grand alpine hotels. The Kronenhof was the first of them all. A small boarding house with only three rooms in 1849, it became the Gasthof (inn) zur Krone-Post. All guest records are still kept in the archives of the Kronenhof. Hence, we know that there were 14 guests in the first year, 11 Germans and 'other' nationalities, and three English guests. One of them was a certain F. Hugh who brought his dog, Flip.
Google Map