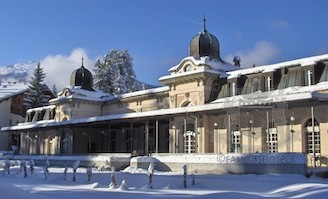 Welcome to Switzerland's largest hotel park, combining the Grand Hotel Waldhaus, Grand Chalet Belmont and Villa Silvana.
Waldhaus Flims
Waldhaus Flims Mountain Resort + Spa is the full name of the hotel today. The historical Pavillon, the lively heart of the hotel resort, is the meeting point for a relaxing and social get-together. All three guesthouses and the Pavillon are connected by covered walkways and underground passages - a system unique to Switzerland's hotel industry.
As an establishment with a long history the hotel collected a great number of historical artefacts along the way. The Waldhaus Flims has been fortunate enough that there are some veritable discoveries among them; one of them being, without a doubt, the original drafts of a new entertainment and accommodation building that were entered for an architectural competition held in 1902, and were rediscovered in 1986. Furthermore, a long-lost triptych by Giovanni Giacometti was uncovered in one of the attics of the Waldhaus Flims. History of art and architecture at its best.
Google Map