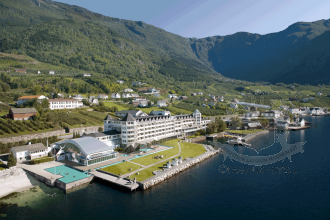 Tradition blends with modern setting: tennis hall and outdoor-pool next to the impressive hotel complex along the Fjord.
Ullensvang
Scandinavian kings, Emperor Wilhelm II and European nobility have choosen Hotel Ullensvang for a holiday. The peaceful village of Lofthus in the heart of Norway's unparalleled Fjord District, Hardanger, has inspired Norwegian authors, painters and composers throughout the ages. One of them was the world famous composer, Edvard Grieg, who found the tunes to his immortal 'Peer Gynt'-suite and 'To Spring' here.
His humble composer's cabin still stands (picture) in the lovely garden of the hotel, with a view towards the awesome Folgefonna Glacier, towering above the magnificent fjord below.
From a modest guesthouse, established in 1846 by the Utne family, Hotel Ullensvang has sprung into a modern resort hotel. The Utne family still owns and runs the hotel, and despite all the modern facilities, you will find the personal touch, the old-fashioned Norwegian hospitality and traditions which a privately owned establishment knows how to safeguard.
Ullensvang is home to the largest fruit garden in Norway, with its 450.000 fruit trees. The fjord and the green luxuriant hills stretching up towards the Folgefonna glacier has for more than a century been a tempting destination for travellers from all over the world. The local vicar hosted travellers already in the 18th century. And the famous norwegian painters Tidemand and Gude have shown their impressions through Norway's most famous painting, "The Bridal Journey of Hardanger". "Had I known it was so beautiful here, I would have come before", said Björnstjerne Björnson, a Norwegian author.
Google Map