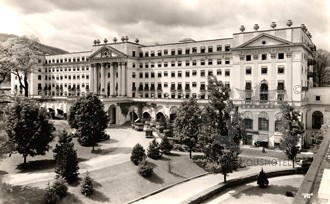 The hotel's main building was completed and opened in 1913.
The Greenbrier
By Stanley Turkel, CMHS
The original hotel, the Grand Central Hotel, was built on this site in 1858. It was known as "The White" and later "The Old White". Beginning in 1778, people came to follow the local Native American tradition to "take the waters" to restore their health. In the 19th century, visitors drank and bathed in the sulphur water to cure everything from rheumatism to an upset stomach. In the 1830s, the resort became well known as judges, lawyers, diplomats, ministers, planters and merchants from southern states visited the Old White resort in the summer for the restorative sulphur springs.
In a surprise announcement on May 7, 2009, Jim Justice, a West Virginia entrepreneur with a long-standing appreciation for The Greenbrier, became the owner of America's most fabled resort. He purchased it from the CSX Corporation which, through its predecessor companies the Chessie System and the C&O Railway, had owned the resort for ninety-nine years. Mr. Justice turned his considerable energies into plans to revitalize America's Resort. He immediately presented his vision of a casino designed by Carleton Varney that included shops, restaurants and entertainment in a smoke-free environment. The Casino Club at The Greenbrier opened in grand fashion on July 2, 2010. Simultaneously, Mr. Justice arranged to relocate a PGA Tour event named The Greenbrier Classic under the direction of The Greenbrier's new Golf Pro Emeritus, Tom Watson. The first tournament was held July 26 through August 1, 2010.
Twenty-six presidents have stayed at The Greenbrier. The President's Cottage Museum is a two-story building with exhibits about these visits and the history of The Greenbrier. The Greenbrier is listed on the National Register of Historic Places and is a member of Historic Hotels of America. It is a Forbes Four-Star and AAA Five-Diamond Award winner.
see the history button to the right for the detailed story.
Google Map