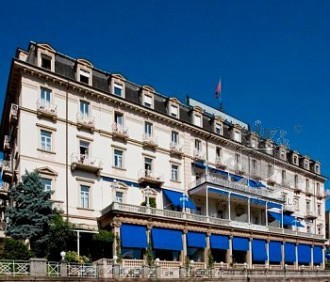 Since 1887 the Hotel Splendide is a home away from home for distinguished travellers.
Splendide Royal
The Splendide Royal in Lugano is one of the rare seasonal resort hotels among the Select members of The Most Famous Hotels in the World. Each year it reopens to a new season of royal splendour and to a new top performance that sets it apart from many other luxurious hotels.
A monument to the history of Swiss tourism, with an Italian flair, in Lugano (the largest city with an Italian speaking majority outside of Italy!), the Hotel Splendide Royal is a symbol for this lovely city. The hotel is located on the grounds of the former Villa Merlina that was enlarged in
1887
with the construction of the third and fourth floor, strictly in the Liberty style of the Belle Époque. Further new and important changes were made by the new owners of the property, the Naldi family, who took over in 1977.
In 1983 a new wing was built with 53 rooms: although in a more modern style it is perfectly integrated with the sophistication and prestige of the main building.


"... encompased by gently swelling hills rich with the luxuriance of Italian vegetation." Encyclopedia Britannica, 1888
Google Map