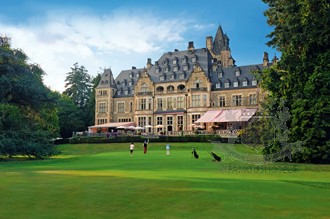 Renamed Schlosshotel Kronberg and opened as a hotel in 1954.
Schlosshotel Kronberg
Built under commission of Empress Victoria Friedrich and completed 1893 under the name Schloss Friedrichshof, is one of the most romantic German castles. It offers its guests living history to experience.
Renamed Schlosshotel Kronberg and opened as a hotel in 1954, this castle in Kronberg near Frankfurt is one of the remaining hidden treasures of a bygone age. It is romantic and bound to be the preferred destination for weddings.
You rarely get the opportunity to sleep in the bed of Queen Victoria of England, who visited (although we hope the matrasse has changed), and enjoy such an undisturbed view over a great park on a lazy morning. Queen Victoria played golf in the park of her dowager's estate Friedrichshof Castle. The attractive facility of the Kronberg Golf and Land Club in Hessian Taunus blends in perfectly with the palace garden. Undulating fairways and intense slopes give the course its charm.
At the hotel you can spend hours walking along an impressive collection of antiques and paintings from the private estate of the mother of the last Kaiser in an authentic ambience of a castle from imperial times. Perfect setting for any murder-she-wrote.
Google Map