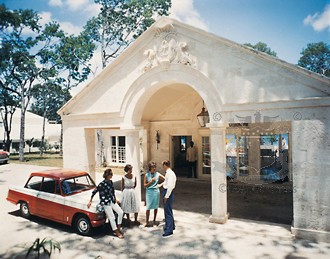 Once upon a time in the 1960s - the fashionable retreat opens.
Sandy Lane
While enjoying his winter home in Barbados, former British politician Ronald Tree was inspired to create a luxury hotel with a golf course on the island, and he had in mind the old Sandy Lane sugar plantation. Finance was raised and architects appointed, Happy Ward and Jimmy Walker, started work on the Sandy Lane Hotel in 1958. With just 52 rooms, Sand Lane welcomed its very first guests in February 1961 and quickly became known as the only truly elegant, sophisticated and chic, hotel in Barbados, indeed at that time, in the Caribbean.

The dancefloor was the venue for international singers who performed for a formally dressed crowd.

I put myself in the position of a well-educated English gentleman of the late 18th century going to the West Indies to build a Great House."
Happy Ward, architect of Sandy Lane
Since the heady days of the sixties and seventies, celebrities treated Sandy Lane as their home away from home. The stories that swirl around their visits have become legend: Aristotle Onassis being rowed in from his yacht while Maria Callas swam ashore with a pet marmoset on her back; David Niven inventing his own cocktails at the bar; Elton John adhering to the New Year's Eve black-tie dress code ... (read more under
Legendary Stories
>).
Google Map