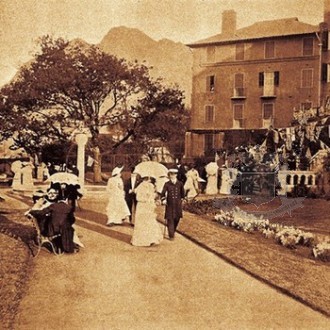 The Mount Nelson in the 1910s
Mount Nelson
The 'Nellie', as it is affectionately known, opened its doors in 1899 to great excitement but there was also trepidation and uncertainty in the air due to the impending Anglo-Boer war. Consequently there was a feverish urge to gather with friends and party at the newly opened hotel. When the war broke out towards the end of the year, the great statesmen of the time, such as Lords Kitchener, Buller and Roberts, gathered at the Mount Nelson to discuss strategy. A young Winston Churchill was also a guest as a newspaper correspondent reporting on the war.
The guest list comprises all the 'usual suspects', the great travellers who criss-crossed the globe in search for distraction and certainly to escape the cold European winter. Of coures the Britsh Royals arrived, there was the Prince of Wales for whom the hotel erected a monumental gateway, the entire Royal family travelled to Cape Town after World War 2, and so did so many others. Agatha Christie spent memorable days there, so did Noel Coard, Rudyard Kipling, Conan Doyle and John Lennon.
Please refer to the list of famous visitors on this site to get a better overview of the famous visitors. Until today, the hotel remains the grand old lady of South Africa and it is certainly one of the most famous hotels in the world.
Google Map