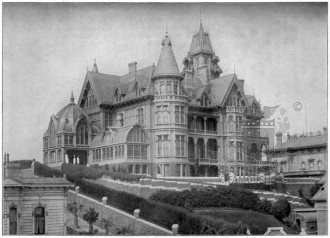 Mark Hopkins Mansion around 1900
Mark Hopkins
Mark Hopkins, one of the founders of the Central Pacific Railroad, chose the southeastern peak of Nob Hill as the site for a dream home for his wife, Mary. The mansion was completed in 1878, after his death.
The Mark Hopkins mansion survived the 1906 San Francisco earthquake, however, it was destroyed in the three-day fire that followed the earthquake. Mining engineer and hotel investor George D. Smith purchased the Nob Hill site, removed the Art Association building, and began construction of a luxury hotel. In 1926 the hotel opened.
In 1961, Soviet Premier Nikita Khrushchev stayed in this 17th-floor suite. The suite was outfitted with a direct line to The Kremlin. Russian security guards periodically swept the rooms with Geiger counters, looking for sources of radiation. In 1973, then-owner Louis Lurie turned management over to the InterContinental Hotels Corporation, which maintains the property today. Mick Jagger, the rest of the Rolling Stones and their large entourage rented two whole floors of the Mark Hopkins during a 1975 tour.
Google Map