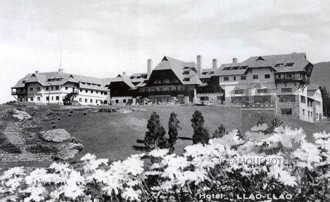 The little dot in the centre of this picture is the Llao Llao.
Llao Llao
We have landed at the Western border of Argentina. The connection between Europe and Bariloche is closer than you might believe. Austrian-German cooking reigns the region, and the place looks like an Alpine village with chalets and little houses, anyhow. The hotel itself looks like one of the huge Alpine hotels, grown over the years into milestones of hospitality.
How come?
In 1934, the Patagonia and Andean region was a completely uninhabited and virgin territory. In that year, with the creation of the Nahuel Huapi National Park, the construction of an international hotel was started to develop the touristic potential of the area together with the foundation of towns and establishment of communications.


Architect Alejandro Bustillo chose the Puerto Pañuelo area to build the hotel as in addition to its magnificence and beautiful scenery, it had a port. Built with cypress logs and larch tile roofing in the Canadian home style, it was opened to the public on 9 January 1938. On 26 October 1939 a fire destroyed the building completely, but it was reopened on 15 December 1940. Since then, members of the aristocracy, officials, diplomats and famous guests have stayed at the hotel. Although it closed in 1978 for a period of 15 years, the spirit of the hotel remained intact. The Hotel opened its doors to the public again in 1993 under the name of Llao Llao Hotel & Resort, Golf-Spa.
Located on one of the lower mountains within the Nahuel Huapi National Park – Argentine Patagonia – between the Nahuel Huapi and Moreno lakes, and framed by Mt. López, Mt. Capilla and Mt. Tronador:
1600 Km from the City of Buenos Aires (2-hour flight)
35 km from San Carlos deBariloche airport.
25 km from the City of Bariloche
20 km from Mt. Catedral(Ski Center)
500 mts from Puerto Pañuelo,
Departure and arriving point from
Cruce de lagos (Lake crossing).

Google Map