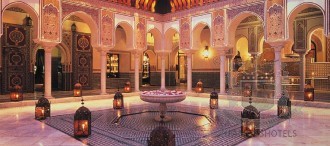 La Mamounia - the pearl of Morocco.
La Mamounia
With La Mamounia reopened in Morocoo, the legendary Mena House in Egypt and Reid's Hotel on Madeira have one more comrade in arms on the North African front. The grand old hotel of Morocco, La Mamounia in Marrakesh, is finally back following an extensive, long overdue and often postponed restoration that was led by acclaimed interior designer Jacques Garcia.
Didier Picquot is now at the helm of the legend of North Africa. It first opened in 1923. Sir Winston Churchill recalled La Mamounia as, "the most lovely spot in the whole world" when inviting Franklin D. Roosevelt to visit him in his favourite place, and Alfred Hitchcock chose La Mamounia as the site to film The Man Who Knew Too Much with James Stewart and Doris Day. Others that have followed include luminaries, such as Charlie Chaplin, Marlene Dietrich, Kirk Douglas, Charlton Heston, Princess Caroline of Monaco Nelson Mandela, Jacques Chirac, The Rolling Stones, Elton John, Nicole Kidman, Kate Winslet, Tom Cruise, Yves Saint Laurent and Julio Iglesias. The list is long and inside the hotel lives a prized guestbook, chronicling the guests' emotional reactions to the magic of La Mamounia and their love of Marrakech.
For decades it's been regarded as one of the most desirable hotels in the world, the new La Mamounia will hopefully exceed expectations and will feature a 27,000 sq foot La Mamounia Spa; three signature restaurants headed by two Michelin Star chefs, Alfonso Iaccarino of the famed Don Alfonso 1890 in Sant' Agata, Italy and Jean-Pierre Vigato, owner of Apicius in Paris, France; a vegetable garden to ensure only the freshest ingredients; a pool restaurant; five bars; and 20 acres of historic gardens noted for its ancient olive groves and wide array of flora. Jacques Garcia has perfected La Mamounia as a tranquil haven in the heart of the imperial city.
By recreating the luxurious mood of the oriental palaces, Garcia's trademark style offers the perfect accompaniment to the impressive and powerful Moorish architecture, abundant at La Mamounia. Situated on the edge of the walls of the old city of Marrakech, La Mamounia is named after its legendary 200-year-old gardens, originally given as an 18th century wedding gift to Prince Moulay Mamoun by his father, King Sidi Mohammed Ben Abdellah. Since the hotel originally opened La Mamounia has been symbolic of traditional Moroccan hospitality and a classic example of the great age of grand hotels.
Google Map