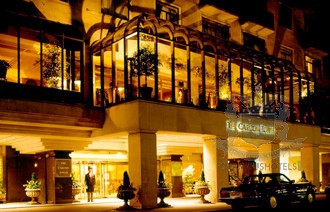 Carlton Tower: the history is yet to come.
Jumeirah Carlton Tower
The Carlton Tower is our youngest member hotel and we will have to wait how it performs in the league of the most famous hotels in the world. As a new Select Member it has six months to submit its completed history and a detailed timeline.
In short:
The Carlton Tower opened on 5 January 1961 and was at the time the tallest hotel in London. Its position in the heart of fashionable "Swinging London" – right on Sloan Street, between Knightsbridge and Kings Road, made it one of the revolving points of a new era. Famous became the photograph of actresses Sydney Rome, Daliah Lavi and Jutta Stengsgaard posing on the hotel's rooftop in mini skirts.
It was owned by a Mr Sonnegrand and became a Hyatt at some point. Today it is the London flagship of the luxurious Dubai based Jumeirah group. Its gym is a landmark, overlooking Cadogan Gardens, the Grill Room is the most fashionable restaurant of the area. Michael Jackson enjoyed its hospitality, so did famous actors and show-biz celebrities.
Google Map