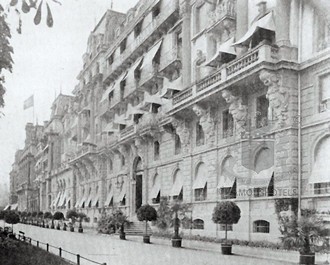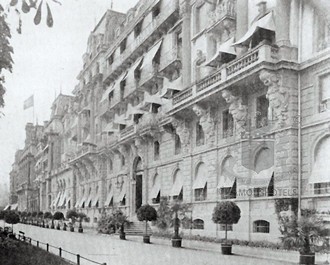 Maximilian Alphons von Pfyffer von Altishofen was man with a vision, but without experience to run a hotel. Reason enough to pick the young and talented Cesar Ritz to turn the hotel into a stunning success.
Grand Hotel National Lucerne
In fact the Grand Hotel national is too small to be a select member of THE MOST FAMOUS HOTELS IN THE WORLD. It has only 40 rooms left of what was 240 once upon a time.
But Switzerland's legendary hotel has been saved and revived on a smaller state-of-the-art scale. And it has such a tradition and history, that the jury decided that it has a place among the other great historic hotels in the world.
After all it was here in the 1870s, that legendary Swiss hotelier Cesar Ritz - for the first time as manager - staged his ideas of hotel business.
The hotel graces the promenade of Lucerne at the lake Vierwaldstätter See (Lake Lucern), right opposite of the new museum of art. It was but one of many grand hotels. There is a nice comment about them in the Collected Travel Writings: The Continent, by Henry James:
"There is such a luxury of beauty in the prospect – such a redundancy of composition and effect – so many more peaks and pinnacles that are needed to make one heart happy or regal the vision of one quiet observer, that you finally accept the little Babel on the quay and the looming masses in the clouds as equal parts of a perfect system, and feel as if the mountains have been waiting so many ages for the hotels to come and balance the colossal group, that they show a right, after all, to have them big and numerous."
Google Map