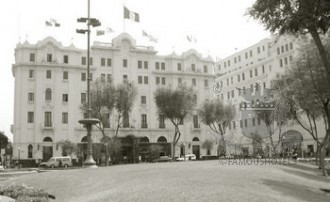 Opened in 1925 it is a symbol for the Peruan capital Lima.
Grand Hotel Bolivar
The Bolivar offers a decadent portion of faded glory, but is still the grand old lady among hotels in Peru. It offers style and a lot of history in the city centre of Lima. A lovely, slightly threadbare anachronism in an era of glitzy, sanitized chain hotels. Where else are you going to find an aging pianist playing mambo and salsa with one hand, whilst holding a magnifying glass to read his music in the other hand? It is one of the few classic hotels built especially to receive presidents and government representatives in the beginning of the Peruvian republic.
Notable past customers were Ernest Hemingway, Ava Gardner, and the Rolling Stones.
Google Map