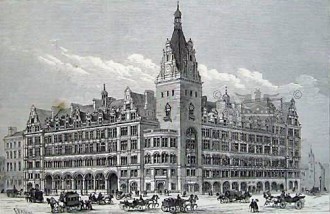 The New Central Station Hotel in Glasgow; London Illustrated News, 1883.
Grand Central Hotel
After a £20m refurbishment the Grand Central is back. A magnificent building, steeped in history, with a multitude of stars who have stayed there. We will have to wait until the hotel decides to develop it history into the powerful tool of marketing it can be.
And there would be a lot to tell: During restoration work original ceilings, hidden behind false ones, stair cases and old fashioned lifts were discovered and enhanced, returning the building back to its former grand glory, revealing marble floors and pillars. These historic ceilings have looked upon John Logie Baird, for example, a Scottish engineer and inventor of the world's first practical, publicly demonstrated television system, and also the world's first fully electronic colour television tube.
In 1927, Baird transmitted the world's first long-distance television pictures over 438 miles (705 km) of telephone line from London to the Grand Central Hotel. This transmission was Baird's response to a 225-mile, long-distance telecast between stations of AT&T Bell Labs.
When Roy Rogers and his horse Trigger stayed, Trigger had a bigger suite than Roy Rogers.


The Grand Ballroom of Glasgow is back in full swing. It is considered a most fashionable and certainly very traditional venue for events and award ceremonies, with features such as the original Caledonian railways crest, Italian marble columns and many other original features.
At present, there are the top two floors – the former staff accommodation – that remain to be refurbished. By July 2011 the hotel will have 244 bedrooms in total. The Tempus Restaurant is also back in place, the Deli Central – a delicatessen / diner is back in 2011.
Google Map