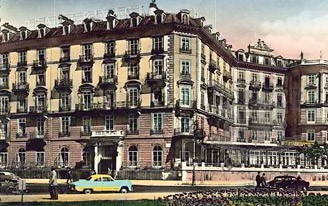 Since its opening on 13. April 1865, the Beau Rivage is one of the most important meeting places in a city that stands as a synonym for international relations: Geneva.
Beau Rivage
It is of course a highly unpleasant affair that this hotel is constantly associated with the idol of a generation, 60-years old Austrian Empress Elisabeth who in 1898 breathed her last in her room after being stabbed outside of the hotel, on her way to a Lake Geneva Steamer. This tragic event overshadows the fact that the Beau Rivage is one of the best, most famous and certainly perfectly located grand hotels along the shores of this scenic Swiss lake.
In 1863, when London Banker William Currie started building it, the Beau Rivage had only seventy rooms and, as its historian noted, only eleven windows on the front which overlooked the lake (read more under "History").

The last journey of Empress Elisabeth of Austria started in Geneva.
The Beau Rivage was the hotel of choice of many aristocrats. It was the centre of world politics and the meeting point of entire delegations. The late Emperor of Austria, Charles, spent months there with his family, so did many other monarchs and rulers, either in exile or in power.
Google Map