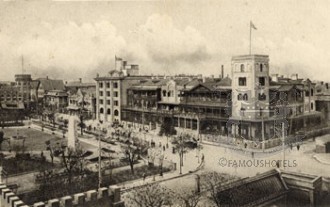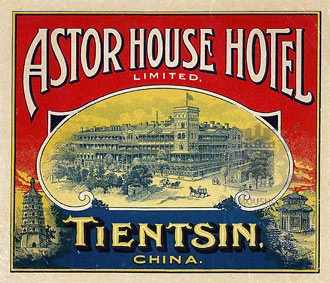 An early view of the Astor House Hotel and Victoria Park. Gordon Hall is just visible in upper left.
Astor Hotel
Herbert Hoover, president of the U.S., and a onetime Tientsin resident during the Boxer rebellion, called Tienstin an universal city, "like a world in miniature with all nationalities, all architectural styles, all kitchens."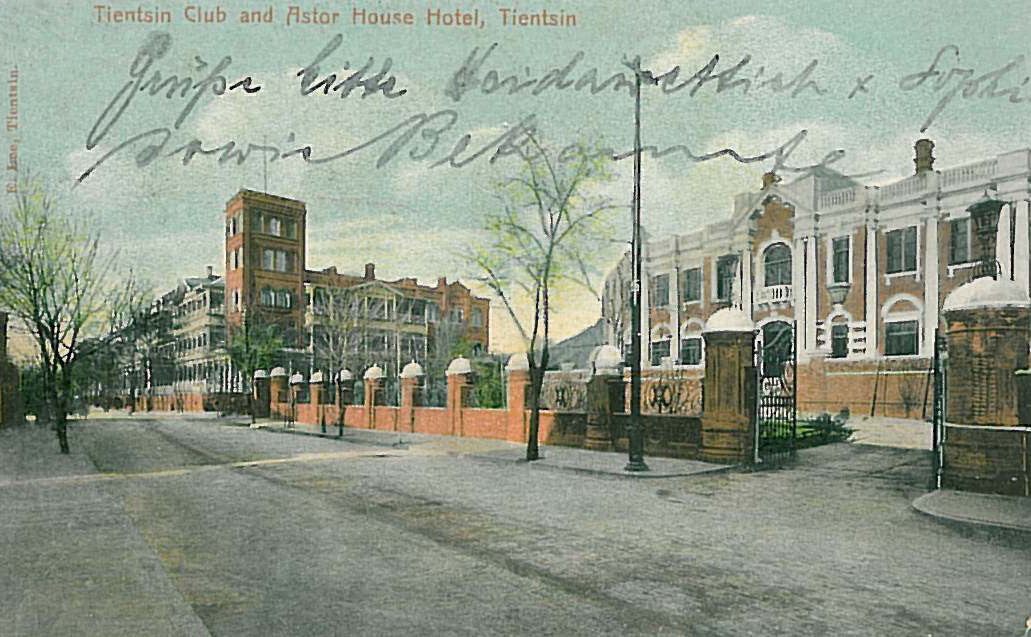 Famous for the "Treaty of Tien-tsin" (1858), ending the first part of the Second Opium War, the city developed into a strategic centre of trade. The treaties had opened more Chinese ports to the foreigners, permitted foreign legations in the Chinese capital Beijing, allow Christian missionary activity, and legalised the import of opium. British general Charles "Chinese" Gordon (who would die in Khartoum) laid out the plans for the British concession. The seat of British Administration, or Gordon Hall, named after him, offers a view of Victoria Park where we find the Astor House Hotel.

The hotel dates back to the summer of 1863, when John Innocent, a British Methodist missionary, arrived in Tianjin determined to bring Western-style housing to the city. After a few unsuccessful attempts, two buildings were drawn up. One was a storehouse. Finally he got the permission to build the other, the first international hotel in modern Chinese history, the Astor House Hotel. Construcition started in 1863, the hotel opened for business in 1864.
The "Astor House" became the most famous hotel in the city. G.H. Thomas wrote in 1939: "I arrived in Tienstin Tuesday afternoon and stayed overnight at the Astor House,... (see more in Famous Guests)
Google Map