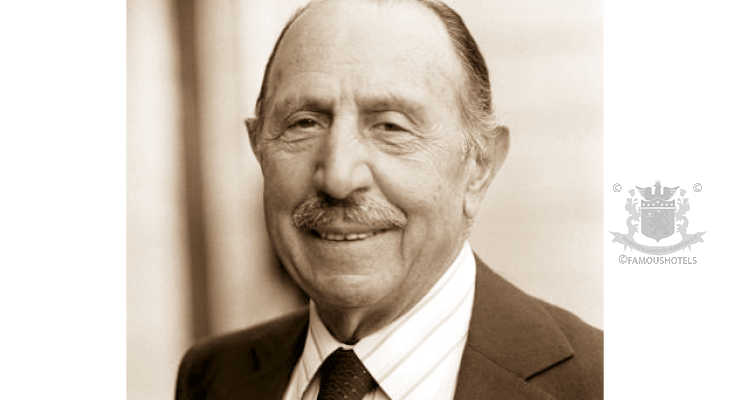 PERSONALITIES
Forte, Charles †
( words)
Charles Carmine Forte, Baron Forte (26 November 1908 – 28 February 2007) was a Scottish caterer and hotelier of Italian origin.
Forte started his career as the owner of a London milk bar and went on to create a multi-billion pound worldwide chain of hotels and restaurants. Among the prestigious hotels owned by the company he founded is the Balmoral in Princes Street, Edinburgh. His catering firm also provided food for the Edinburgh Festival.
Forte's empire included more than 800 hotels across the world, including top establishments in Paris, Geneva, Madrid and London. In Britain alone he employed about 70,000 people. Born in the small hillside village of Monforte in Italy, Forte emigrated with his mother to Alloa in Scotland when he was four to join his father, Rocco. When he was 17 years old, Charles Forte started working for his father's business, running cafes around the country. Forte later opened the Meadow Milk Bar in London with backing from his family and, in 1943, he married Irene Chierico, a Venetian. They had five daughters and a son. The post-war years saw a rapid expansion in the Forte business, first buying the former Lyons tea room, off London's Piccadilly Circus, followed by the nearby Monico site, which housed the Criterion Theatre. The acquisition was a landmark, not just in the company's dealings, but in the history of the British hotel and catering industry. Until then it was a business dominated by the Americans, with chains such as the Hilton. Later, he was awarded the first contract to supply catering services at London's new Heathrow Airport in 1955. At the end of the decade the company opened its first full motorway service station, and at the same time began its acquisition of hotels, starting with the Waldorf in London. In 1970, Forte Holdings Ltd merged with Trust Houses. Two years later it fought off a take-over bid by Allied Breweries. The company interests included the Cafe Royal, Forte's personal favourite acquisition, almost 250 hotels in Britain and Ireland, Henekey Inns, Quality Inns, Kardomah Coffee Houses. It also owned the TraveLodge chain of motels in America, Canada, Mexico and Tahiti, motorway service stations, and catering at 24 airports in Europe. Among its other investments, it bought Thorn-EMI's entertainment interests, which included three West End theatres, the Empire at Leicester Square and pier shows at Blackpool Tower.
In 1981, he accepted a peerage under Margaret Thatcher's government, having previously turned one down from Labour's Hugh Gaitskell 38 years previously. Charles Forte retired in 1992, handing over control of the company to his only son, Sir Rocco.