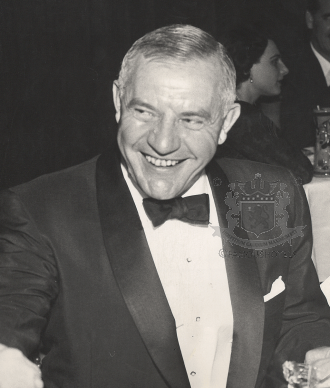 PERSONALITIES
Bergeron, Victor J ('Trader Vic'; 1902-1984)
( words)
Victor J (Trader Vic) Bergeron (December 10, 1902, San Francisco, California – October 11, 1984, Hillsborough, California) was an irascible, one-legged genius, who founded a multimillion-dollar food and drink empire called Trader Vic's.
While everybody believed his restaurants originated in Polynesia, Victor was actually born in San Francisco. He had not lost his left leg to a shark, but amputated when he was six to prevent his death from tuberculosis of the knee.
In 1934 he opened Hinky Dink's, a food-and-beer joint in Oakland, USA. There he invented his version of South Seas food – tasteful Cantonese cooking and rum-flavoured drinks like Missionary's Revenge, Sufferin' Bastard and, yes, the Mai Tai. The Trader Vic nickname was given to him by his first wife, Esther, because of his habit of swapping meals and drinks for supplies and services.
'There's been a lot of conversation over the beginning of the Mai Tai,' Bergeron said before he died.
'I originated the Mai Tai. In 1944 after success with several exotic rum drinks, I felt a new drink was needed. I thought about all the really successful drinks- martinis, manhattans, daiquiris, all basically simple drinks.
I took down a bottle of 17-year old rum. It was a J Wray and Nephew from Jamaica, surprisingly golden in colour, medium bodied, but with the rich pungent flavour particular to the Jamaican blends. The flavour of this great rum wasn't meant to be overpowered with heavy addition of fruit juices and flavourings. I took a fresh lime, added some orange curacao from Holland, a dash of rock candy syrup, and a dollop of French Orgeat (a sweetened almond syrup with a little orange flower water) for its subtle flavour.
I added a generous amount of shaved ice and shook it vigorously by hand to produce the marriage I was after. Half the lime shell went into each drink for colour and I stuck in a branch of fresh mint. I gave the first two to friends from Tahiti who were there that night. One took a sip and said, "Mai tai roa ae." In Tahitian this means out of this world, the best. Well, that was that. I named the drink Mai Tai.'
In 1953, Victor brought his Mai Tai to the Hawaiian Islands. From there it started its journey into all bars around the world. Trader Vic's restaurants became an institution at many Hilton hotels.