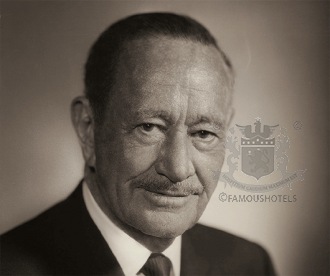 PERSONALITIES
Hilton, Conrad Nicholson
( words)
Conrad Nicholson Hilton, (1887-1979), born in 1887 in San Antonio, New Mexico, was an American entrepreneur. As a young boy, Hilton developed entrepreneurial skills working at his father's general store in Socorro County, New Mexico. This was followed by varied experiences, including a stint as a representative in New Mexico's first State Legislature and a career decision to become a banker.
In 1919, when he arrived in Texas at the height of the oil boom, he actually wanted to buy a bank. While waiting for a room at the lobby of the Mobley Hotel in Cisco, Texas, in 1919, he observed the daily business from his chair in the lobby. The hotel did such brisk business that rooms changed hands as much as three times a day, and the dining room was converted into additional rooms to meet the demand. Hilton approached the innkeeper and made him an offer. Thus he became a hotelier.
He went on to buy and also build hotels throughout Texas, including the high rise Dallas Hilton, opened in 1925. He built his first hotel outside of Texas in 1939 in Albuquerque, New Mexico, today known as the Hotel Andaluz.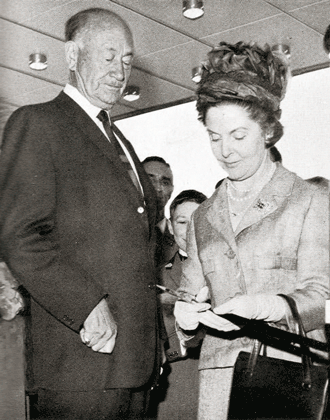 Nearly forced into bankruptcy during the Great Depression and loosing several of his hotels he recovered remarkably well.
Over the next decade he crowned his expansions with such acquisitions as the Stevens Hotel in Chicago (then the world's largest hotel), and the fabled Waldorf-Astoria in New York.
During the 1950s and 1960s, Hilton Hotels' worldwide expansion facilitated both American tourism and overseas business by American corporations.
Hilton was America's first international hotel chain, at the same time promulgating a certain worldwide standard for hotel accommodations. In all, Hilton eventually owned 188 hotels in thirty-eight cities in the U.S., along with fifty-four hotels abroad.

Conrad Hilton watches Mdm Maudring cutting the red ribbon of the London Hilton on 17 April 1963
The company spun off its international operations into a separately traded company in 1964, known as Hilton International Co. Trans World Corp., the holding company for Trans World Airlines, acquired it in 1967. In 1986 it was sold to UAL Corp. (the holding company for United Airlines). In 1987 Hilton International was sold to Ladbroke Group plc., a British leisure and gambling company, which in 1999 adopted the name Hilton Group plc.
As a result, there were two separate, fully independent companies operating hotels under the Hilton name. Those Hilton Hotels outside the US were styled as Hilton International hotels. Because the two chains were contractually forbidden to operate hotels in the other's territory under the Hilton name, for many years hotels run by Hilton International in the US were called Vista International Hotels, while hotels operated by the American arm of Hilton outside the US were named Conrad Hotels.
In 1997, to minimize long-time consumer confusion, the American and British Hilton companies adopted a joint marketing agreement. The Vista chain was phased out, while Conrad has been restyled as one of the luxury brands of Hilton, along with The Waldorf-Astoria Collection.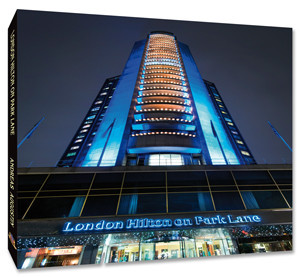 In 2005, Hilton Hotels Corporation agreed to re-acquire the Hilton International chain from its British owner, Hilton Group plc. As well as bringing the two Hilton companies back together as a single entity, this deal also included Hilton plc properties operating as Conrad Hotels, Scandic Hotels and LivingWell Health Clubs. This deal made Hilton Hotels the world's fifth largest hotel operator in number of rooms. Hilton Group plc (headquartered in the UK) then renamed itself Ladbrokes plc. In 2007, Hilton Hotels Corp. agreed to an all-cash buyout from the American Blackstone Group LP, its current owners.
In 2009 Hilton Hotels Corp. changed its name to Hilton Worldwide.