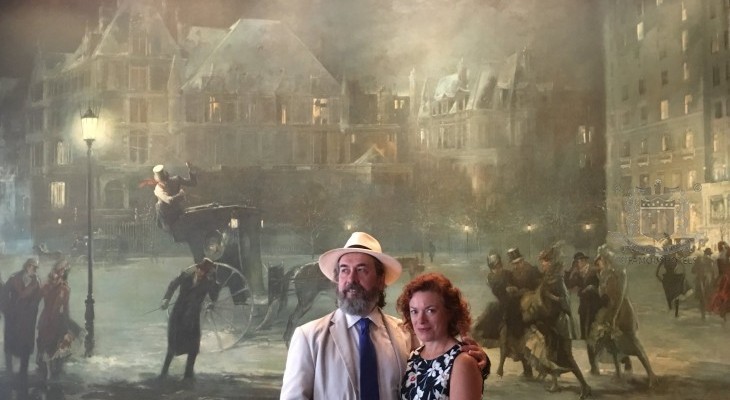 Adrian Mourby
Mourby of Books
( words)
Two books by Adrian Mourby should interest all hotel aficionados:

Rooms of One's Own — 50 Places That Made Literary History
Writers' relationships with their surroundings are seldom straightforward. While some, like Jane Austen and Thomas Mann, wrote novels set where they were staying (Lyme Regis and Venice respectively), Victor Hugo penned Les Miserables in an attic in Guernsey and Noel Coward wrote that most English of plays, Blithe Spirit, in the Welsh holiday village of Portmeirion.
Award-winning BBC drama producer Adrian Mourby follows his literary heroes around the world, exploring 50 places where great works of literature first saw the light of day. At each destination - from the Brontes' Yorkshire Moors to the New York of Truman Capote, Christopher Isherwood's Berlin to the now-legendary Edinburgh cafe where J.K. Rowling plotted Harry Potter's first adventures - Mourby explains what the writer was doing there and describes what the visitor can find today of that great moment in literature.
Rooms of One's Own takes you on a literary journey from the British Isles to Paris, Berlin, New Orleans, New York and Bangkok and unearths the real-life places behind our best-loved works of literature.
---

Rooms with a View — The Secret Life of Great Hotels
Salvador Dalí once asked room service at Hôtel Le Meurice in Paris to send him up a flock of sheep. When they were duly brought to his room he got out a gun and fired blanks at them. George Bernard Shaw tried to learn the tango at Reid's Palace in Madeira, and the details of India's independence were worked out in the ballroom of the Imperial Hotel, Delhi. The great hotels have provided glamorous backgrounds for some of the most momentous – and most bizarre – events of world history. Adrian Mourby is a distinguished hotel historian and travel journalist – and a lover of great hotels. Here he tells the stories of 50 of the world's most magnificent, among them the Adlon in Berlin, the Cipriani in Venice, the Intercontinental in Saigon, Raffles in Singapore, the Dorchester in London, Hotel Kamp in Helsinki, the Pera Palace in Istanbul – and, a personal favourite, the Art Deco Midland in Morecambe Bay. All human life is to be found in a great hotel, only in a more entertaining form.