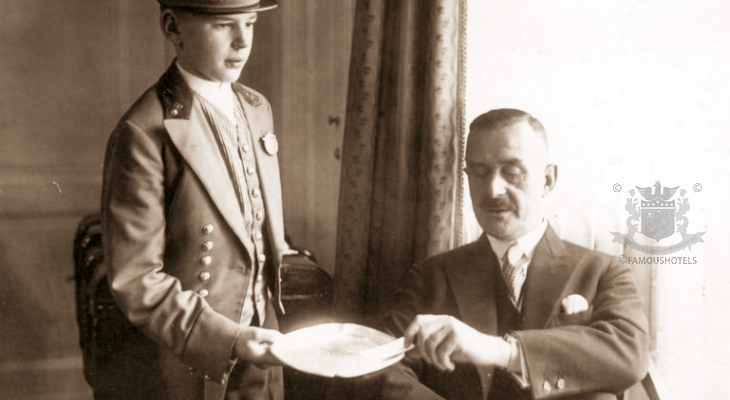 PERSONALITIES
Writers at Hotels: Thomas Mann
( words)
Thomas Mann
1929 Nobel Prize in Literature
---
Thomas Mann (6 June 1875 – 12 August 1955) was a German novelist, short story writer, social critic, philanthropist and essayist, known for his series of highly symbolic and ironic epic novels and novellas, noted for their insight into the psychology of the artist and the intellectual. His analysis and critique of the European and German soul used modernised German and Biblical stories, as well as the ideas of Goethe, Nietzsche, and Schopenhauer. His older brother was the radical writer Heinrich Mann, and three of his six children, Erika Mann, Klaus Mann and Golo Mann, also became important German writers. When Hitler came to power in 1933, the anti-fascist Mann fled to Switzerland. When World War II broke out in 1939, he emigrated to the United States, from where he returned to Switzerland in 1952. Thomas Mann is one of the most known exponents of the so called Exilliteratur. In 1929 he received the Nobel Prize in Literature.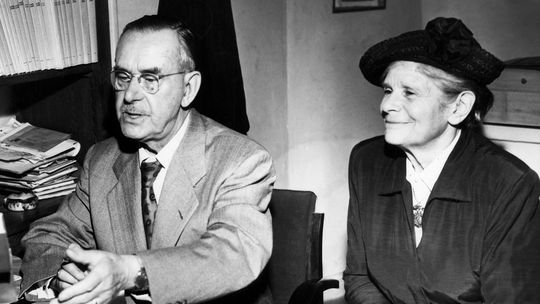 1905: Hotel Baur au Lac, Zurich, Switzerland & Hotel St. James et Albany, Paris, France
In 1905 Thomas Mann spends his honeymoon with his wife Katia at the Hotel Baur au Lac. He notes "we live in great luxury, with luncheons and dinners, evenings in black tie." He plays with the idea to choose the Baur au Lac as the location of the plot of "Confessions of Felix Krull", but decides to let it play at the Parisian Hotel St. James et Albany. The Manns would return to the Baur au Lac upon their return from their American exile in 1947, and again in 1949.
1911: Hotel des Bains, Venice, Italy
At one of the most elegant hotels of the Lido in Venice, the Hotel des Bains was the place that inspired Thomas Mann for his "Death in Venice". It is a peculiar story, full of weird happenings. Mann's wife Katia wrote in her "Unwritten Memories" that everything in this novel "really occurred".
The hotel closed in 2010, to be reopened as an apartment building in 2011.
1912: Waldhotel Davos, Switzerland
The Magic Mountain (Der Zauberberg) is a novel by Thomas Mann, first published in November 1924. It is widely considered to be one of the most influential works of 20th century German literature.
Mann started writing what was to become The Magic Mountain in 1912. It began as a much shorter narrative, which revisited in a comic manner aspects of Death in Venice, a novella that he was then preparing for publication. The newer work reflected his experiences and impressions during a period when his wife, who was suffering from a lung complaint, was confined to Dr Friedrich Jessen's Waldsanatorium in Davos, Switzerland for several months. In May and June 1912 he paid her a visit and became acquainted with the team of doctors who were treating her in this cosmopolitan institution. According to Mann, in the afterword that was later included in the English translation, this stay became the foundation of the opening chapter (Arrival) of the completed novel.
The outbreak of the First World War interrupted work on the book. The conflict and its aftermath led the author to undertake a major re-examination of European bourgeois society, including the sources of the wilful, perverse destructiveness displayed by much of civilised humanity. He was also drawn to speculate about more general questions surrounding personal attitudes to life, health, illness, sexuality and mortality. Given this, Mann felt compelled to radically revise and expand the pre-war text before completing it in 1924. Der Zauberberg was eventually published in two volumes by S. Fischer Verlag in Berlin.
1933, February: Waldhotel National, Arosa, Switzerland
First stay at the hotel in 1933. From 1936 the hotel becomes the first exile of the Mann family. Return to Nazi Germany is considered too dangerous.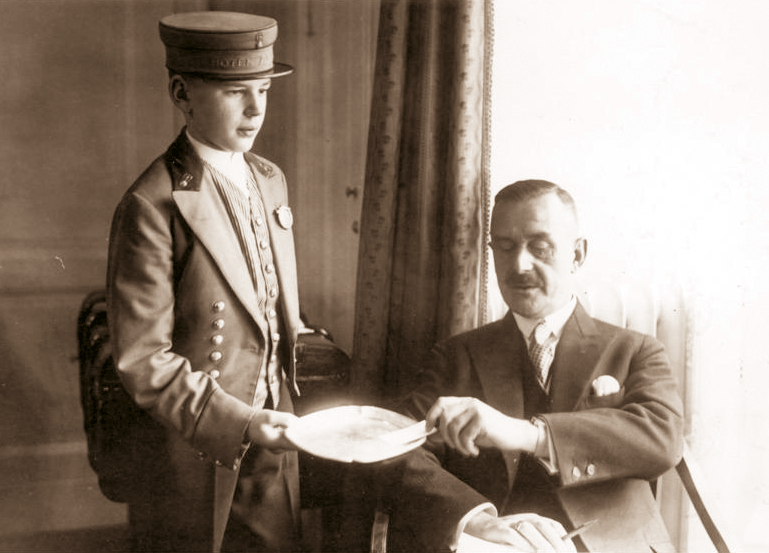 Thomas Mann at the Hotel Adlon, Berlin
page in progress - ideas and sugestions mail to archives (at) famoushotels.org