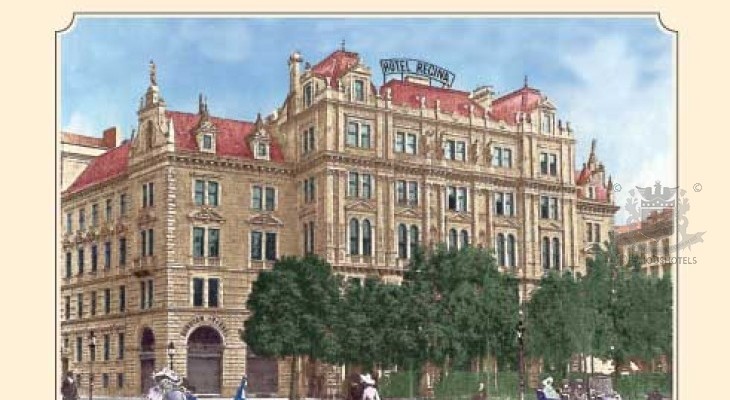 PERSONALITIES
Stefan Zweig at Hotel Regina, Vienna
( words)
Andreas Augustin
Deutscher Text im Anschluss:
The author STEFAN ZWEIG, born in Vienna in 1881, left Austria for good in 1937, leaving behind the unbearable Nazi terror. Between 1934 ynd 1937, whenever in Vienna, he stayed at the Hotel Regina in the 9th district. The hotel was to become his last registered address in Austria. During the reign of the National Socialist party in Germany and after 1938 in Austria, his writings were banned in the German speaking world. The Nazis burnt his books.

Zweig on his second journey to Brazil (1942)
Zweig chose the city of Petropolis in Brazil for his exile. There, on 22 February 1942, Stefan Zweig and his wife Lotte committed suicide. The 'New York Times' published the story on its front page. In his suicide note, he wrote: '…after the world of my own language sank and was lost to me and my spiritual homeland, Europe, destroyed itself… I send greetings to all of my friends: May they live to see the dawn after this long night. I, who am most impatient, go before them'.

His death spelt the end of one of the most translated European literary figures. He left behind countless stories, novels, biographies, essays, translations, theatre plays and notes on his travels. The world also lost a vigorous advocate of young talent. Being a PEN Club member and multilingual lecturer around the world, he promoted potential young stars at any given opportunity.
Stefan Zweig stayed at the Hotel Regina in Vienna during his last visits to his hometown. On Hotel Regina stationery he wrote countless letters to Hermann Hesse, Richard Strauss and his French translator Alzir Hella.

On 28 November 1937 (his birthday), he penned a three page inventory of his personal collection of the letters and manuscripts he exchanged with Hesse, Zuckmayer, Mann, Roth, Schweitzer, Werfel, Wildgans, Roda-Roda, Schnitzler, Kafka, Lernet-Holenia and many more — all on HOTEL REGINA letterheads.
Der Schriftsteller STEFAN ZWEIG, geboren 1881 in Wien, wich dem Naziterror und verließ Österreich 1937 und wohnte bei seinen folgenden Wienbesuchen im Hotel Regina. Das Hotel war seine letzte gemeldete Wiener Adresse. Bevor er endgültig nach Brasilien emmigrierte, waren seine Werke in der deutschsprachigen (Nazi-) Welt verboten und verbrannt worden.
Am 22. Februar 1942 beging Zweig zusammen mit seiner Frau Lotte Selbstmord. Die "New York Times" brachte die Nachricht auf ihrer Titelseite. In seinem Abschiedsbrief vermerkte er: "... nachdem die Welt meiner eigenen Sprache für mich untergegangen ist und meine geistige Heimat Europa sich selber vernichtet ..." und schloss mit den Worten: "Ich grüße alle meine Freunde! Mögen sie die Morgenröte noch sehen nach der langen Nacht! Ich, allzu Ungeduldiger, gehe ihnen voraus."
Zweigs Tod beendete die Karriere des meist übersetzten Literaten Europas. Er hinterließ eine unübersehbare Menge an Erzählungen, Biografien, Essays, Übersetzungen, Theaterstücken und Reiseaufzeichnungen.
Als energischer Fürsprecher für junge Talente war er ihr großer Förderer gewesen, Mitglied des PEN Klubs und vielsprachiger Vortragender in literarischen Kreisen rund um die Welt.
Am 28. November 1937 verfasste er auf dem Briefpapier des Hotel Regina das dreiseitige Verzeichnis seiner persönlichen Autographensammlung mit Briefen und Manuskripten von Hesse, Zuckmayer, Mann, Roth, Schweitzer, Werfel, Wildgans, Roda-Roda, Schnitzler, Kafka, Lernet-Holenia und vielen anderen.
Read this and more stories about the HOTEL REGINA — by Andreas & Carola Augustin