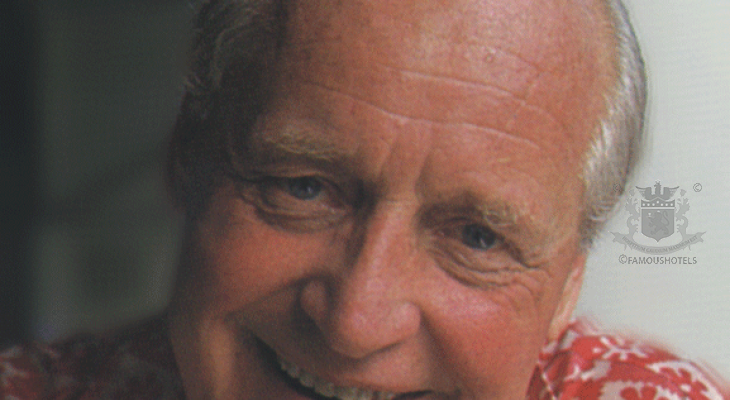 PERSONALITIES
† Raymond Flower
( words)
By Andreas Augustin
Raymond Flower, 2.7.1921–4.3.2015
Bon vivant, traveller, famoushotels author
Raymond Flower was a man of great inspiration, lift and boost for my work, for my family and for his friends. We all shall never forget happy moments at Raffles Hotel Singapore, where we had spent so many years of creative eureka moments.
Raymond was a gentlemen of international scale.
Born in 1921 and educated at Oundle, Magdalen College, Oxford and the University of Zurich, he run his family business affairs in Egypt after the war. He played tennis, was a member of the British Racing Drivers' Club and a underwriter of Lloyds.
Raymond is the brother of Neville Flower, Egyptologist, and the novelist Derek Adie Flower.
His hunting grounds reached from the shores of the French Cote d'Azur to the Swiss mountains, from the doorstep of the Palace in St. Moritz to the doorknob of his suite at Raffles Hotel Singapore. He wrote books about his pied-à-terre Italy, where he had obtained a thousand-year-old castello in the heart of Chianti Classico.
His over 20 books reflect his wide range of personal interests. They appeared in several languages, and include Palace – A Profile of St Moritz, 'A History of Winter Sports', the story of Lloyds, books on Egypt, Chianti and Motor Racing, the social history of the car (RAC) in A Hundred Years of Motoring (with Michael Wynn Jones), This Business of Writing, Raffles – The Story of Singapore, Go West – The Adventure of Western Australia, Mutiara – A Perspective of Penang – in collaboration with Sjovald Cunyngham-Brown, the last British Superintendent of Penang (a book I had the pleasure of publishing). This book made him an author of our collection.
Our paths had crossed in 1986, when his book 'Year of the Tiger' about Raffles Hotel in Singapore was launched. He had largely inspired my books on Raffles and the entire series The Most Famous Hotels in the World, he was a man of generous advise and motivation. I will never forget our daily 'conferences' in the pool of Raffles.
He divided his last years between Italy and the shores of Penang Island, where he enjoyed the hospitality of the Bayview Hotel. And it would not be Raymond Flower, if we would not have a book today called 'View Over the Bay', immortalising this Batu Ferringhi beach hotel on Penang Island.