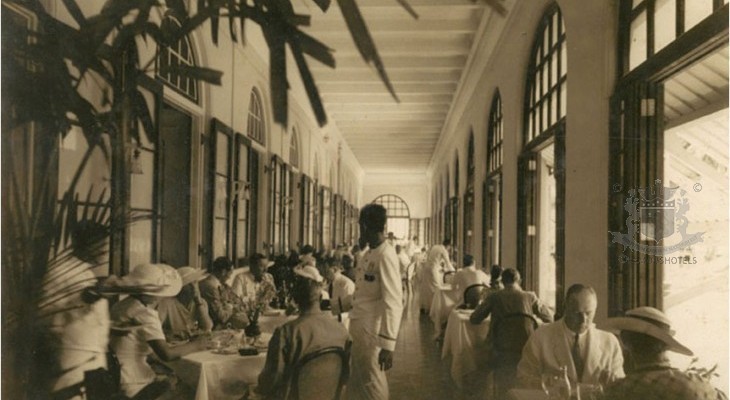 Feuilleton
Feuiletton 358 — Anchored
( words)
"Unspeakably hot. The equator is arriving again. We are within eight degrees of it. Ceylon present. Dear me, it is beautiful! And most sumptuously tropical, as to character of foliage and opulence of it. 'What though the spicy breezes blow soft o'er Ceylon's isle'—an eloquent line, an incomparable line; it says little, but conveys whole libraries of sentiment, and Oriental charm and mystery, and tropic deliciousness—a line that quivers and tingles with a thousand unexpressed and inexpressible things, things that haunt one and find no articulate voice …. Colombo, the capital. An Oriental town, most manifestly; and fascinating."
Mark Twain
13 January 1896
---

My dear fellow Travellers,
Dear Friends of The Most Famous Hotels in the World,
The M.S. Serendipity has anchored at Colombo. For weeks we were accompanied by playful pods of dolphins, watched over a cup of tea at breakfast under the sunshade of our deck. Here we are on the Island of (Ceylon) Sri Lanka, the centre of spiritual Asia of bygone times and a hub of intellectual Sri Lanka of today.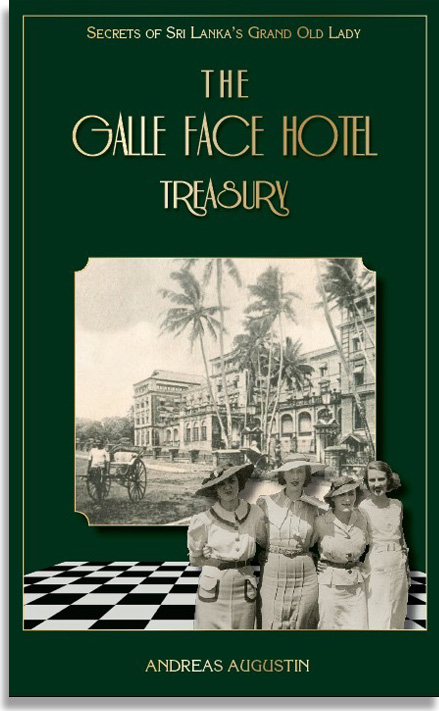 It is paradise on Earth, Adam and Eve lived here, the highest mountain is aptly called Adam's Peak. The Galle Face Hotel is the oldest hotel on the large island with mountains and beaches, jungles and tea plantations. The city's development hints at Colombo becoming the most vibrant metropolis East of Suez.
Legends and stories are swapped at the bar and on the terraces of the Galle Face Hotel, the harbour of social life of the city of Colombo. We enjoy meeting fascinating people, true characters and celebrated personalities. We will moor at this jetty for weeks to come to take down its fables and stories.
One day Sir Thomas Lipton brought Empress Eugenie a cobra at teatime – for example. And there was this heart-breaking love story of that young girl, who graces the cover of our book (the one to the very right!). Yours, to enjoy, in the not so distant future.
---
Time for an Overhaul
Upon my arrival, news have reached me with the information that coincidentally almost all grand hotels of Asia are now about to undergo major renovations. Oh this wonderful machinery called telegraph, the world's first short message service (why not call it SMS?). Did you know that the first telegraphic message had been received on Ceylon in 1866. But I am drifting away, again. Sorry.
Here's the message: The Oriental in Bangkok has closed its 1976-River Wing on 1 March 2019. Lord Jim's, The Terrace and all rooms are to receive a careful and stylish facelift. This leaves general manager Greg Liddell of the grand old lady of Bangkok with just 30 rooms (instead of 400). The grand reopening is scheduled for late September / October. So we are fine for the festive season.
---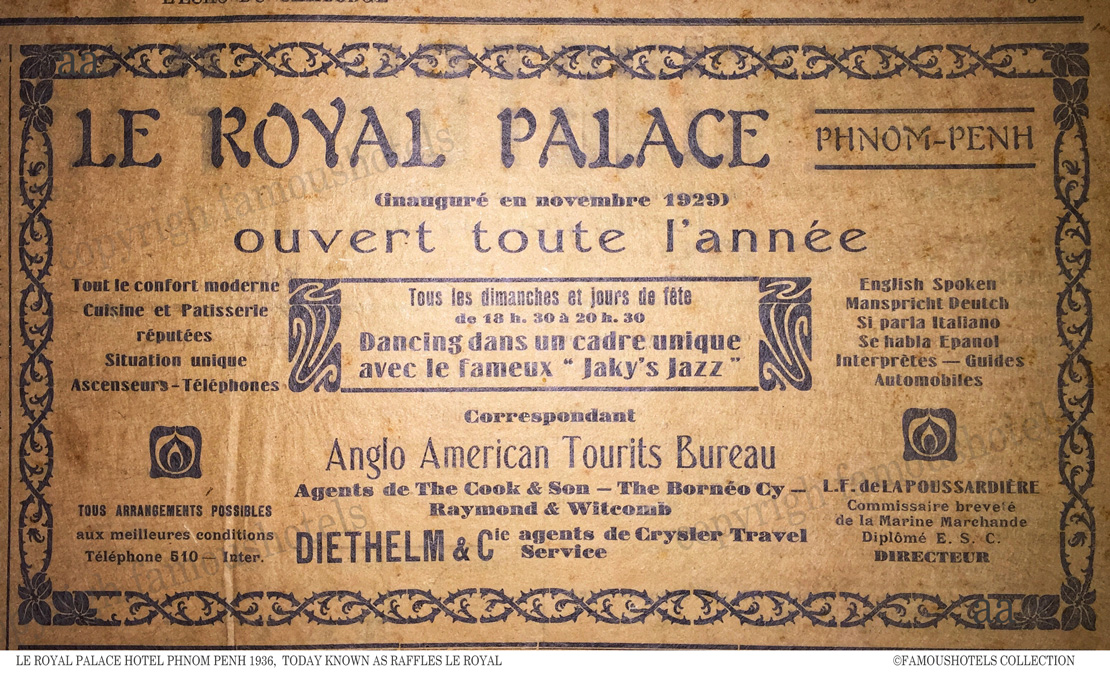 Le Royal Palace advert from 1936
Phnom Penh
The elegant Raffles Le Royal will notably renovate its 1929 original art deco wing. Manager of Raffles Cambodia, Oliver Dudler, will reopen with a grand book launching party to commemorate Le Royal's 90th birthday.
At the Ruins
The Raffles Grand Hotel d'Anchor is closing from April to autumn, during which time all rooms will be carefully renovated. Monsieur le directeur Vincent Gernignon promises that the historic elevator will not be touched.
The Elephant Bar will present a collection of portraits of its most famous patrons, from Omar Sharif to Angelina Jolie, Charlie Chaplin and Peter O'Toole, to name but a few visitors of this wonderful resort. BTW: Minimum stay recommended 6 days! One day Angkor Wat, one day resting at the largest rectangular pool of SE Asia. Excursions to the mountains in the North. Gourmet extravaganza all over the city, including the hotel itself, the city of Angkor Wat fame finally developed some very good restaurants.
---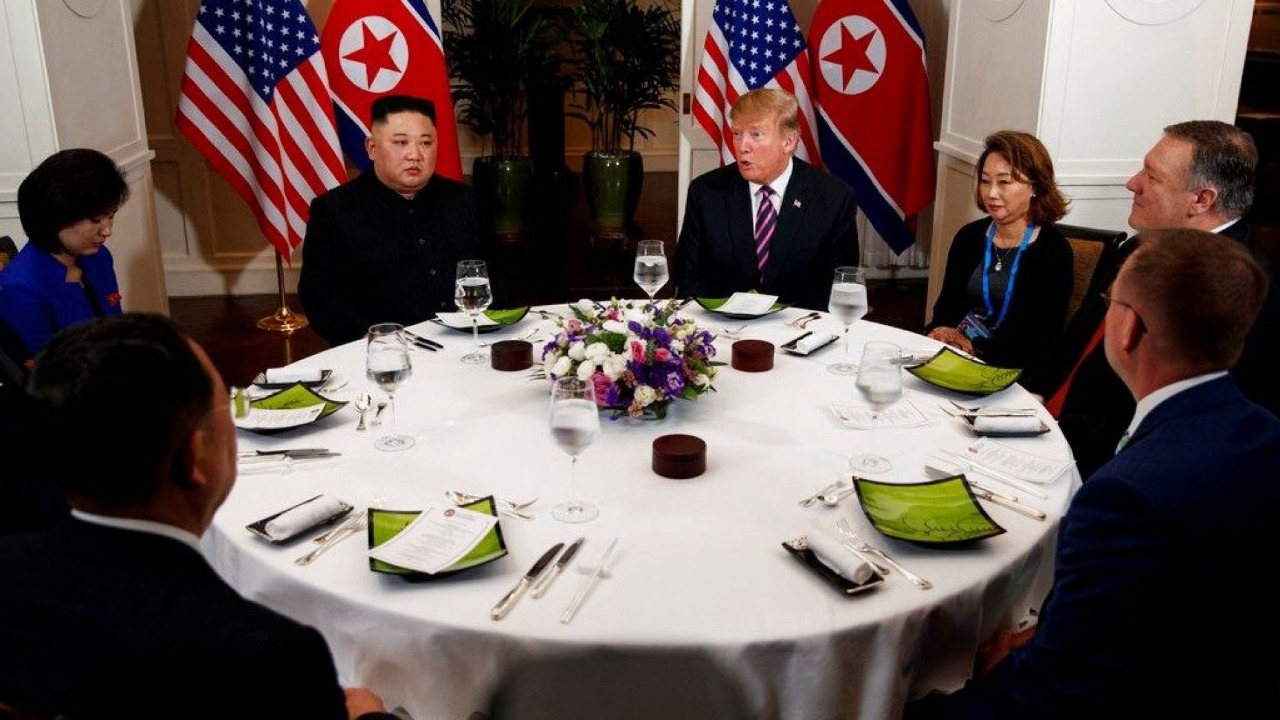 Dinner at the Metropole's Spices Garden: US President Donald Trump and North Korea leader Kim Jong Un
METROPOLE HANOI
It was planned long ago and has nothing to do with the recent Kim-Trump summit that the Metropole Hanoi will also undergo a revamp this summer. With general manager William Haandrikman we will update the Path of History at the hotel, including the heart-breaking air-raid-shelter experience, Joan Baez song – composed at the hotel – inclusive. Now this renovation has been postponed for a good reason: Hanoi is hosting the first Formula 1 Race in the history of Vietnam next spring: 'We were asked to be available, so we start with our renovation right after the race.' says Haandrikman.
---
Last but not least there is Raffles in Singapore, also closed to correct certain elements that didn't work out in the more recent past. Rumors that the Writers' Bar will be renamed Elephant Bar can not be confirmed. Meanwhile you can read some good old anecdotes including the one about the man who discovered the original architectural drawings of the hotel in 1987 in Robert Pregarz' book. He is pleased to autograph it for you, please write to him personally.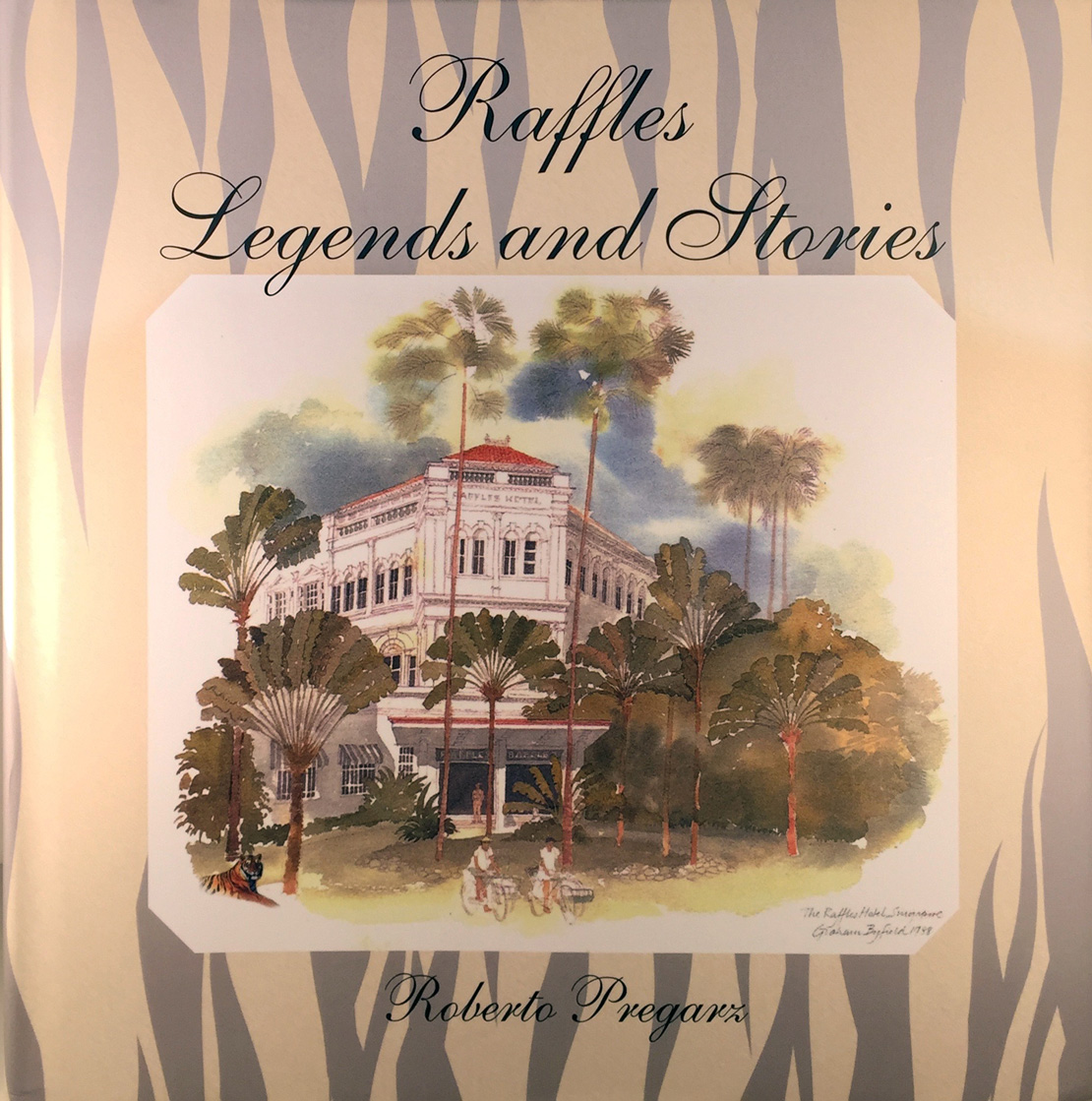 ---
JAMAICA
The latest news from Guy Steuart III, chairman of Jamaica's oldest and most famous hotel Half Moon is that the most significant addition to the hotel since its opening in 1954 is nearing completion. Will keep you posted on the progress of the new Great House.
I send my greetings from dry land.
Have a save journey wherever the wind takes you.
Andreas Augustin