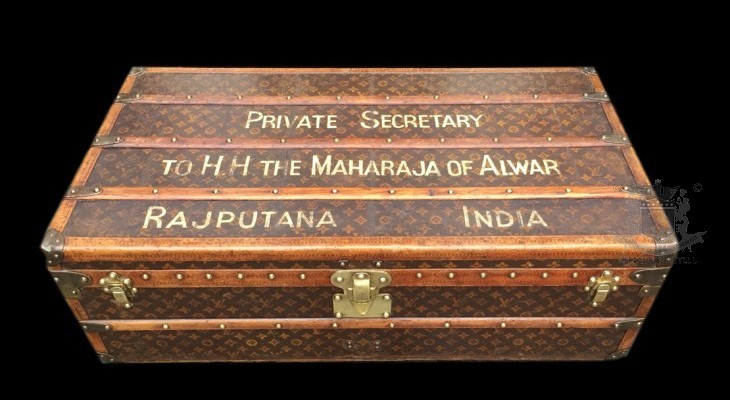 L. Aruna Dhir
From India in Style (6): Royal Luggage
( words)
The original Louis Vuitton 1923 cabin trunk of the private secretary of the Maharajah of Alwar.
---
When the Indian Royalty travelled abroad, they travelled in style. Even their luggage planning was a big affair. Bespoke, monogrammed luggage with the Royal family's insignia, were specially crafted out of finest leather by the likes of Louis Vuitton.
I recall conceptualizing and shooting for the set of Guest postcards we were developing during my Oberoi years. For one of the postcards we wanted to show our smart Bell boy pushing a superbly buffed trolley stacked with Louis Vuitton suitcases. We approached Tikka Shatrujit Singh, the scion of the Royal family of Kapurthala in Punjab, who graciously loaned to us his family heirloom luggage for the shoot. The large to very large pieces were works of art, beautifully created by the House of LV for the King in the 19th and 20th centuries.
Sir Jagatjit Singh Bahadur, Maharaja of the princely state of Kapurthala – and Tikka Shatrujit Singh's great Grandfather, was travelling around the world in the late 19th Century. He was quite a Francophile and loved the Palace of Versailles so much that he ordered his main palace to be modelled after it. It is said that Jagatjit Singh owned at least 60 pieces of bespoke luggage made especially for him by Louis Vuitton to hold his clothes, swords, turbans, suits, shoes and the elaborate traditional dresses.
The other Royal who was also a Louis Vuitton regular was Sayajirao Gaekwad III of Baroda. Amongst scores of his other purchases, the Baroda ruler got Louis Vuitton to make a Torino suitcase with toiletry accessories in vermeil and ivory, a shoe trunk and a tea case, that proved to be an elegant and practical accompaniment for his hunting expeditions.
Maharaja Hari Singh, the last ruling Maharaja of the princely state of Jammu and Kashmir, who was a polo aficionado, was ordering Louis Vuitton to make special trunks for his clothes and equipment, including one to hold his mallets, in the year 1925. In the seven months between June and December 1928, Hari Singh had placed an order for 38 pieces of luggage with specific purpose marked for them. For instance, there were special boxes for polo outfits, twelve boxes for drying cigarettes, a shoe-maintenance kit, a toiletries kit that was superimposed on a tea set.
The toiletries kit was uniquely elaborate. It consisted of 50 items in silver and was used to hold products for personal hygiene from brushes to bottles, soaps and razors. It also served as an extensively layered jewellery box.