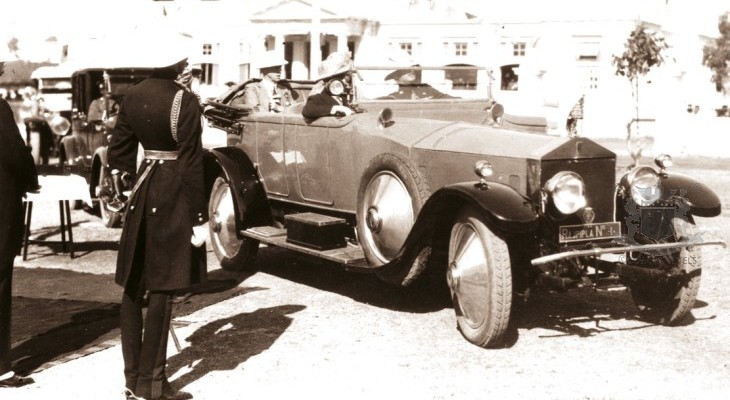 L. Aruna Dhir
From India in Style (4): Royal Cars
( words)
The first three Rolls-Royce cars owned by the Rajpipla royal family. Leading is a Rolls-Royce Silver Ghost 1921 carrying Maharaja Sir Vijaysinhji of Rajpipla and Governor of Bombay Sir Frederick Sykes, followed by Rolls-Royce 20 hp 1922, and Rolls-Royce Silver Ghost 1913, at Rajpipla. © Rajpipla Royal Family Collection.
---
Maharani Gayatri Devi, with her refined sartorial sense, natural beauty and inherent grace, was re-garded as one of the most beautiful women in the world by the czars of fashion and style internationally. Among her other interests was her love for wheels so much that she is credited for importing the first Mercedes-Benz W126 to India.
The Maharaja of Mysore was the proud owner of 24 Bentleys and Rolls-Royce. Such was the de-mand of luxury cars in regal India that 800 Rolls-Royce were delivered to the country between 1903 and 1945.
There is a rather delectable lore told around the pride of Indian Royalty and how sometimes the international luxury brand makers failed to recognize the might, purchasing power and opulence of this set. The story goes that the Maharaja of Alwar was insulted at a Rolls Royce showroom during one of his foreign travels. The King felt so affronted that to teach the car maker a lasting lesson, he bought seven Rolls-Royce and employed them to cart his city's municipal waste. There couldn't have been a greater punishment and tarnishing of the image of a deluxe brand.