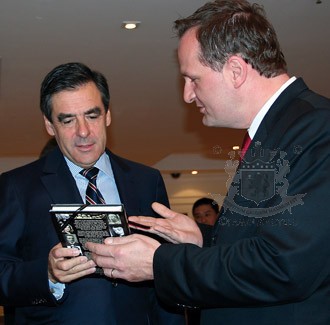 Breakfast with
Breakfast with Kai Speth, Metropole Hanoi
( words)

I am having breakfast with Kai Speth, the man who manages the legendary Hotel Metropole in Hanoi, Vietnam, the first of the "Legends" of Sofitel and of course a Select Member of The Most Famous Hotels in the World.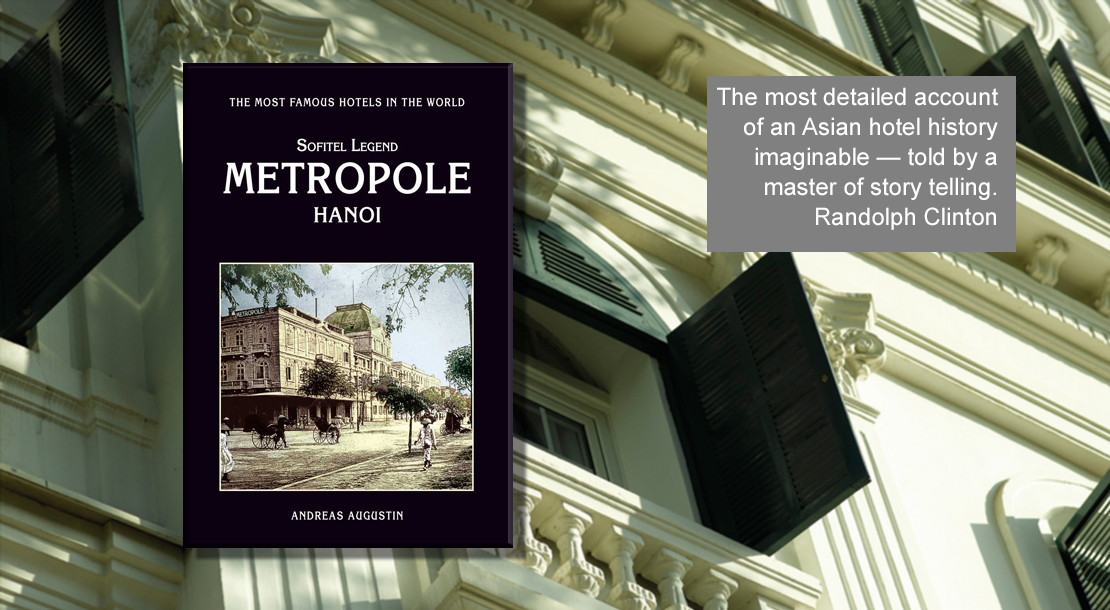 The Metropole history book is one of our most demanding projects. It was a very exciting research, with material scattered all over the globe (Read: The Making Of …). Today we know a lot about the early life of the hotel as a hub of French colonial society, but also that Jane Fonda stayed here during the Vietnam War, that it inspired Graham Greene to write The Quiet American and that Joan Baez sung in the bunker during air raids. We currently present the fifth updated edition of this successful book.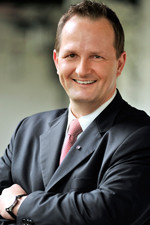 Good morning, dear Kai (who says that he prefers Black&White to Colours = see below! Move your cursor over his picture and you can see him in colours, too).
We are having a typical Vietnamese breakfast at your beautifully newly refurbished restaurant SPICES GARDEN
Q. And your preferred breakfast?
I really like a good Eggs Benedict on a perfect toasted English Muffin.
Q. Do you like your handwriting?
I am a lefthander and therefore a bit handicapped. Due to the fact that we use PC's more and more my handwriting has certainly suffered over the years. I don't necessarily like it but people tell me it looks OK, so I guess I am too harsh on myself.
Q. Would you ever bungee jump?
No way…..I have 2 kids!
Polished and immaculate shoes tell a lot about a person"
Q. On a scale from 1 (least important) to 5 (most) how do rate shoe-shine?
5…for sure, polished and immaculate shoes tell a lot about a person. Very important to me.
Q. What's on your mouse-pad?
I do not use a mouse pad…have one of those new optical mice that work on any surface. I think mouse pads are tacky, if at all it should be all black and no deco at all.
Q. What's your motto in life?
Have passion for what you do, pay attention to the details and don't do things half hearted.
Q. Is it too much or too little courage that sometimes makes you fail?
Maybe a bit too little, I am quite careful, especially at times like these, I am not to much of a risk taker.
Q. Nevertheless, you have magically changed so many things at the hotel, how do you still keep the same good old spirit?
All the new facilities and all the new services we introduced were carefully integrated into the existing "spirit" of the hotel. The whole point was to enhance and beautify, complement the existing features of the hotel with a harmonious approach. We just looked at what we can do to complete the facililties that a modern traveler expects and what we can do to enhance the service touches in the hotel.
Q To whom did you listen in the past week?
To my staff on all levels, they provide me with a lot of feedback and ideas. And of course to my guests: every day we receive a lot of feedback about their stays and that helps us to assess if we are on the right track with what we set out to do.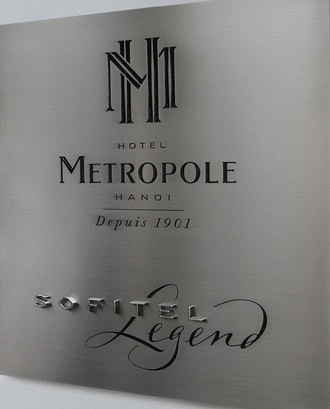 Solid research by famoushotels.org proofed it: the Metropole, the first Sofitel "Legends" hotel, opened in 1901.
Q. We are sitting where many famous people stayed and sat before. Do you like this philosophical air of history lingering all over the hotel or do you consider such strong ties with the past as a burden?
Not a burden but a responsibility. The Metropole is more than just a historical hotel, it is an integral part of the city, a landmark where many historical events took place. It will be here hopefully for future generations to enjoy and that is a big responsibility for us to keep the building in shape.
Q. How important is the hotel's history for you as a marketing tool?
For certain markets it is very important, especially the leisure traveler, for the business person it is maybe less important but for leisure it is a decision maker. Not too many hotels like this one here are left in this part of the world.
Q. What was your "dream-profession" when you were a kid?
I always wanted to become general manager of a famous hotel, maybe because I grew up in a small hotel in Germany.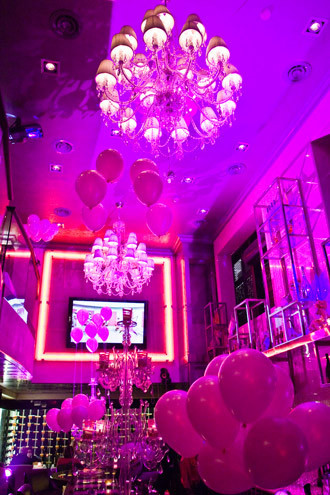 A Pink Party Night at the Italian Restaurant Angelina – the hottest spot of the town.
Q. Do you prefer development or tradition?
I actually prefer development but with a good portion of respect towards traditions. We are developing the Metropole, adding modern touches that people expect but we always respect traditions.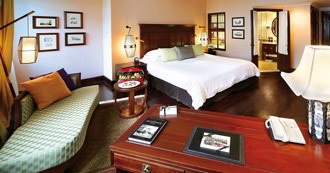 A "Grand Luxury Room" – the hotel's history book is on every desk.
Q. What would you never like to be changed at your hotel?
The core of my people here. Hopefully they stay a long time.
Q. When you start a project do you prefer enthusiastic partners or experienced ones?
Enthusiasm is what I desire, the heart has to be in it. I prefer this over someone who has experience but no interest.
Q. How often do you reflect about your own life?
Daily, I always think where I came from and what I want to achieve tomorrow.
I empower my managers to make decisions"
Q. What business journals do you read regularly?
Not enough, usually the trade magazines, I read the Wall Street Journal, Time and Forbes.
Q. How do you balance business life and private life?
Ensure I keep my day to a max of 12 hours and definitely take my 1 day off to be with my family. When I go home I go home, I empower my managers to make decisions.
Q. Which hobbies are absolutely essential for you.
I am a big fan of PC's and PC Gaming. I build my own computers and experiment, I can forget everything around me. I like photografie and wish I could spend more time on this. I need my time in the gym, something I have not been able to do here.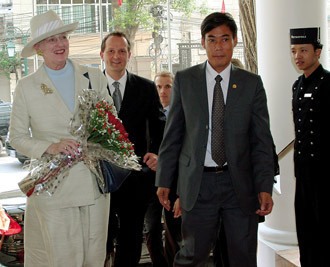 Accompanying a Royal visitor: HRH Margarethe II the Queen of Denmark.
Q. What was the most important advice you ever gave, and to whom?
Have patience with your career, do not force it, good things come to good people … just recently to one of my assistant F&B Managers.
Q. For the same budget, would you rather afford the smallest room in the best and most famous hotel of a destination or the best room in a lower-class hotel?
Obviously the first option, for me it is about service and style and not square footage, unless I travel with my kids, then maybe option 2.
There are so many things I could see myself do"
Q. What would be more tempting for you than being the GM of this hotel?
Wow, there are so many things I could see myself do. Be the GM of a top hotel in New York, San Francisco … places I love.
Q. When you visit other hotels what do you observe/judge in the first place?
All the little details, the first impressions, uniforms, smiles, cleanliness, service touches, light, temperature, do things work?
Q. Can you give us an impression of your next month's agenda?
On 1 April we officially launch our new Spa with our partners Clairns and Ytsara – a big event, next month we have a regional GM meeting in Manila and then a week off in Malaysia with the kids.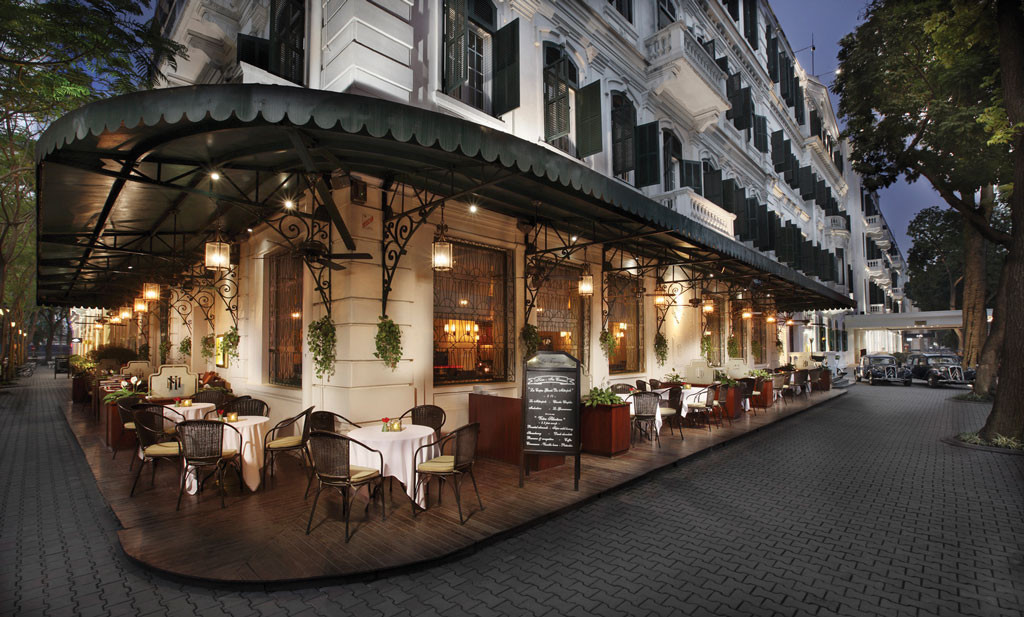 A few quick ones:
Lakes or seaside? Seaside
Black&white or colours? Black and White
Electric or wet shaving? Wet
Cycling or walking? walking
City or countryside? city
Reading or watching? reading
Tea or coffee? Tea
Cats or dogs? Cats
Skiing or snowboarding? Skiing
Open air or inside the music hall? Open Air
Introverted or extroverted? Extroverted

Thank you for your time!
Andreas Augustin
KAI SPETH IN BRIEF:
29 years of experience in the luxury restaurants and hotels from Ski/Beach Resort environments to Airport and larger City/Convention hotels.
Experience in Europe, the United States and Asia.
12 years with Hyatt International
Held positions as department head in all Food and Beverage outlets
Graduated as Hotel Business Administrator from the Hotel Management School in Heidelberg, Germany
Participated in two hotel openings in New York City
Trained and certified chef
PRIVATE:
Married and two children
American and German citicenship
By the end of August 2013 Kai Speth left for Taiwan, as general manager of the Hyatt Hote Taipei.
The book:
Research for the Hanoi Metropole book started in 1996. At that time all official archives of the hotel were lost. It took famoushotels over two years to compile the first history. Today, the book has been update several times. Each edition presents new research material, making this book – as all of our works - an ongoing history project.
Go to the book's page.