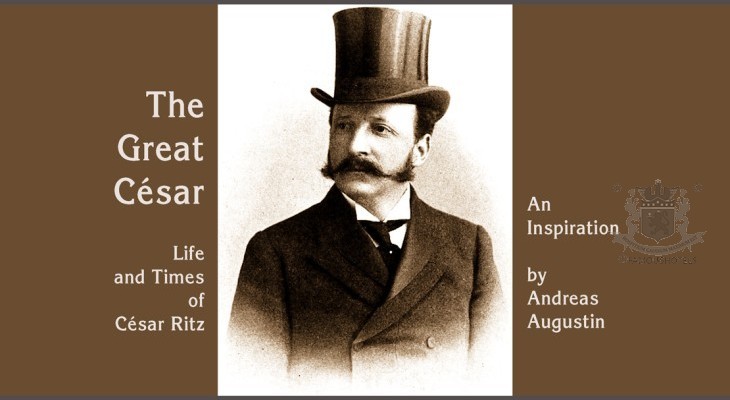 PERSONALITIES
The Great César — Life and Times of César Ritz
( words)
11. January 2018: The question that seems to be the most pressing one at the moment is about the recent robbery at the Paris Ritz. "On 10 January at 6 pm 5 five men armed with axes smashed a window at the shop inside the hotel at about 18:00 local time (17:00 GMT), French media reported. Three men have been arrested, police said, while others remain on the run. It is not clear whether any of the loot, estimated to be worth more than €4m (£3.5m), was recovered." (BBC)
HISTORY: The shopping gallery is the brain child of César and Marie Ritz. The corridor between the front at Place Vendôme and the back of the hotel was so dark and depressing that they decided to install bright, well lit vitrines with the most luxurious items to give their guests the impression to be in a Parisian shopping arcade.
---
CÉSAR RITZ

César Ritz*, born in the Swiss village of Niederwald on 23 February 1850, died in Küssnacht on 26 October 1918.
César Ritz started his hotel career at the age of 15 in Switzerland, but he truly learnt his trade in the French capital, Paris. He then worked in resorts throughout Europe and managed luxurious hotels, but became truly famous for founding various luxury hotels such as the Ritz in Paris and in London.
*The correct writing of Cesar Ritz is César, with an accent aigu (´) but accents are often not displayed correctly. Should you find the word César without an accent in this article, or should the accent not be displayed, please note: on the e of Cesar should always be an accent aigu ´. Thank you
Read THE GREAT CÉSAR by Andreas Augustin, from 15. January (10 part series of the life and death of the great hotelier).
---