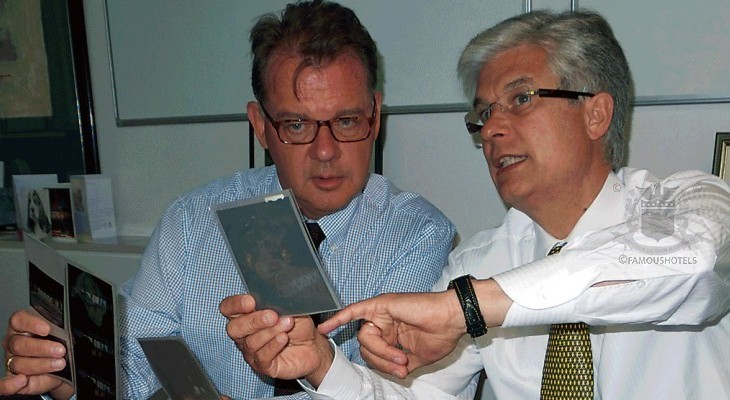 Breakfast with
Breakfast with Michael Shepherd
( words)

Andreas Augustin is having breakfast with Michael Shepherd, General Manager at The London Hilton on Park Lane




Q: Michael, we had breakfast at the Savoy when you were general manager there, now again at the London Hilton on Park Lane. Is it still porridge you prefer for breakfast?
MS: It is important to line the stomach for a productive day. So porridge in the winter and a good muesli in the summer with delicious fresh berries and an excellent English breakfast tea.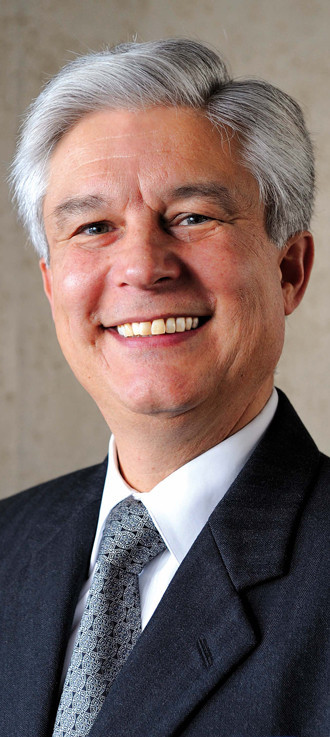 Q: Your professional portrait in a nutshell?
MS: A sincere, committed and experienced hotelier with a grounded pedigree, having worked in fine first class establishments across three continents.
The guest is king – number one priority, every time. Pay attention to the needs of your customer first and foremost and profits will come. Pay attention to the detail, because your guest will always notice.

Q: With ten years in this position, you are now the longest serving general manager of the London Hilton on Park Lane, the flagship of Hilton.
MS: I worked here as a management trainee in the 1970s, post university graduation. In my 38 years of experience, I am a typical example of how this hotel over the past 50 years has attracted aspiring and ambitious young leaders who have 'cut their teeth' working at the sharp end of the business and progressing and developing their skills to become senior executives across a variety of distinguished properties throughout the world.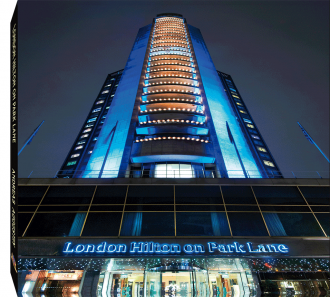 London Hilton on Park Lane by Andreas Augustin
Q: What makes the job of a hotelier different from other jobs?
MS: I would say it is the huge integrated tapestry of experience an international hotelier gains in his lifetime. Hoteliers must demonstrate an epidemic enthusiasm for hospitality, entertainment and caring for guests individually and needs to be absolutely committed to the last detail of the guest experience. At the same time he must be able to be strategically visionary and plan the business into the many years ahead. It is more a way of life than a job – the business never goes to sleep so you have a 24/7 responsibility for everything that happens.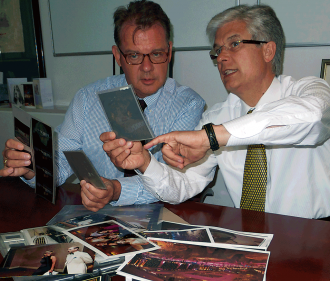 Andreas Augustin (left) and Michael Shepherd discuss the choice of photographs for the 'London Hilton' book.
Q: Hospitality has evolved from being one of the oldest trades to a stock exchange based business?
MS: Hospitality may be an age-old trade or profession but is a fast moving and dynamic business, influenced by fashion, technology and increasing volumes of development and competition. London Hilton on Park Lane, along with other successful businesses needs to reflect this dynamic evolution to stay ahead the competition, always being relevant to the day and age.

Q: So it is all about staying on the ball?
MS: A good hotelier may grow up over the years and gain experience through changing circumstances, but he never grows old. We are privileged in our business to attract youthful dedicated and energised individuals, and we as their leaders have a responsibility to ignite their enthusiasm and passion and allow them to develop their own persona with style and panache.
Q: How do you ignite their passion for Hilton?
MS: I mentor ambitious future leaders, I ensure that they follow their desire to move on and not turn back or stagnate. I pride myself in personally having stimulated many dozens of such individuals, hopefully being a sound role model and supporting their personal development in order that they may reach their potential and ambition. Hilton is an incredibly fast moving and dynamic global company with over 3000 properties. It is expanding to every corner of the planet and therefore a significant organisation teaching the world about the business of hospitality. You need leaders to preach the art of hospitality and train individuals to deliver the individual and personal service.

Q: Where do you see the difference between American and British hotel keeping?
MS: Americans demonstrate their hospitality and unique service in a very particular way, which is sometimes with greater glamour, and more theatre and less reserved than the British.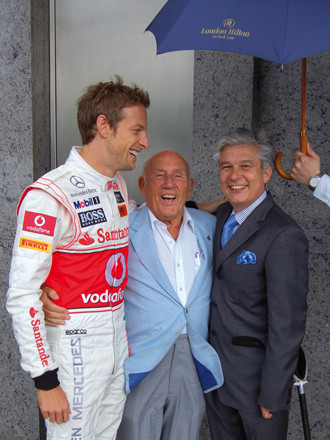 Racing legend Sir Stirling Moss lives just round the corner of the hotel. Here he is seen with Michael Shepherd, general manager of the hotel, and Jenson Button.
The former London Tavern at London Hilton served a selection for 'the friends of the Earl of
Sandwich' including a turkey and pastrami sandwich called 'The Stirling Moss' (from the book London Hilton on Park Lane, by Andreas Augustin).
Q: London Hilton on Park Lane, and yourself had a very special impact on bringing the Olympic Games to London?
MS: It was the overall concept including guaranteed accommodation and capped rates. Securing the Olympic Games in London was based on a commitment from the organisers and government for a lasting legacy. This is something London has achieved over and above Beijing, Athens and possibly Sydney. From our professional perspective we have stimulated an enthusiasm to participate more in hospitality and we are more recognised now as a welcoming nation.

Q: The unavoidable question about the future markets of hospitality?
MS: Of particular importance are the BRIC countries where the populations are not only growing in numbers but in wealth and travel aspirations. Whereas in 1963 when the hotel opened the focus was very much on the USA and cultured travel experiences from this geographical origin, the world has now moved on and we will see a proliferation of travel growth from the likes of Brazil, Russia, India and China.

Q: You love to sail. Are you a skipper of your industry?
MS: No! I am not the skipper. The skipper listens to the weather forecast, looks at the ripples of the waves, studies the wind and decides which route to sail. I stand at the helm and steer the ship. But yes, I love to sail and I have also participated in a number of challenging races and regattas, as well as social sailing with family.

Q: What would you certainly do again and what not?
MS: Well, I would do every part of my experience again. As I have made reference before, life is but a tapestry of richly woven colours of experience. They only make a full picture when they come together. That is not to say there have not been mistakes, as I am sure there are many. However, as I teach my mentees it is easy to assess in retrospect whether an alternative decision may have been a better choice, but no decision at all is the biggest mistake of all.

___________________________________
The (Q) questions were asked by Andreas Augustin/famoushotels.org,
(MS) Michael C. Shepherd answered.
___________________________________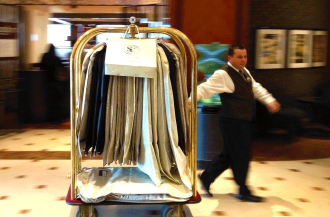 Suits to Suite.
Michael Shepherd's accolades:

Doctorate from University of West London - HonDUniv
General Manager of the Year - Hilton Group 1990
General Manager of the Year - Hilton UK 1996
Catey Winner "Hotel of the Year" - The Savoy Hotel 1998
Daily Telegraph - Best Hotel of the Year - The Savoy 1999/2000
Large Hotel of the Year - Visit London 2006 - London Hilton on Park Lane
Best Business Hotel in Europe - Business Traveller Magazine 2006 - 2011
England's Leading Business Hotel - World Travel Awards 2007 - London Hilton on Park Lane
Best Business Hotel in the UK - Business Traveller Magazine 2007/2008/2009/2010/2011 - London Hilton on Park Lane

______________________________________

Highlights of his career:

General Manager, London Hilton on Park Lane
Managing Director. The Savoy Group
General Manager, The Langham Hilton
General Manager, The Nile Hilton
General Manager, The Cyprus Hilton
Hotel Manager, The Athens Hilton
General Manager, The Corfu Hilton
Resident Manager, The Athens Hilton
Executive Assistant Manager, The Istanbul Hilton
Assistant to Senior Vice President, Hilton Worldwide, Europe, Africa, Middle East
Rooms Division Manager, Executive Assistant Manager, The Lesotho Hilton