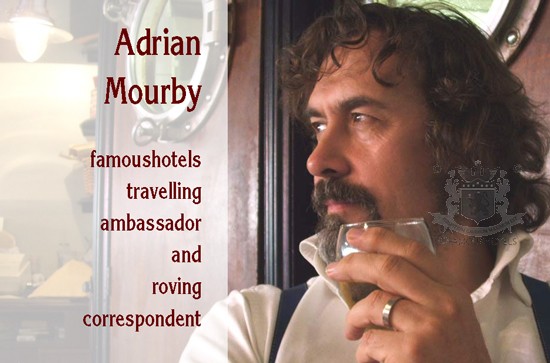 Adrian Mourby
Le Royal Mourby of Monceau
( words)
A Philippe Strack playground, where the pianist will come and play in your suite, just for you. It sounds good in practice but does it work in theory? Our contributing editor investigates...
---
Le Royal Monceau, Raffles, Paris is without a doubt the most unusual of France's grand hotels to enjoy special Palais status.
After 80 years of life the hotel was pretty much eviscerated by Philippe Starck, the darling of French avant garde design. The new Monceau which replaced it retains the original facade and some chandeliers, but is essentially a new building behind that very Parisian facade of 1928 by the architect Louis Duhayon.
Situated just below the Arc du Trimphe on Avenue Hoche, the original Royal Monceau attracted the international fast set. Coco Chanel and Josephine Baker both partied there, as did the great French author Joseph Kessel and Ernest Hemingway, who claimed to hate the rich but oddly spent plenty of time with them in Paris.
After World War II, Maurice Chevalier, Walt Disney, and General Eisenhower stayed at Le Royal Monceau, as did Winston Churchill, the man who claimed to be easy to please because he was always "satisfied with the best".
The Royal Monceau also saw some serious moments. In 1947 Ho Chi Minh based himself at the hotel during the Fontainebleau Conference that attempted (unsuccessfully) to avoid war between the French and their Asian colony. In 1948 negotiations that led to the Israeli Declaration of Independence by David Ben Gurion and Golda Meir took place here.
However in 2007 French businessman Alexandre Allard bought the hotel for €250 million and began to dismantle it. In June 2008 an auction of hotel artefacts was held, which yielded €3.3 million for the new owner, followed by a "Demolition Party" took place. Fifteen hundred Parisians turned up to watch various art happenings in front of the hotel while everything else was dismantled.
Philippe Starck reused very little, although he did cluster a lot of the original chandeliers over the staircase between the ground and first floors. The rest of the Monceau is very new and very Starck. Reopening in October 2010, the hotel had reduced its bedrooms from 260 to 149, but added an art gallery, a 26-metre underground pool and a bookstore in reception. There is also a screening room, Cinema Katara, which combines symbolism with functionalism in its design. Everything has a meaning. There are 100 seats, one of which is red, Why? Evidently because it makes people ask why. The cinema is also lined with small white ceramic eyes. Why? Because we engage our eyes in the cinema, so says M Starck.
The main staircase has been stripped back to its original black bricks to recall the building's past. Some of the staircase windows appear to be stained glass (although they're actually made up of stickers) to commemorate the fact that on this site once stood a convent. Who knows what the nine reindeers carved in wood that occupy the first floor landing represent, but nothing is just decorative in the land of Starck. Everything means something. Maybe this is why the French love him so much.
In every bedroom framed pictures lean against the wall as if waiting to be hung (a Starke touch that I have noticed in some of his other hotels). There is one rather ugly picture of some cups and a coffee tray that is reproduced in each of the 149 rooms because for Starck this represents the one ugly item we always find when we stay in the home of a friend. There is also a guitar in every room (for no other reason than you might wish to play it ) and an annotated Starck map of Paris under glass on the desk in each room showing M Starck's favourite parts of Paris. The bed headboard is always some distance from wall, not for any symbolic reason but because Philippe Starck likes that. I also saw at the side of each bed a copy of a letter from the Cocteau-Malraux correspondence which belongs to the owner, M. Allard, although you have to crouch down if you want to read your particular letter.
There is an old joke about French and British consultants working on the same project. The French team throws up its hands at the British solution to a problem, "Yes that is all very well in practice, but does it work in theory?" The new Royal Monceau under Philippe Starck's guidance definitely works in theory. I have yet to test the rooms out in practice, but I can vouch for the excellence of its Michelin-starred French restaurant "La Cuisine", which serves classic French cuisine all day long in an informal atmosphere where paperback books line impossibly high shelves (again to recall the experience of staying in a friend's house evidement), and there are plates on display that have been designed by celebrities and then glazed (the Richard E Grant plate is a convincing self-caricature). There are also over 300 original photos recalling the first 80 years of this remarkable hotel's history. The older Hemingway is there looking perplexed, whereas Sean Connery is photographed playing billiards. Ray Charles is there too.
In fact if you stay in the Ray Charles Suite (up in the hotel eaves) you'll find not just a Pleyel piano but a pianist who will come and play for you one evening – gratis – for an hour. That sounds nice in theory that but does it work in practice? I can imagine sitting there with a fixed smile on my face. Such an unusual idea definitely needs to be tested out.