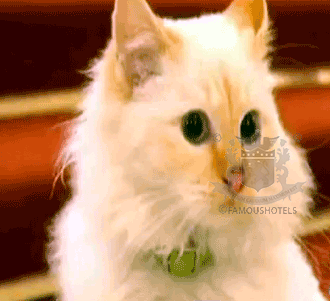 Adrian Mourby
Catwalk Star at Le Bristol, Paris
( words)
Finally we have an European answer to Mathilda, New York's most famous cat of the Algonquin Hotel, reports
Adrian Mourby
One of the latest recruits to the staff of Le Bristol in Paris is Fa-raon, a young Burmese who has been brought in as the hotel cat.
Le Bristol has a long history dating back to 1792 when a private hotel - with its own oval theatre - was built at Faubourg Saint-Honore. The theatre is still there with its polished Hungarian oak panelling, albeit now used as the Winter Dining Room.
In 1925 an Art Deco hotel was opened on this site, built around the theatre, and named Le Bristol. Famous guests have included Ava Gardner, Marilyn Monroe, Rita Hayworth, Grace Kelly, Josephine Baker, Charlie Chaplin, Orson Welles and Harry Truman. Last year Woody Allen shot several scenes of his new film Midnight in Paris in Le Bristol and stayed at the hotel while doing so. Le Bristol made over its lobby and Panoramic Suite (with its obligatory view of the Eiffel Tower) to the American director for his 41st film.
But for many people Fa-raon, the 21-month white Burmese is the hotel's biggest star. He was purchased personally by Didier Le Calvez, the general manager, soon after he taking over the hotel. Fa-raon tends to lie on the concierge's desk or sleep on one of the sofas in the lobby and responds like a professional to the attention lavished on him.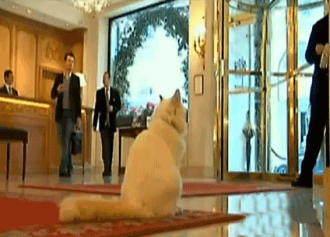 Yet even Parisian superstars need a break sometimes. In August when most of Paris was on holiday Fa-raon was not evidence. This was unfortunate as two journalists had called in specifically to see him. The guest relations manager looked everywhere and soon word was sent out to security. The journalists were given lunch while the hotel was combed. After tearing the place apart the concierge spotted Fa-raon walking through the lobby quite indifferent to the problems he had caused.
The general view of the staff was that no-one else working for Le Bristol would get away with that.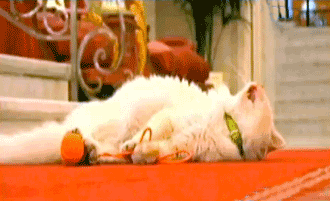 Fa-raon enjoys a break in front of the staircase.